EJ Manuel can prove former coach Doug Marrone wrong Sunday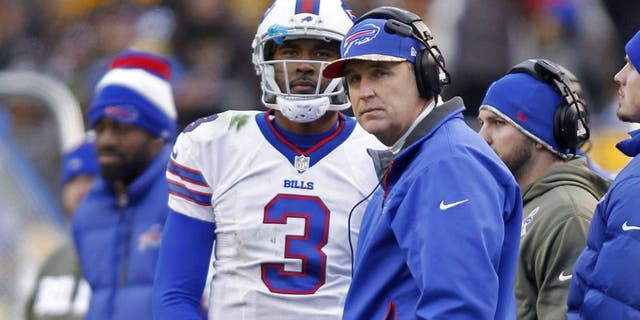 NEWYou can now listen to Fox News articles!
EJ Manuel has a chance to show Doug Marrone he was wrong for benching him. Charles LeClaire USA TODAY Sports
EJ Manuel has been seen as a disappointment for the Buffalo Bills in his three years in the league. The Bills took him in the first round in 2013 -- to the surprise of many -- and he's been unable to hold onto the starting job for two years.
Last season, he was benched in favor of veteran Kyle Orton, who has since retired. This season, he was beat out by Tyrod Taylor, who hadn't started a game in the NFL prior to Week 1. He's had two head coaches in the past two years, and neither were wowed by his skill set.
Now, Manuel has a chance to prove his former coach Doug Marrone wrong. The Bills will take on the Jacksonville Jaguars in London on Sunday, for whom Marrone is the offensive line coach. Marrone will get a close look at the quarterback he benched a year ago, and Bills running back Boobie Dixon hopes Manuel proves him wrong.
"We definitely want this 'W,'" Dixon said via Tyler Dunne of the Buffalo News. "And we're going to do whatever it takes to get it. We know Marrone and [Nathaniel] Hackett are over there. So it's a competitive sport. He's not going to say that but we're all competitors. I know he wants to win badder than anybody affiliated with the Bills. So to stick it to them, yeah, I hope he does. I hope he carves 'em up."
Some see Manuel's benching as warranted, but Dixon and a handful of teammates aren't among them. Dixon said he was shocked by the benching and didn't think Marrone was right in doing so.
"I definitely thought it was unfair," Dixon said. "I thought it was just too early. We were still building as a team. We had a lot of new pieces and I just think he needed more time and we needed more time."
Manuel played fairly well last week in his first start of the season, completing 66.7 percent of his passes for 263 yards, one touchdown and one interception. Will he be able to follow up that performance against an inferior Jaguars defense? That remains to be seen, but Dixon is excited to see his guy on the field once again.
"I can't wait to see him get it because I love his arm," Dixon said. "He's got a crazy arm. I'd like to see him throw it around. I just hope they can all connect on Sunday and it'll be a good day."
MORE NEWS: Want stories delivered to you? Sign up for our NFL newsletters.