Edsall breaks down pecking order at running back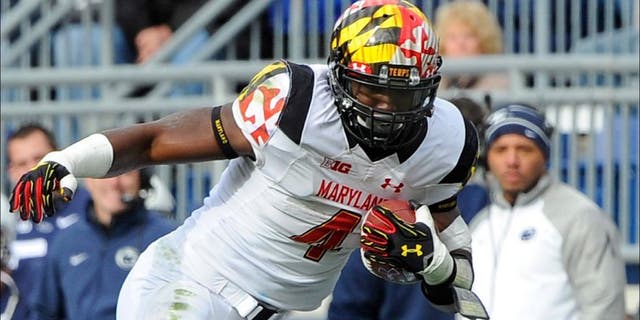 After Maryland struggled to run the ball in its first season in the Big Ten, head coach Randy Edsall made establishing control of the line of scrimmage a priority for the Terrapins in 2015.
Having a strong stable of running backs would help in accomplishing that goal, and Edsall sounds like he thinks his team is making progress in that department during the preseason.
While veterans Wes Brown and Brandon Ross share time on the first team, Ty Johnson and Joe Riddle back them up and Tehuti Miles and Marcus Smith make up the third string.
"When we got into the specialty situations it might have changed a little bit," Edsall said Friday, via the school's official website. "We're just trying to keep all of those guys fresh. I think Brandon is having a really good camp so far. Wes is doing well. Ty Johnson is really doing a nice job and Joe has improved, as well. So that's what you want -- you want to have competition. I'm pleased with what I've seen from those guys."
Ross, now a junior, led Maryland running backs in rushing last season with 419 yards while Brown, a senior, added 356 yards on the ground.
Riddle has played in 24 games for Maryland as a special teamer while Johnson is a three-star freshman from Cumberland, Md., and Smith is a walk-on from West Friendship, Md.
Miles is a U.S. Army veteran who is in his third season at Maryland but is yet to play in a game for the Terrapins.