Eddie Lacy concedes defeat in Packers' running back race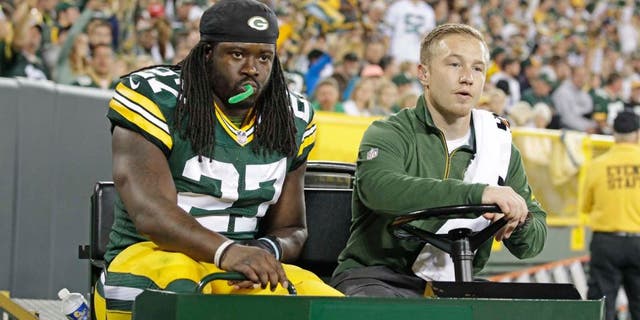 Packers RB Eddie Lacy is not fighting the fact that he's James Starks' backup now. Wm. Glasheen Associated Press
When Green Bay Packers head coach Mike McCarthy named James Starks the team's starting running back, Eddie Lacy did not fight the decision. He did not complain about his new role as a backup, nor did he promise to return with a vengeance and reclaim his old role.
Instead, Lacy simply agreed with McCarthy's assessment that Starks has been the better running back this season, according to Ryan Wood of Press-Gazette Media.
Lacy's rolling over didn't end there. The third-year pro couldn't offer even a single reason as to why Starks has been so much more effective than him this year, per Press-Gazette Media.
While Lacy could have fought for himself a bit more, at least he accepted his demotion with grace. The rumbling running back, listed at 234 pounds on the Packers' official website, suffered an ankle injury earlier in the year and a groin injury last week. He did not blame either of those ailments for his lack of production this season.
Moving forward, Lacy can still provide a valuable change of pace when Starks comes to the sideline. The Packers would never pull a player of his caliber from the lineup completely, so we'll likely still see him in some capacity for the rest of the season.
Lacy has his first opportunity to make an impact in his new role on Sunday, when the Packers host the Detroit Lions.
MORE NEWS: Want stories delivered to you? Sign up for our NFL newsletters.