Eddie Alvarez explains what it took to get past the loss to Conor McGregor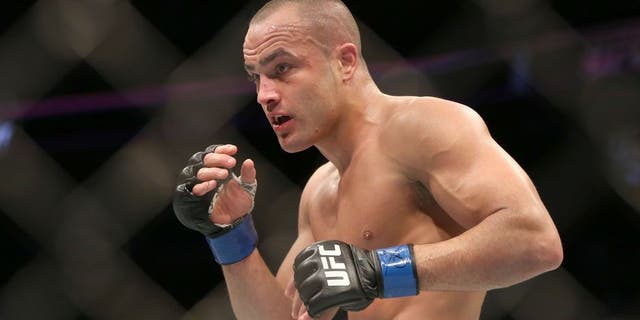 Regret is like a disease that can fester, and former lightweight champion Eddie Alvarez understands that concept better than most.
Last November, Alvarez truly believed he was going to dish out a savage beating to Conor McGregor while defending his lightweight title for the first time in one of the biggest UFC events in history.
Instead, Alvarez suffered arguably the most lopsided loss of his entire career as McGregor knocked him down several times over the course of the fight before finishing him in the second round.
Alvarez suffered from Murphy's Law that night the idea that what can go wrong, will go wrong but seven months later as he approaches his next fight at UFC 211 he makes no excuses for what happened in the fight with McGregor.
"I think I got hit with a punch. Media likes to [ask] what happened or trying to make things a little more difficult than what they are," Alvarez explained when speaking to FOX Sports. "Fighting's unique, you can prepare a million times, you can know everything that you're going to do but you get hit with a shot, you get stupid for a little bit, make some bad decisions, things go bad quickly and that's what happened on November 5.
"I'm over it. I've forgiven myself and I'm excited to get back in there and redeem myself."
Jeff Bottari/Zuffa LLC/Zuffa LLC via Getty Images
With a new fight just days away, Alvarez would prefer to look forward rather than look back, but he knows the loss to McGregor is going to be a big topic of discussion for him this week in Dallas.
No matter what's being said, Alvarez knows it can't be any worse than what he already told himself in the aftermath of that fight and that's probably what helped him finally move past it all.
"I think there was too much nerves involved and never really got a chance to settle into the fight. I enjoy fights the most once them nerves go away and you settle into the fight. That's when you can have your fun and be creative and just kind of be yourself. I'm looking forward to doing that this weekend," Alvarez said.
"I'm my own biggest critic so no matter what was being said in the media or being said by fans, I feel the worst when I disappoint myself. I put my heart and soul into it so when I don't go out there and it doesn't manifest in the way I prepared for, I'm heartbroken. I used that energy, I used that disappointment to fuel me in this next upcoming bout."
Alvarez says he was in "bad shape" in the days following the loss to McGregor but he eventually found a way to even turn that defeat into a positive for the rest of his career.
In a strange way, Alvarez says living through the worst possible situation has prepared him to bring the best out in his fight this weekend with Dustin Poirier.
"Having something like your worst nightmare come true it's liberating. There's a freedom in it. I feel free. Now I feel I can step inside this cage and I don't know if I can feel any worse than I've already felt. I feel like I can just be myself," Alvarez said.
"Just be forgetful. It's in the past. There isn't much you can do about it and just focus in on the things that you can control. I've done that. I've focused on the present moment. I've focused on what I can control right now and what I can control on Saturday. I have a good feeling."