Eddie Alvarez batters Rafael dos Anjos, takes home lightweight world title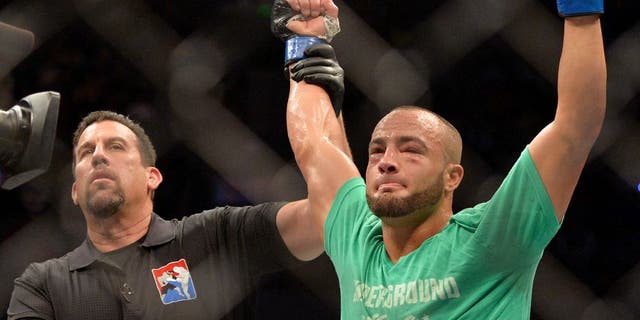 NEWYou can now listen to Fox News articles!
After nearly a decade of being at or near the lightweight division's top 10, Eddie Alvarez finally broke through and won his first true world championship Saturday night. Alvarez needed little more than a minute inside the MGM Grand Garden Arena to score a TKO over defending 155-pound champion Rafael dos Anjos with strikes on the feet.
The end came at 3:49 when referee Herb Dean stepped in and called a stop to the contest as Alvarez poured the punches onto dos Anjos' face. The beginning of the end came much earlier.
A big straight right from Alvarez with his back to the cage staggered dos Anjos. The Brazilian backed up and Alvarez followed with reckless strikes.
Dos Anjos fell, got up, fell again, and got up again. Game as he was, it wasn't enough.
As dos Anjos reeled backwards once more, Alvarez swung for the fences with a flying knee but missed. Dos Anjos briefly got top position but couldn't apply enough pressure in his state to keep Alvarez down.
The Philly bomber took top position and wailed away with punches. Dos Anjos worked up to his feet but was clearly out on his feet and defenseless as he took punch after punch.
Herb Dean saved him from himself and Alvarez, halting the action. The Las Vegas crowd chanted "Eddie! Eddie!" as the new champion waited to have his belt wrapped around his waist, and beamed.
"Don't bring the dog out of me. Don't bring the dog out of me!" he screamed, later, before choking up and embracing his coaches.
The loss dips the former champion's record to 24-8. The win moves Alvarez to 28-4, overall.