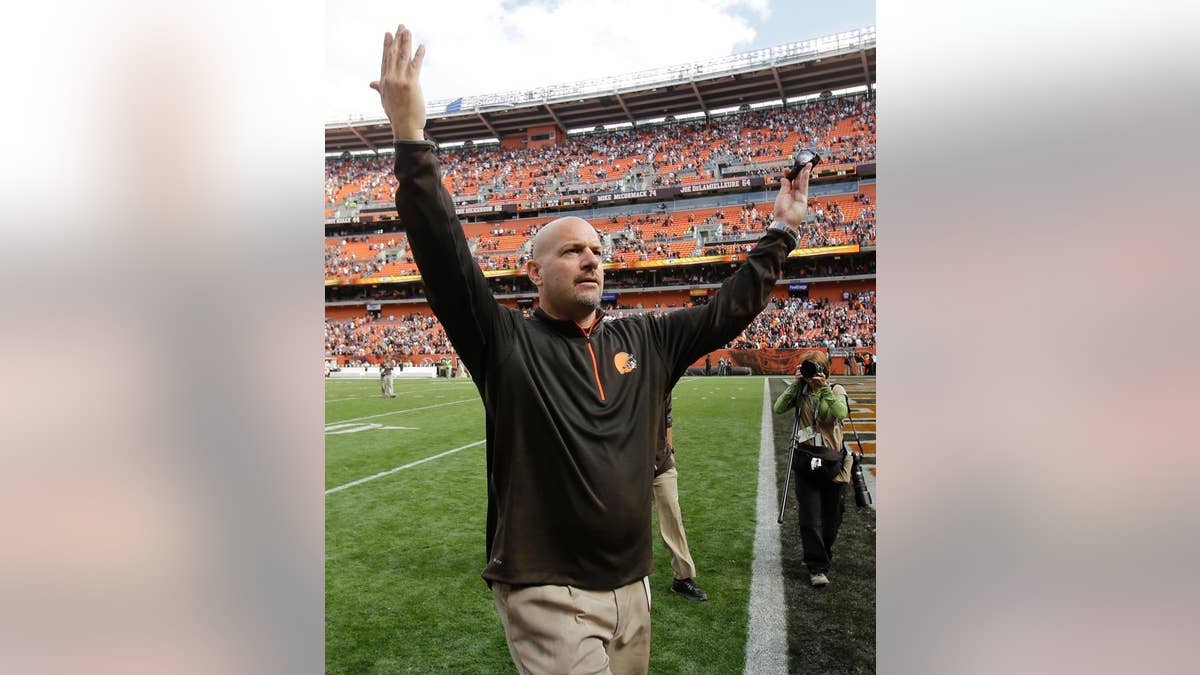 BEREA, Ohio – Mike Pettine stalked the sideline Sunday in complete control. He was poised, composed and his players mimicked their rookie coach.
If his nerves were jumbled, the Browns rookie coach didn't show it.
But after Billy Cundiff kicked the go-ahead field goal with three seconds remaining and the Browns stopped New Orleans on a kickoff return, Pettine showed some raw emotion.
Mr. Cool behind those dark black, wrap-around sunglasses, Pettine let his hair down. Well, he would have let it down if he didn't keep his head clean-shaven. He raised his arms in triumph and moments later took the obligatory Gatorade bucket soaking for his first NFL win — and the Browns' first in a home opener since 2004.
On Monday, Pettine said he smoked a celebratory cigar the "size of a little baseball bat" and may have partied as hard as any of the Browns.
"I celebrated probably as much as any of them did last night," he said. "Feeling it a little bit this morning."
This was a hangover Cleveland could cherish. For the first time in 10 years, the Browns are 1-0 at home and relevant for more than just having Johnny Manziel on their roster.
Pettine deserves much of the credit.
From the moment he arrived, Pettine, the son of a Pennsylvania high school coaching legend, has preached being tough, working hard, playing together and fighting until the final second. His words rang true Sunday as quarterback Brian Hoyer, backed up at his 4-yard line and with the team's top offensive players out of uniform, drove the Browns 85 yards to set up Cundiff's 29-yard kick.
As Cundiff's kick split the uprights, Pettine felt the ground shake beneath his feet inside FirstEnergy Stadium. This is what he promised the Browns.
"He always talks about 'Play like a Brown' and there were a lot of examples of that yesterday," said Hoyer, who was 8 of 11 for 78 yards on the winning drive. "Not just being physically tough, but mentally tough and dealing with the adversity throughout the game, the ups and downs, and really just playing until the clock says zero. That's what we were able to do."
It wasn't perfect, but it was a win and will help Pettine reinforce his message. His main message to his players was that one win won't carry into another if they don't deal with it properly.
"We very easily could be 2-0, probably even more likely we could be 0-2," Pettine said. "Remembering that feeling in the locker room. Just the sheer joy those guys had celebrating afterwards. There's no's substitute, no drug in the world that can make you feel like that. Fear of failure is one of our motivators, but that feeling is another.
"Handling success is important. They need to understand the phrase. You don't want one loss to run into two. We don't want a big win to be celebrated too long and turn into a loss."
During his brief tenure in Cleveland, Pettine, the Browns' third coach in three years, has shown a remarkable steadiness amid difficulty. He's already had his share of major issues: Pro Bowl wide receiver Josh Gordon's suspension; the Manziel media circus; the Hoyer-Manziel quarterback decision; injuries to key players.
Pettine has handled it all with finesse, strength and leadership.
"His demeanor and his attitude toward everything gives you confidence," said linebacker Paul Kruger. "It gives you an overall view of the way he sees us and the way we should see ourselves. He's done a great job in being the type of leader and the type of head coach that lets players identify their own personalities and lets them be themselves, and at the same time give us a clear vision of what's going on."
Pettine's got the gruff exterior, but there's a softer side to him, too.
As he came off the field Sunday, his two children were waiting in the tunnel to greet him. Pettine said he nearly "caved" with emotion.
"The players were getting on me," he said. "They thought I was going to crack, but I held it together."
He also got the usual treatment from his father, Mike Sr., who is never afraid to offer his opinion.
"He talked about how fortunate we were," Pettine said. "I said, 'There's a phrase for almost losing, it's called winning.' He was great. He's a typical Italian parent, he'll tell everybody he's proud, except me."
NOTES: The Browns are one of four teams without an offensive turnover. ... Pettine said TE Jordan Cameron (shoulder) and LB Barkevious Mingo (shoulder) made progress over the weekend, but he's not expecting RB Ben Tate (knee) back this week against Baltimore. ... Rookie RB Terrance West is tied for fourth in the league with 168 yards rushing.
___
AP NFL website: www.pro32.ap.org and www.twitter.com/AP_NFL