Eagles' rebuilt offensive line has not performed up to expectations in 1-3 start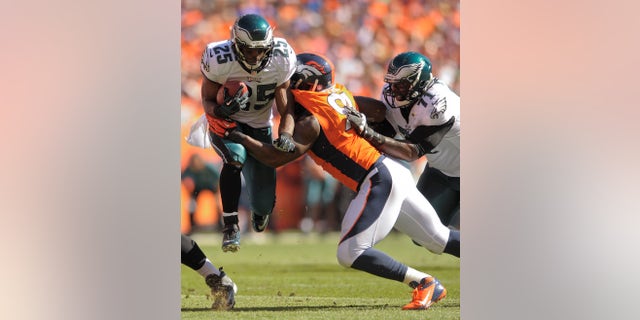 PHILADELPHIA – The Pro Bowl left tackle was coming back from injury, as were the solid, versatile veteran guard and the young, promising center.
Add in the first-round draft pick, the fourth overall selection last April, and a guard with Pro Bowl aspirations, and you have the makings of what was supposed to be a good offensive line.
So what happened?
Four weeks into the season, with their entire offensive line intact, the Philadelphia Eagles have allowed 14 sacks, third worst in the league, and have come under fire from first-year head coach Chip Kelly.
"There's not one thing," Kelly said of the team's protection issues. "And there's not one answer that it's this, and if we make this adjustment, then we are going to be good."
The return to health of left tackle Jason Peters, back from a twice-torn Achilles tendon; guard Todd Herremans, from a foot injury; and center Jason Kelce from a torn ACL, was supposed to make the Eagles strong on the line. The addition of first-round pick Lane Johnson from Oklahoma to man the right tackle spot was supposed to make them better.
Instead, the almost always reliable Peters has allowed a sack and 14 pressures in four games, or just three fewer than he allowed in all 16 games in 2011. Johnson has yielded four sacks and 13 pressures in his first four games.
"It's quite a change," Johnson said of going from college to the NFL. "I was talking to Donald Stephenson (his former college teammate now with Kansas City). He told me you're going to get beat at times. It's how you do the next play. You have to be resilient."
The Eagles' 14 sacks allowed have come with Michael Vick at quarterback. Vick's ability to run has probably allowed him to escape at least another three potential sacks.
"I think when we're throwing the football, there are a lot of elements involved," Eagles offensive coordinator Pat Shurmur said. "The first one starts with protection. I think when you look at it, the last two weeks we played against some pretty good fronts.
"And there are times, when you watch any game, there are times it's not a perfect pocket. Ideally, you want them to be able to take one step from the gun or three steps from the gun and be able to play it, hitch, and throw the football. There are a lot of times when that doesn't happen. We're very fortunate we have a guy like Michael who can escape and extend the play."
The players know they have to perform better starting this Sunday against the winless New York Giants, who still have a solid front four and usually present a decent pass rush.
"We're not happy with the way we're playing," Kelce said. "We've done some good things in the run game, but that's not enough. We can't just be one dimensional.
"The highest paid player, the most important player on the team, is usually the quarterback. And unless the offensive line is protecting him and giving him enough time, the offensive line isn't doing a good job."
NOTES: Safety Patrick Chung, who missed Sunday's loss to Denver with a shoulder injury, was still limited in practice Wednesday. His status is day to day. Nickel cornerback Brandon Boykin was also limited in practice with a shoulder contusion. Kelly said he expected him back at practice Thursday.
___
AP NFL website: www.pro32.ap.org