Eagles QB Carson Wentz buys shotguns for entire offensive line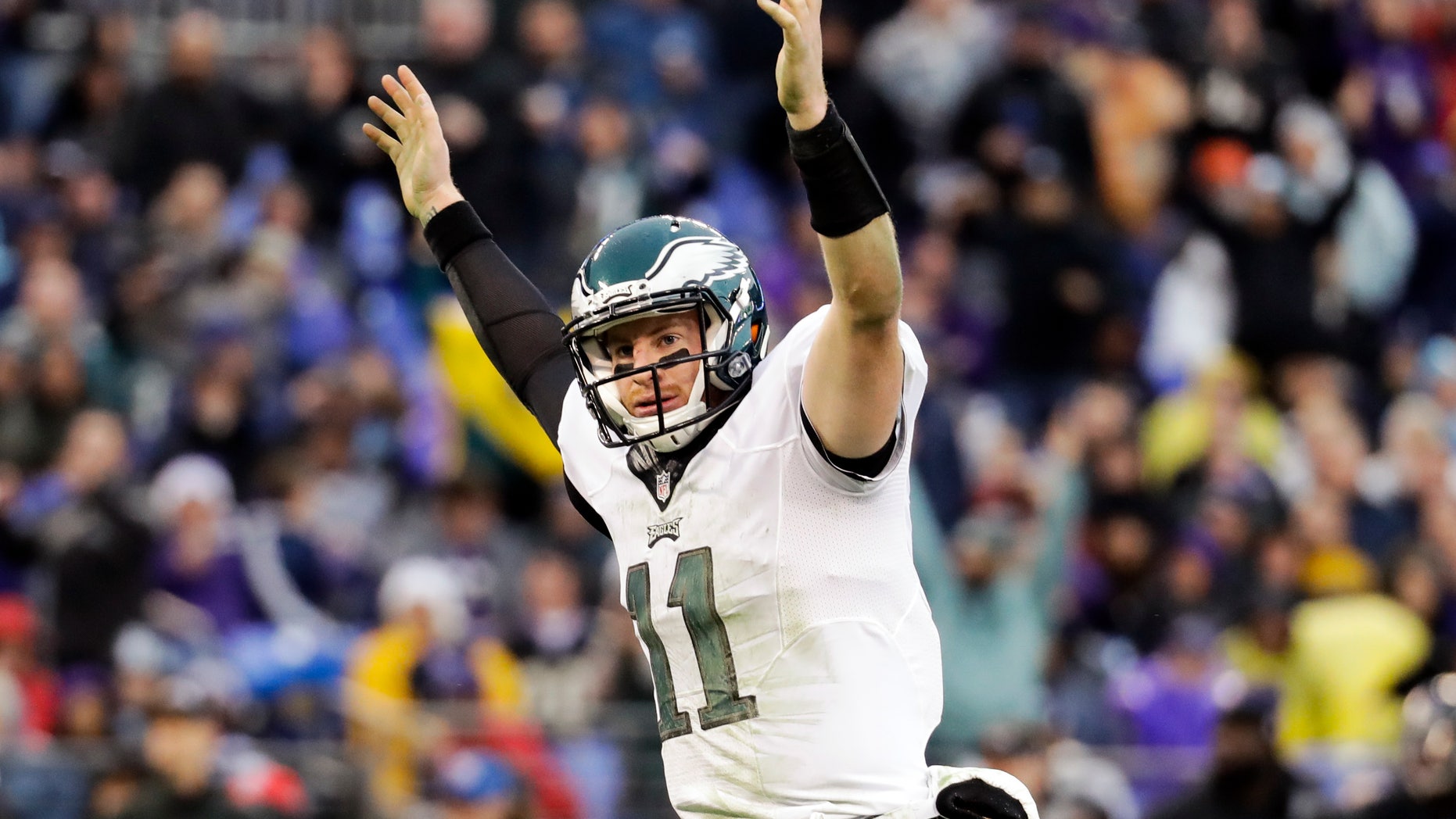 The Philadelphia Eagles offense is definitely set up to use a "shotgun" formation.
COWBOYS VISIT EAGLES IN POSTSEASON TUNEUP
Rookie quarterback Carson Wentz bought each of his offensive linemen a personalized Beretta shotgun for Christmas, a twist on the time-honored tradition of a quarterback rewarding the men who keep him upright each week, ESPN reported.
"This is an awesome gun. I'm excited about it," said Allen Barbre, who, like Wentz, is an avid Hunter. "I don't know if I'll shoot it, though. It's pretty nice."
ODELL BECKHAM JR. SHARES CHRISTMAS VIDEO OF A KID GOING BERSERK FOR HIS JERSEY
The shotguns are being engraved with each player's number on the butt of the weapon, which is believed to be a Beretta Silver Pigeon – a $2,000 model.
"I like to go clay shooting and stuff," Brandon Brooks told ESPN. "All I've got is a home defense tactical shotgun, short-barrel, so I was looking for one of these."
Not everyone is applauding the shotguns, however.
Shira Goodman, the executive director of CeaseFirePA, expressed concern about gifting guns to NFL players. The Eagles, in particular, have had a recent spate of gun-related incidents. Linebacker Nigel Bradham was arrested in October after allegedly leaving a loaded gun in his backpack while trying to go through security at Miami International Airport. Josh Huff, a wide receiver, was charged in November with speeding, possession of a small amount of marijuana and unlawful possession of a weapon.
"Wentz is a hunter and there have been a lot of stories about that but there have also been a lot of stories how NFL players have got in trouble with their guns," Goodman told FoxNews.com.
She added: "This is certainly an interesting and unusual gift, I've heard of quarterbacks buying their offensive line ATVs or steak dinners… Putting locks on these guns will make them safer."

Wentz, a 23-year-old who was selected No. 2 overall in the 2016 NFL draft, hasn't delivered the guns yet (they're not finished), but sent each of the linemen a text with a photo of the gun.
"I haven't really held a gun or anything before," Isaac Seumalo said. "But I'm more than thankful for it. It looks sweet. Carson said he'd teach me how to use it and all that good stuff."
Wentz has been sacked 31 times this season, which is about middle of the pack among quarterbacks with at least 350 passing attempts. The Eagles are 6-9 and in last place in the NFC East.
FoxNews.com's Andrew O'Reilly contributed to this report.