Eagles LT Lane Johnson: Ndamukong Suh is best DT in NFL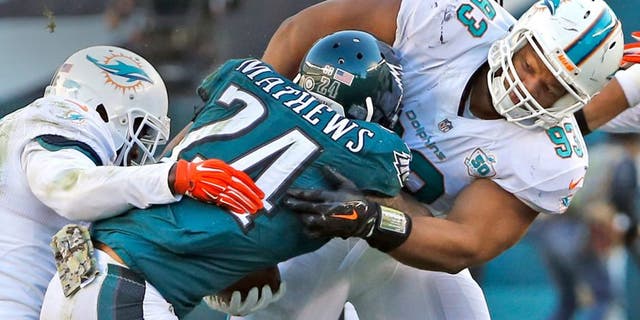 Ndamukong Suh looked like the player he was with the Lions on Sunday. Charles Trainor Jr. Getty Images
A big part of the Miami Dolphins' impressive 20-19 win over the Philadelphia Eagles on Sunday was Ndamukong Suh's play. He had arguably his best game since joining the Dolphins, recording his fourth sack of the season and consistently disrupting the Eagles' run game.
He hasn't exactly lived up to his $114 million contract thus far, but Sunday's game was a reminder of why the Dolphins made him the richest defensive player in NFL history.
Although Eagles left tackle Lane Johnson wasn't tasked with lining up against him throughout the game, he understands just how good Suh is.
"Whenever he wants to turn it on, I don't think there's anybody better in the league as far as a defensive tackle," Johnson said, via the team's official website. "He's hard to stop. He's one of those guys, you see him lollygagging, b.s.ing and that's what makes him dangerous. I guess he got tired of losing. He's one of those guys, whenever he wants to turn it on, he can do it."
Suh certainly turned it on against the Eagles on Sunday and looked like the dominant force that he was as a four-time All-Pro with the Lions. Maybe his performance against Philadelphia will spark a hot streak for him. If the Dolphins hope to make a run at the playoffs, they'll definitely need him to make a big impact, particularly in stopping the run where Miami has struggled all season.