Eagles' Kelce and Johnson had a little something extra for Hardy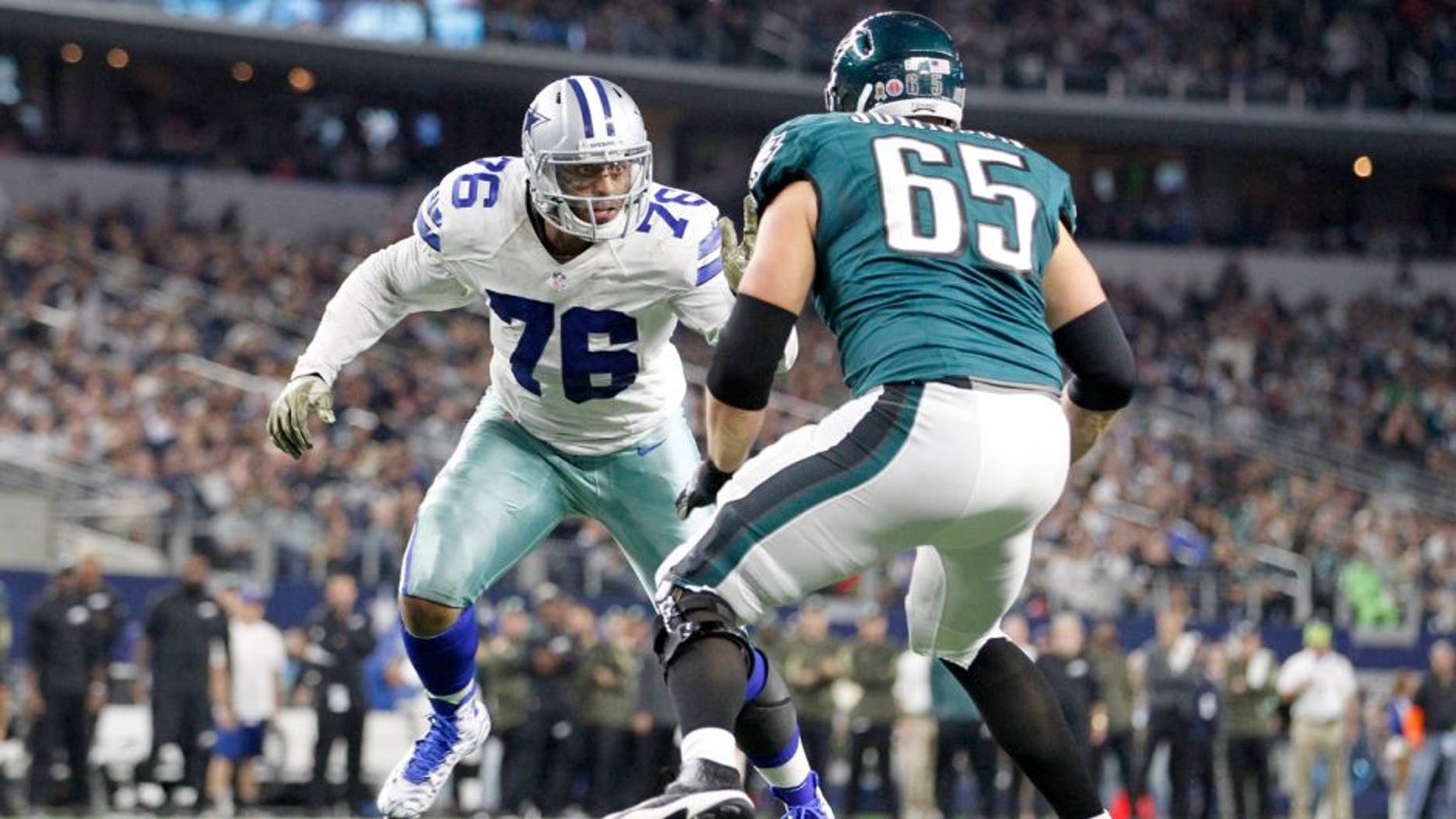 Aside from one sack, Cowboys defensive end Greg Hardy (76) was held in check by Eagles offensive tackle Lane Johnson (65). Tim Heitman USA TODAY Sports
In the Philadelphia Eagles' 33-27 Week 9 overtime win over the Dallas Cowboys, offensive linemen Lane Johnson and Jason Kelce kept the enemy in mind the entire game -- that enemy being the Cowboys, and more specifically, defensive end Greg Hardy.
Both Johnson and Kelce admitted after the game that they used any chance they had to show Hardy how they felt about him.
"Anytime I got a chance to put a little extra mustard on a block, I tried," Johnson told reporters, per the Philadelphia Daily Inquirer. "He wasn't all that emotional in the game. I don't know if the stuff got to him on the news, but he seemed out of it a little bit."
Johnson also took a shot at Hardy's effort level on the field, referencing an observation he made during Sunday night's game and throughout his time studying Hardy.
"I felt like I faced better than him. He's a guy who, when things are going good, he's great. When things aren't going good, he'll shut it down."
As the Eagles' center, Kelce didn't have the opportunity to match up with Hardy one-on-one except when he pulled as a blocker on run plays, but he made sure that his few opportunities counted. He had some strong words for Hardy after the game.
"There are three (types) of people I have zero respect for in this world," Kelce told reporters per the Philadelphia Daily Inquirer. "It's people who hit women, people who molest children, and rapists. I'm glad he didn't have a good day and ... I don't know. I think it's a joke a guy like that is able to play this quickly."
Hardy recorded two total tackles and one sack, but he also compiled two penalties and was largely held out of the Eagles' backfield on both passing and running plays. With left tackle Jason Peters sidelined, Johnson kicked off from his normal right tackle spot to left tackle so he could match up with Hardy.
Hardy's impressive play may have earned him a pass with some fans through his first couple of weeks back in the NFL, but his past actions are finally starting to catch up to him. If he continued to struggle on the field, the focus could shift away from his play on the field and to what most consider really matters.
MORE NEWS: Want stories delivered to you? Sign up for our NFL newsletters.