Eagles coach Kelly, Indianapolis quarterback Luck familiar with one another from college days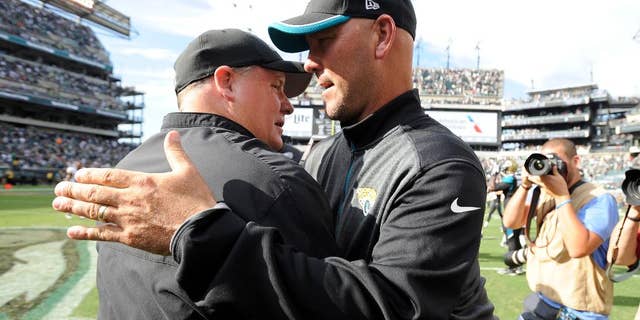 PHILADELPHIA – For now, Philadelphia Eagles head coach Chip Kelly is up on Indianapolis Colts quarterback Andrew Luck in head-to-head matches.
But that was college. They're meeting for the first time in the NFL when the Eagles play in Indianapolis on Monday night.
Kelly and Luck met three times in NCAA games when the coach led Oregon and the quarterback played for Stanford. Kelly went 2-1.
Kelly says there's everything to like about Luck: size, ability and smarts.
Luck returns the respect, saying the Stanford-Oregon rivalry developed partially because of Kelly's inventive approach. Luck says it'll be fun to play against Kelly again.
Both Luck and Kelly have had early success in the NFL. Luck made the playoffs each of his first two years. Kelly's Eagles won the NFC East last year.