Eagles center Jason Kelce calls out team's offensive line play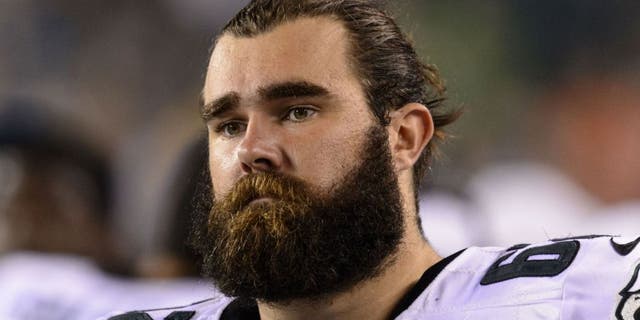 NEWYou can now listen to Fox News articles!
Since Chip Kelly was hired to be head coach of the Philadelphia Eagles, the offensive line play has been consistently dominant. After losing both starting offensive guards from the 2014 season, the line has struggled through the quarter point of the 2015 season.
In Sunday's 23-20 Week 4 loss to the Washington Redskins, the Eagles were already without starting right guard Andrew Gardner, and they also lost starting left tackle Jason Peters during the loss. Starting right tackle Lane Johnson injured his knee during the game, but he played through it and finished the game.
The offensive line was once again dominated at the point of attack, specifically through the interior, and it caused the offense to stall at times via the passing game and run game. If not for several deep passing plays over the top, the Eagles would have been held off the scoreboard for the most part.
Eagles center Jason Kelce remains the one healthy constant on the offensive line, and after another weak performance from his group overall, he decided it was time to speak out.
"Bottom line is our defense plays good enough, our offense struggles to move the ball when we don't do our job, and that's been the thing from the f------ beginning of the season," Kelce said to reporters, per Andy Schwartz of CSN Philly. "That's been exactly what stalled out our offense from the beginning all the way through these first four games. And right now we don't run the ball when we need to, we don't pass block when we need to, and it's a disgrace right now."
Kelce didn't want to hear about injuries and substitutions as any kind of excuse for the offensive line's play. The Eagles allowed three sacks yesterday and starting running back DeMarco Murray was only able to compile 36 yards rushing on eight carries -- 30 of those yards came on one play.
"All I'm worried about right now is getting the offensive line fixed," Kelce said. "Right now we've got to pass block better, we've got to run block better, we've got to communicate better. There's just way too many mistakes, way too many errors, especially at this point in the season, and we're costing our team wins right now. We've got to get this fixed, and we should have had it fixed yesterday; (we) should have had it fixed right from the beginning, and it's very frustrating right now."
What was a strength during the 2014 season has now become a major weakness in 2015 for the Eagles. With a quarterback like Sam Bradford, who thrives on getting into a rhythm with timing and footwork, this could be a major problem for the offense all season.
MORE NEWS: Want stories delivered to you? Sign up for our NFL newsletters.