EA Sports releases first 'NHL 18' teaser trailer, and there's not much to get excited about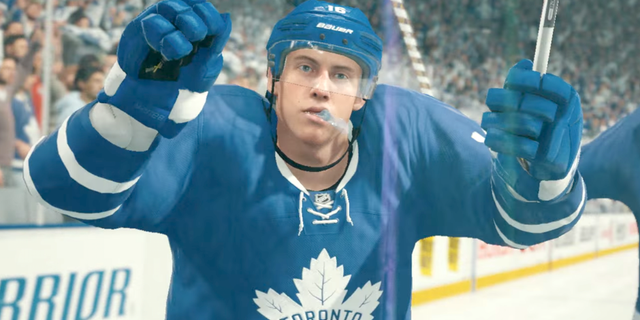 NEWYou can now listen to Fox News articles!
EA Sports released itsfirst official glance atNHL 18with its debut teaser trailer on Wednesday afternoon.
But thosehoping to get a lot of substance out of the clipwilllikely be disappointed.
The 25-second ad shows one lone highlight a nifty deke and goal from 20-year-old Maple Leafs rookie Mitch Marner, andthat's itat least until the full trailer is revealed at the NHL Awards in Las Vegas on June 21.
Obviously this is a very early and very brief glimpse at the game, but let's go ahead and overanalyze it a bit, shall we?
First,Marner is shown chewing on his mouthguard, hanging halfway out of his mouth, as he's been known to do. It's probably safe to assume thatwill be included in the game, meaning it'sa new personalization feature of the series. Neat.The series has includedsome aspects of player personalization in recent years (Ovechkin's yellow laces, Kane's ear guards, Kessel's candy cane tape job) so hopefully there are more small details like Marner's mouthguard that get incorporated this year. That will add some depth and realism to the series.
The second big takeaway the one the brief trailer emphasizes most is the introduction of new skill moves and animations. The crafty stick work that Marner uses to get around a defender and then beat the goaltender appear to be new to the series. Which meansfans could be in for a variety of new ways to dangle and score maybe even some sort of revamped skill stick.
That would be a much-needed addition to help create for a wider variety of highlight reel plays like the one shown in the trailerthough Marner and teammate James van Riemsdyk don't appear to be particularly enthused with the display.
Finally, the trailer still usesthe league's currentReebok jerseys rather than providing a glimpse at the adidas ones that all 31 NHL teams will begin wearing starting next season. Those jerseys willbe unveiled aroundthe same as the full trailer, somaybethey'll be included in that one as well.
There'snot much else totake away from this tease of a teaser, but if you'd like to check out what Ihopeis included in the upcoming game, you can do that here.