Dyson On Bautista: He Needs To Respect the Game a Little More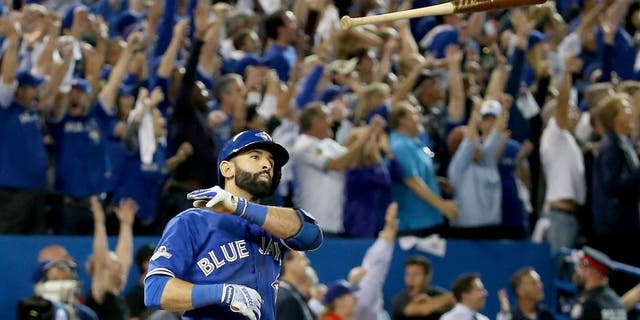 NEWYou can now listen to Fox News articles!
Immediately after Toronto Blue Jays slugger Jose Bautista hit a 3-run blast to put the Jays up 6-3 in Game 5 of the ALDS, his stare and bat flip immedietly went viral.
But the guy who gave up the home run, Texas Rangers pitcher Sam Dyson, was not impressed with the antics.
Words were exchanged, benches were cleared ... multiple times ... and when all was said and done, one of the most intense innings in baseball history played out in dramatic fashion.
After the game, Dyson was asked what was said on the field that brough both teams out to home plate as the inning ended.
"I told him Jose needs to calm that down," Dyson said. "Just kind of respect the game a little more."
Bat flipping has been a huge issue all season long, one that has led to batters being thrown at on several occasions.
That did not happen on Wednesday, but Dyson hopes Bautista gets his point.
"He's a huge role model for the younger generation that's coming up and playing this game," Dyson said. "He's doing stuff that kids do in Wiffle Ball games and backyard baseball.
"It shouldn't be done."
MORE FROM FOX SPORTS SOUTHWEST:
- PHOTOS: Cowboys Cheerleaders Auditions
- Ranking NFL 2015 Starting Quarterbacks Youngest to Oldest
- Ranking NFL quarterback salaries
- Oldest player on every NBA team
- College football's highest paid coaches in 2014
- Highest paid player on every MLB roster