Dwight Howard tweets that he'll sign with Houston Rockets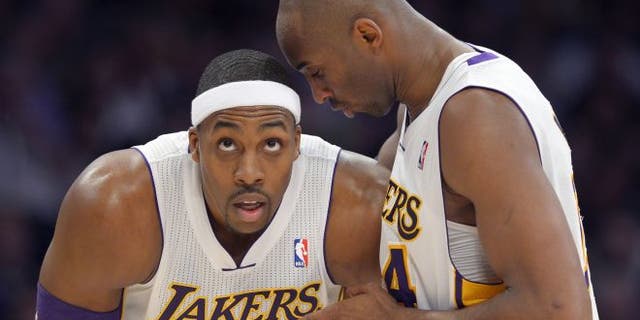 Dwight Howard, the NBA's most dominant and indecisive big man, who tired of Orlando and never loved Los Angeles, has made up his mind.
"I've decided to become a member of the Houston Rockets. I feel (it's) the best place for me and I am excited about joining the Rockets and I'm looking forward to a great season," Howard wrote on Twitter on Friday night.
He leaves behind an extra $30 million and an offense under Lakers coach Mike D'Antoni that he was never fully comfortable with, joining a Rockets team that could become an immediate contender in the Western Conference with the All-Star center in the middle.
"Years of work by Dwight & Rockets went into this. This team is going to be special," general manager Daryl Morey tweeted.
USA Today first reported earlier Friday that Howard would join the Rockets, where he will team with All-Star James Harden to give the Rockets a potentially potent inside-outside combination.
That didn't quite end the Howard saga, which has dragged on a couple of years. He spoke again with the Lakers amid reports he was changing his mind.
Turns out, he was just saying goodbye.
"We have been informed of Dwight's decision to not return to the Lakers," Lakers general manager Mitch Kupchak said in a statement. "Naturally we're disappointed. However, we will now move forward in a different direction with the future of the franchise and, as always, will do our best to build the best team possible, one our great Lakers fans will be proud to support.
"To Dwight, we thank him for his time and consideration, and for his efforts with us last season. We wish him the best of luck on the remainder of his NBA career."
Dallas, Golden State and Atlanta were the other suitors interested in Howard.
But it was the Rockets, who brought Hall of Fame center Hakeem Olajuwon with them when they made their pitch to Howard on Monday, who beat out the other teams.
And now Howard will follow the likes of Olajuwon and Yao Ming in Houston's middle.
The deal can't become official until July 10, after next season's salary cap has been set. The Rockets can give him a four-year deal worth about $88 million, a year less and far below the $118 million the Lakers could have offered.
The Lakers acquired Howard last August from Orlando as part of a four-way trade that also included Philadelphia and Denver.
He averaged 17.1 points and 12.4 rebounds in 76 games, good numbers but far from his usual dominant play in eight seasons with the Magic as he played his way back into shape following back surgery.
He wasn't a natural fit in D'Antoni's offense, had what appeared at times to be a strained relationship with Kobe Bryant and acknowledged not having fun at times.
Bryant apparently won't miss him. Though he took part in the Lakers' meeting with Howard on Tuesday, the five-time champion posted a photo on Instagram shortly after Howard's decision of himself and Pau Gasol, the Lakers' remaining big man.
Howard's awkward departure is right in line with the confusion that's followed him over the last few years.
The No. 1 pick in the 2004 draft was one of the NBA's most popular and likable players, a wide-smiling, fun-loving big guy who led the Magic to the 2009 NBA Finals -- where they lost to Bryant and the Lakers.
But he decided a couple of years later that he wanted out of Orlando, and the Magic eventually gave his agent permission to negotiate with the Nets, Mavericks and Lakers about arranging a trade.
Yet Howard would later agree to not opt for free agency, remaining with the Magic for the 2011-12 season. Howard's season ended prematurely when he needed back surgery, and Orlando finally dealt him to Los Angeles.
The Lakers' season was a disappointment, with Bryant, Gasol and Steve Nash all missing time with injuries. They never developed any chemistry, getting swept in the first round of the playoffs by San Antonio.
The Rockets believe he'll find that chemistry in Houston. "We have good teammates. They're young. They're guys who are great not only on the floor but off. He's going to get along great with our team," Morey said in an interview with Comcast SportsNet Houston.