DW: Year 2015 in NASCAR was one of firsts for some and lasts for others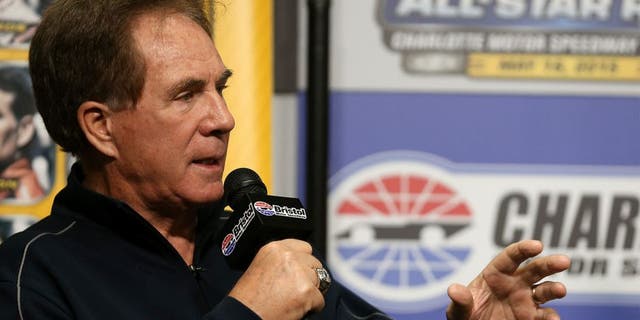 When you look back at 2015, I think you will agree it was an emotional roller coaster the entire year. There just seemed to be a story to follow each and every week. The clearest example clearly comes from Kyle Busch. In the XFINITY Series race on Saturday Feb. 21, Kyle Busch was in a horrible crash that broke one leg and broke the foot on his other leg. Fast-forward to December of 2015 and this same Kyle Busch is sitting at the head table in Las Vegas receiving his first NASCAR Sprint Cup championship.
That to me set the tone for the entire year. Kyle was out of the car for 11 weeks. NASCAR made an exemption in the rules, but gave the No. 18 team two clear goals they had to meet, once Kyle got back behind the wheel, if he wanted a chance to make the Chase. As a team they had to be 30th or better in the points and they had to win at least one race.
You have to give a lot of credit to that team. They didn't waver. They had substitute drivers in and out of the No. 18 car while Kyle went through surgery and rehabilitation in preparation of returning. New crew chief Adam Stevens and his crew did a nice job keeping their Toyota in contention and ready for Kyle when he returned in mid-May. When Kyle came back, he came back like a man possessed. He ended the season winning five races and his very first NASCAR Sprint Cup championship.
I know there were a lot of old-school NASCAR fans who didn't think Kyle deserved to be in the Chase. They felt a driver couldn't miss nearly a third of the season yet still be allowed a chance at the championship. The only thing I say to that is you have to remember, this isn't the same NASCAR from decades ago. They made a ruling and set clearly defined goals that Kyle and his team had to meet. They met those goals, and like the old saying goes, "The rest is history."
So 2015 was Kyle's first NASCAR Sprint Cup championship. He and wife Samantha also had their first child. It was the first championship for manufacturer Toyota. Interestingly enough, many people don't realize that team owner Joe Gibbs now has more NASCAR Sprint Cup championships than he does Super Bowl rings, so that is pretty cool, too.
Don't get me wrong; it wasn't a smooth ride to the championship for Joe Gibbs Racing. As mentioned, you had Kyle's nasty wreck the day before the Daytona 500, which had him in the hospital instead of running that race. The Toyotas as a whole got off to a sluggish start before finally hitting their stride. You had the incident during a rain delay at the spring Bristol race where Denny Hamlin had a neck problem, so the team literally flew young Erik Jones from Charlotte to Bristol in time to climb behind the wheel of Denny's No. 11 FedEx Toyota. That young man did an incredible job under adverse circumstances having never been in a Cup car and never practiced in Denny's car, but there he was in the No. 11 finishing the race for JGR. Then they had to deal with company president J. D. Gibbs being sidelined with medical issues, which forced Coach Gibbs to take on much more of the day-to-day operations of the organization. Under his leadership and experience, though, JGR got stronger and flourished, but there still was yet one more obstacle the Coach had to deal with.
You have to wonder what Joey Logano was thinking. 2015 seemed to be his year. That young man really came into his own last year for Team Penske. He won six races plus had 22 top-five finishes along with 28 top-10 finishes in our 36 races in 2015. His Team Penske Ford was fast almost every week, especially in the second half of the season. He got into the Chase and won an amazing three straight races. The young man simply looked unstoppable until the controversy at Kansas happened.
Joey and JGR driver Matt Kenseth got together in a hard racing incident at Kansas during the Chase when Matt was leading and Joey was running second. They got together late in the race, Matt spun out and lost his chance of winning the 2015 championship. Matt was very upset. He was so upset, in fact, that two weeks later at Martinsville, despite having a wrecked car and being nine laps down, he went back out on the track and intentionally wrecked the leader of the race. I guess I should add at this point that the leader of the race was Joey Logano. Matt made good on his promise when he had publicly said that no one needed to worry about Joey winning the championship.
I love both of those guys and I felt bad that things escalated to that point. I still to this day believe what Matt did at Martinsville was over the line. Unfortunately, that wreck put Joey in a points hole that he simply couldn't overcome, and he never made it to the Championship Round at Homestead. He had to settle for sixth-place in the 2015 points. All of what transpired hurt the image of our sport as a whole, so NASCAR benched Matt for the Texas and Phoenix race. It was just an ugly situation all the way around.
On a more positive note, I was really proud and thrilled to see the rebound that the No. 78 car made in 2015. If you remember, back in 2014, Martin Truex Jr. and his team based in Denver, Colorado were basically a non-factor the entire season. Again, as the old saying goes, "What a difference a year can make." In 2015, they were a completely different team. I think a lot of credit lies at the feet of first-year crew chief Cole Pearn. He and Martin really clicked. They got the win at Pocono. In addition, they had eight top-five finishes and 22 top-10 finishes in 36 races last year.
This little single car team drew the attention of the other manufacturers, and now in 2016 they are switching to Toyota. I think that is a little team that can. I believe they have a lot of potential. We got a glimpse of it in 2015 when they made it all the way to the Championship Round at Homestead. They finished fourth overall last season, but I won't be a bit surprised to see them contending and being up front all year long this year.
On the downside of the ledger for 2015 were some folks we lost. The first that comes to mind is our FOX NASCAR member Steve Byrnes, who lost his two-year battle with cancer in late April. I thank the good Lord that he allowed Steve to remain with us through the April 19 Bristol race, which was renamed in his honor. There were tributes from all the teams and the sport as whole. Heck, even the walls were repainted in many places with #ByrnesStrong. Steve never wavered. He was strong to the finish. My wife Stevie and I flew over to visit with he, wife Karen and son Bryson a few weeks before his passing, and I've never seen a family more at peace with what the future held. He's someone we'll never, ever forget and I'm excited to see him being honored in the upcoming NASCAR Hall of Fame ceremonies later this month.
Sadly, we also lost driver Buddy Baker. I don't think any of us saw that coming. I talked and prayed with Baker before he passed. He was a great friend, and I hated to see what happened to him, but he was a gentle giant right up to the end with a smile on his face. I loved what he said, "Don't shed a tear. Give a smile when you say my name. I'm not saying goodbye, just talk to you later."
Unfortunately, this past December wasn't any kinder to our sport. We lost Judy Allison, the matriarch of the Allison clan. Bobby's wife passed unexpectedly, which was a shock to us all. That poor family has been through so much tragedy over the years, so our prayers once again go out to them. Then on the last day of 2015, we lost the great Marvin Panch. I knew that whole family. He was a friend of mine. He drove in NASCAR back in the 1950s and 1960s. He won the 1961 Daytona 500 driving for Smokey Yunick. Marvin had 17 NASCAR Cup wins in his 15-year career, and he will be dearly missed. Obviously there were others that we lost in our sport in 2015, but those were just a handful that hit really close to home to Stevie and I.
Back on the racing scene we saw the end of a Hall of Fame career when Jeff Gordon announced his retirement. Jeff will be joining Mike Joy and I in the FOX NASCAR booth in 2016. I'm looking forward to working with Jeff. He's a lot of fun to be around. With him fresh out of the race car, he'll bring a unique perspective to our broadcasts. I think the mixture of his new-school outlook along with my old-school outlook should make for some entertaining race broadcasts, so I am really looking forward to that.
Getting the win at Martinsville there late in the Chase has to rank near the top of his 93 wins. It gave him a shot at his fifth and final championship. Even though it didn't happen, he at least had a chance and finished third overall in his final season in the sport. That's what any professional athlete wants in their final year is to be competitive, and Jeff was definitely that. I loved the fact that NASCAR surprised Jeff by getting superstar Tom Cruise to introduce Jeff at the NASCAR awards banquet in Las Vegas. That was pretty darn cool right there. I got tickled when Jeff spoke, because he made reference that as a driver, he dreaded all those debris cautions that seemed to happen near the end of the races but in 2016 as a race broadcaster, he would be looking forward to them. That right there told me he's going to fit right in with Mike and I up in the booth this year.
We saw the end of Michael Waltrip Racing. They closed their doors with Clint Bowyer moving over to Harry Scott's Cup team for a one-year deal, and their other driver, David Ragan, still looking for a ride. I hated to see that happen to my brother and to our sport, especially to all those families that were affected by it right before the holidays.
As Tony Stewart has already announced, 2016 will be his final year behind the wheel. Despite the three NASCAR Sprint Cup championships and 48 wins, Tony's last couple of years has been pretty rough. He suffered the badly broken leg that had some folks wondering if he would ever race again and then there was the tragedy in 2014 that claimed the life of Kevin Ward Jr. in a sprint car race in New York.
Tony is still a great driver and I hope that in 2016 he can go out in style. He's co-owner of a great team and for all the bad things he's had to suffer through these last few years, my wish is that in 2016 we get to see the old Tony, running up front and winning races one more time before he hangs up his helmet. Clint Bowyer has been tapped by Tony as his replacement beginning in 2017.
The 2016 season also brings us another rules package. As you might recall, NASCAR tried some different combinations throughout 2015 to try to make the racing better. I applaud NASCAR for trying these new combinations in real race conditions instead of simply testing them at some track. I've always maintained that the best way to see what you really have is under race conditions. NASCAR did that and the low-downforce package seemed to appeal to everyone, so this year we'll see the rules package we saw run at Kentucky and Darlington. I think that is a good move on NASCAR's part.
We saw a bunch of new dads in the owner/driver motorcoach lot last year. As everyone is fond of saying, there is another changing of the guard in NASCAR, as the millennials are taking over. It also looks like the team owners are finally going to get some equity position in the sport and the drivers are working to make sure their voices are heard.
The sport is changing and changing fast. I, for one, can't wait to get to Daytona in February and get that "boogity, boogity, boogity" thing going again.