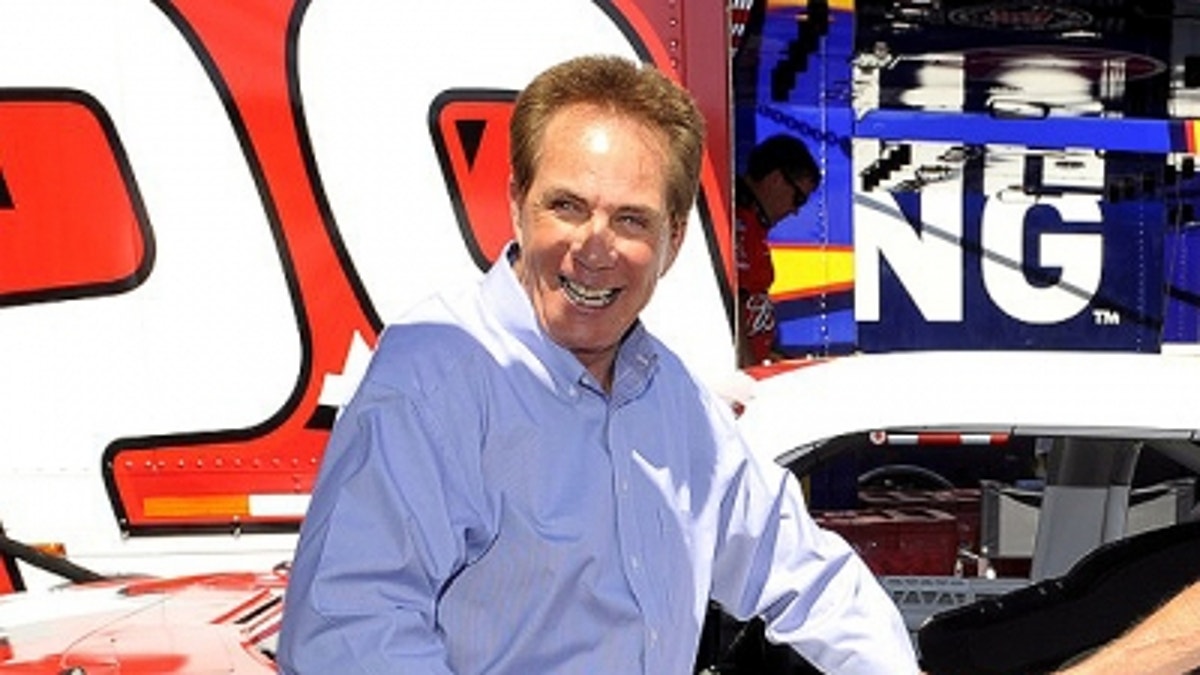 As I mentioned last week, Sunday's race at Loudon, New Hampshire, marked the end of the six-week TNT run and also my six weeks of work on SPEED.
I really enjoy it each year. After the NASCAR on FOX portion of the season ends, I enjoy switching gears and taking on a different role for SPEED.
In addition to Sprint Cup practices and qualifying, I also worked every Sunday on SPEED's NASCAR RaceDay show which is the network's lead-up to the start of the race. The thing I really enjoy about it is we have two hours to analyze, discuss and sometimes debate the topics of the week. Unfortunately, we don't always have a lot of time available on our NASCAR on FOX prerace show as it is always so short.
I was thinking back over the past six weeks and boy has it been crazy. Our last NASCAR on FOX broadcast was at Dover International Speedway in early June. That very next week I went to Tony Stewart's Prelude to the Dream at Eldora and what an unbelievable time I had. You may remember that Tony surprised me and had a two-seater dirt car for me.
The only problem was I wasn't the driver. He was and I was the passenger. That boy did everything he could to scare the life out of me and golly it worked. Remember now, I am sitting on the right side of a dirt car. The right side is right up there next to the wall. He says we never slapped the wall with the car but I am just telling you I was close enough to it I could have slapped the wall with my hand.
Later that week we all headed to Pocono Raceway and its first race on the newly repaved surface. I really thought we were going to average 180 mph around that joint. Remember, that's just the average -- which means you are going 215–220 mph down those long straightaways and then heading off into some pretty flat turns.
As it worked out, the very next week, on Father's Day weekend, we went to yet another repaved race track up in the Irish Hills of Michigan. Now I just have to tell you that it has been a really, really long time since I have seen a race car qualify over 200 mph. Marcos Ambrose put his No. 9 car on the pole at 203 mph and change. It was just an unbelievable qualifying lap.
Of course the big news of that weekend was Dale Earnhardt Jr. finally breaking his winless streak of four years. He got the win on Father's Day in Michigan, which was exactly the last time he won a NASCAR Sprint Cup race four long years ago. Junior Nation, NASCAR and our sport overall was thrilled to see Dale Jr. back in Victory Lane.
The win really was no big surprise. He and that No. 88 team have been solid as a rock this season. They are legitimate championship contenders to knock Tony Stewart off the top of the hill. Junior has done something that no one has ever done; he has completed every lap that has been run this season. I am not talking about every race - I am talking about every lap run, Dale Jr. has run it. That's a record. That's a clear example of how good that team is and how consistent they are.
So we left the wide 2-mile track in Michigan and headed across the country to the road course in Sonoma. I have to say, Clint Bowyer is a lot better on the road course than I think many of us give him credit for. What's interesting about Clint's win that weekend is, remember when Marcos Ambrose almost won there a couple years ago but ran out of gas? Well, that was the exact same car.
Obviously the team made it better. If nothing else, they gave it better gas mileage for sure. Clint got the win in grand fashion. When you can hold off the likes of Tony Stewart and Kurt Busch, who are both excellent road-course drivers, as he did then you know you have accomplished something big. Clint really ran that road course to perfection. He and crew chief Brian Pattie have great chemistry and are hitting on all cylinders right now. They also are another pair with a legitimate shot at this year's title.
We left there and came back to my home track, Kentucky Speedway. Officials there got all the traffic flow and parking problems improved. It was day and night for everyone compared to last year. It offered a heck of a good race, with Brad Keselowski getting another win.
There is no question in my mind that Brad will be someone to deal with when the Chase for the Sprint Cup starts in September. He and defending champion Tony Stewart each have three wins. With the bonus points allocated, they would start the Chase tied for the lead if it started tomorrow.
Brad is pretty darn racy and that also has to put to rest any rumors of feelings people might have had about the Penske organization going through a lame-duck year for Dodge before its switch to Fords in 2013.
The key thing to remember is everyone has to change bodies next year across the board. So the Penske camp will simply be putting a different motor and body style on its cars and going racing next year. To me, since everyone has to change bodies next year, if you were going to change manufacturers, now is the perfect time to do it.
Despite all the success that Brad has been enjoying, the Penske organization was rocked back on its heels at Daytona earlier this month when AJ Allmendinger was notified just hours before the race that he had failed a random drug test. His future and career now hang in the balance as the "B" sample, which is a second sample of AJ's, is tested this week. Obviously nobody knows what is going to happen there yet.
While NASCAR may fine folks and take away points, it isn't in the habit of suspending people unless officials have reason to believe it is something very serious. So all eyes are going to be on the results of this second test and what this means for AJ Allmendinger's future in NASCAR.
Tony Stewart had what you might call an interesting Daytona weekend. He had his qualifying run thrown out because of a rules violation. That started him in the rear of the field that Saturday night under the lights. He hung in the back almost too long. There was a point where he almost got lapped. He was fortunate that it didn't happen. He turned up the intensity and came home with yet another summer Daytona win. Tony has now won four of the last eight summer Daytona races. That's just incredible.
In that race, Jeff Burton, who drives for Richard Childress, got a much-needed second-place finish. That was a good shot in the arm for that team. They needed something positive to happen, so I was really happy for Jeff, Richard and the team.
Week No. 6 of the summer run brings us to the race last weekend in New Hampshire. You all know the old expression "Christmas in July." Well, that certainly was the case for Kasey Kahne. There is no question that Denny Hamlin in the No. 11 had the fastest car. However a miscommunication between Hamlin and his crew chief over tires mired him back in 13th position when they restarted the race following a late pit stop.
Denny drove that Toyota of his all the way up to second place, which at a place like Loudon where it's hard to pass is pretty impressive. Kasey's lucky and he knows it. If there had been 10 more laps, odds are very good that Denny and his rocketship probably would have come back to win.
Denny wasn't too upset though. Like he said in his postrace interviews, he knows they are going back to Loudon for the second race of the 2012 Chase, so he has to feel pretty good about his odds, because last Sunday he was bad fast.
So over the last few weeks we've seen record speeds, record temperatures with the nation's heat wave, different-sized tracks and some with brand-new surfaces and throw in a failed drug test. Dale Earnhardt Jr. finally breaks through with another win while Carl Edwards and Jeff Gordon continue to be winless.
We also had a crew chief change as Bob Osborne was replaced by Chad Norris as Carl Edward's crew chief. That really comes as no surprise to me.
Who is going to get those two wild-card positions is really shaping up to be a heck of a storyline to follow. Kasey Kahne, with two wins, is sitting pretty. I think it will take at least two wins to secure a wild-card slot this year. There's only seven races to go and then the field for the Chase will be set after the completion of the Sept. 8 race at Richmond.
Now next weekend we are off to the hallowed grounds of Indianapolis. Even though I am not going to be working for SPEED, I am still going. There's just a mystique about that place that is hard to explain. You can just feel it when you pull into the infield. It's the same feeling we all get in February when we pull through the tunnel at Daytona. It's a really special feeling.
This weekend however, ol' DW is headed to the lake. It is going to be strange not being at a racetrack for once. This is the first weekend since Easter that I haven't been at a track, but I just have to tell you I am looking forward to it. I am going to get extremely lazy and lounge around on the lake on my pontoon boat. I might wet a hook or two and work on my tan!
Lastly, I do want to let everyone know that we announced this past Tuesday that the 3rd Annual Waltrip Brothers Charity Championship is going to take place right here in Franklin on Oct. 24 and 25. It's a two-day charity event that Michael and I put on every year. On the 24th will be our Charity dinner. Our buddy Brad Paisley is going to stop by and play a couple of tunes for the folks.
Then the next day is the charity golf outing. We'll have NASCAR, Country Music and other celebrity guests there. All the proceeds this year are going to Feed The Children and Motor Racing Outreach.
You can learn more about how you can join us in October and help support the charity event by visiting www.waltripbrothers.com.