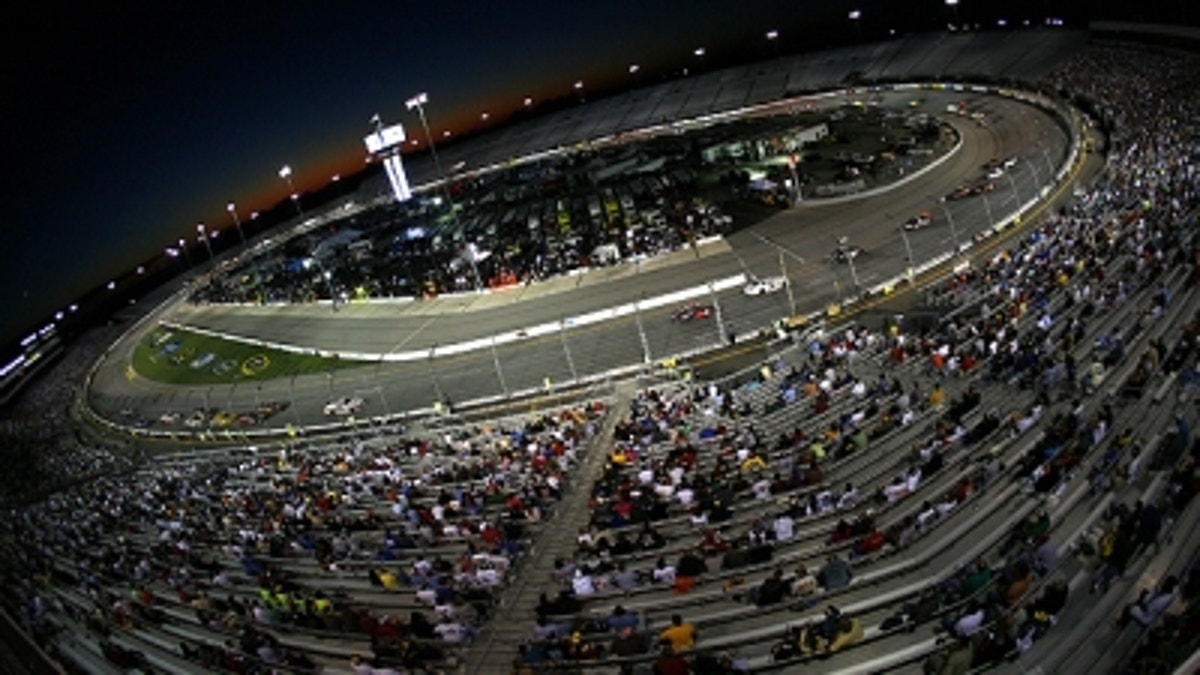 Well folks, I watched the Atlanta race weekend and, while I was not glued to the TV every night of the holiday weekend, I listened to it on Sirius and watched a good bit of it on TV. So I kind of had a feel for what was going on and, I tell you what, I thought those were three of the most bizarre races that we've had all year.
Starting out on Friday night with the truck race, Kyle Busch seemingly had that thing won. Then suddenly a problem late in the race opens the door, and through it walks Ty Dillon for his first career truck race win. It was awesome for Dillon, but very disappointing for Busch. If you look at Kyle and his brother Kurt it seems like all year long they run really, really well — whether it's in trucks, Nationwide or Sprint Cup — for about 7/8 of the race. But that last 1/8 of a race has caught both of them a number of times; flat tires, wrecks . . . something has happened to both of them consistently this season at the end of races. I'm sure they are well aware of that, and I'm sure Kyle thought of it as he suffered problems late on Friday night.
Fast forward to Saturday and it was almost the same thing: Kevin Harvick had a dominant car in the Nationwide Series race, and I just couldn't see how he could lose. But through a series of events, including a driver using bad judgment that led to a late caution, Harvick ended up losing the race to Ricky Stenhouse Jr. Now listen folks, we've been throwing water bottles out of race cars for 30 years, but normally drivers throw them out during caution or as we leave pit road near on the apron. But when a driver reaches over to toss out a water bottle under green on the front straightaway where it will most definitely be seen, well you can say what you want but as a driver we all know what the intent was.
I think back to a story about Dale Earnhardt and I — we were at Rockingham a number of years ago and we were running a Busch (now Nationwide) Series race and we both needed a caution desperately. We just knew that if we got a yellow flag, one of us would win the race. One of us, I don't remember who, threw out a glove but nothing happened. I threw out another glove, but still nothing. Next thing you know, I see a piece of roll bar padding flying through the air that Earnhardt threw out the window. Essentially, anything we could get our hands on, short of our helmets, we were throwing out our windows trying to get a caution. NASCAR was on to what we were doing but just ignored it. They told us after the race that we could've kept our antics going and thrown helmets out the window and they still wouldn't have shown a caution.
NASCAR is aware that drivers will try to pull a fast one and they've tried to police it in the past by more or less taking a "no harm, no foul" approach. But I'll say this: A water bottle looks pretty harmless right? It's just plastic, what could it hurt? Well, let someone throw one at you, see if you'll let it hit you in the face — I'm thinking probably not.
Point is, the caution came out late Saturday night. NASCAR covered itself a bit by saying that it was for debris somewhere else on the track, but the bottom line is that Harvick lost the race. Now, Ricky Stenhouse is a great driver and I'm a big fan of his, he got to pounce on the bad luck of Harvick — that's not his fault.
Go to Sunday's Cup race, it had more twists and turns than a Hollywood blockbuster. The plot thickened, the plot changed, the lead role changed a number of times. For a while, it looked like the magic was back for Kevin Harvick and Gil Martin. Then it looked like Martin Truex Jr. was going to get that much-needed win right before the start of the Chase for the Sprint Cup so he could get those crucial bonus points. But again, at the very end a caution came out (this time when Jamie McMurray's tire blew out) to set up a final plot twist. On that final restart, Truex spun the tires a bit while Denny Hamlin took off nice and smooth. But right behind Hamlin was Jeff Gordon, and there is nobody at the end of that race who needed a win more than Gordon. The end result was a duel to the finish which was eventually won by Hamlin.
Now I know Gordon beat himself up a bit after the race because he didn't rough up Hamlin a bit in those final laps, but Jeff Gordon doesn't do that — he's not that type of driver. He may have done it 10-15 years ago, but when you are a respected four-time champion like he is you don't have the reputation for doing that and you certainly aren't going to develop it now at this point of his career. You can call it soft, but I call it respectful and wise. I'd have been disappointed in Jeff if he had dumped Denny. He can say that it was his shot to make the Chase, but he's got one more this weekend, and he can do it the right way, and he'll be more proud of it than if he had wrecked a rival. I admire and respect Jeff Gordon, and he raced the way a four-time champion should.
Those were three bizarre nights of racing. And the best part — we get one more night of action before the Chase, this weekend at Richmond. It's the last chance for drivers locked into the Chase to win and get more bonus points for the championship fight. Jimmie Johnson could use them to tie up Hamlin at the start of the Chase; Hamlin could use them to separate himself even more from the rest of the pack. Harvick and Truex are in the Chase but in desperate need of their first win. Heck, any number of the 10 guys who have locked up a Chase spot could use a win on Saturday night. But in more need of a win are the other guys fighting for one of the two remaining wild-card spots. You have to be in it to win it, so they will be giving it all they have to win and earn a spot in the Chase.
That's what makes this the most exciting weekend of the year. There's so much about Richmond that makes it the most thrilling and exciting race of the year for me. After Richmond, basically you are back to points racing, but on Saturday night it's all about winning to be in it. Gordon knows that. Kyle Busch knows that. Carl Edwards — although a long shot — knows that. So do Marcos Ambrose, Ryan Newman, Joey Logano . . . even Kasey Kahne (though he's in pretty good shape with his two wins).
There's a lot on the line, a lot to be decided. It's been an exciting 25 races to get to this point, and it's all going to come to a head this Saturday night with so much intrigue and so much at stake. I'm going to be there working with SPEED on NASCAR RaceDay and NASCAR Victory Lane. I'm sure we'll be talking about a number of things — Matt Kenseth going to Joe Gibbs Racing, Logano going to Penske Racing, the speculation about where Elliott Sadler is going (to me it makes sense that he would go to JGR, as well, since they apparently have sponsorship for a fourth car and they've got an awesome Nationwide program that fits Elliott to a T). And oh yeah, there's Saturday's race to talk about!
There is a lot going on. It should be an exciting weekend. I can't wait to get it started and see what's going to happen. I'll see you on SPEED this Saturday night!
Oh by the way
Speaking of the moves that were announced this week, there have been some big moves in the sport over the last few years: Tony Stewart leaving Gibbs to team up with Gene Haas and form Stewart-Haas Racing. Dale Earnhardt Jr. leaving Dale Earnhardt Inc. and joining Hendrick Motorsports. And now you've got former Sprint Cup champion Kenseth leaving Roush Fenway Racing for JGR, as well as Logano's move.
It'll be interesting to see how Kenseth and Logano react to new teams. They have both only really driven for one team (Kenseth at Roush, Logano at JGR) in their Cup careers, so they'll have to adapt to new cultures. It took Dale Jr. a little while to get comfortable at Hendrick; will it be the same for these two? Keep an eye on that.