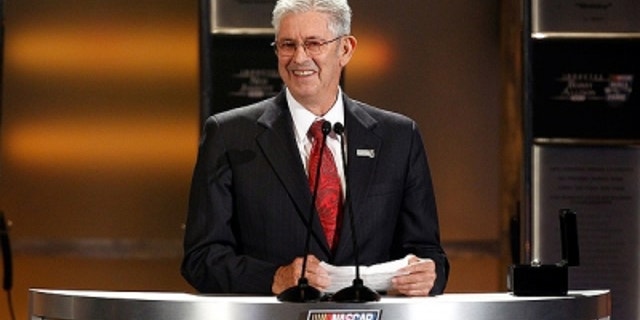 You know it was only four short years ago that our NASCAR Hall of Fame was opening its doors for the very first time. Back then many were vocal when they learned that there would only be five inductees per year. Many felt NASCAR should have used the NFL example where they inducted 17 people in the Pro Football Hall of Fame initially.
There was just a lot of discussion that five was not enough and in some ways I agreed with that. But last Friday night we inducted five more new members bringing our total to 20 NASCAR Hall of Fame inductees. It really does go by fast. The Hall will fill up quickly. Just think, in 10 more years we'll have a total of 70 members in the NASCAR Hall of Fame.
So I am comfortable with it being five new members per year. It makes it very elite. It also makes it very challenging and interesting for the folks on the NASCAR Hall of Fame Voting Panel because there are so many worthy candidates.
We saw that Friday night downtown with the 2013 Class. These were five very worthy men that all had one thing in common. To a man, they all dedicated their lives to NASCAR and were successful at it. They had a true passion and love for what they were doing. You even saw that same passion in the family members that came up to accept for Buck Backer, Herb Thomas and Cotton Owens, who are no longer with us.
You could see and feel the pride they had in their relative's accomplishments.
They all did a great job in relaying the message that these men dedicated their lives to the sport of NASCAR. Actually I think it is the one common bond between all 20 of us that have been so honored to be inducted – we gave it all to the sport. We left it all out there and held nothing back. We were willing to give it all and sacrifice it all to be successful.
Once again this year we saw first-hand how NASCAR and Hall of Fame officials Winston Kelley, Amber Wells, Karen Davis and all the others that put in long hard hours on each and every induction are simply amazing. You want for nothing. Even though the focus obviously was on the new class, as it should be, those of us that were able to attend were still treated like royalty. That's a special feeling, I just have to tell you.
The exhibits are always awesome. They have some cars from some of NASCAR's more famous wrecks on display there now. In fact, what's left of my 1991 Western Auto car from my 11 barrel rolls down the backstretch in Daytona will be joining that display soon.
If you remember in a previous column I mentioned how back in the day we used to name our cars. Well Friday night, Rusty Wallace gave us another example of that. His car, Midnight, which was named that because of the time of day he pulled into Victory Lane at Richmond, was put on display. Rusty was no different than the rest of us. We named our cars. We rubbed and loved on them. There was an emotional bond and trust with our cars. So it was cool to see Rusty give us another example of that Friday night with Midnight.
So Friday night's NASCAR Hall of Fame Induction was special. There was lots of laughter and tears at times. It was awesome to see Leonard Wood join his brother Glen Wood in the Hall. Glen was part of my class of inductees and we all knew it was only a matter of time for Leonard.
Herb Thomas was one of our sport's very first superstars. Buck Baker exemplified what drivers and owners were like at that time. Buck was a character, no doubt about it. Cotton Owens was another one of those that did so much in propelling our sport forward. One common thread they all share with the rest of us was: they were showmen.
Sure, they showed up every weekend to race, hopefully take home a big trophy and an even bigger check, but they all knew what the bigger picture was. The bigger picture was to put on a show. When you put on a show, the grandstands fill up. Putting on a show is a true legacy of the France family that started and continues to run our sport. From Big Bill France, to Bill Jr. to Brian France, Lesa France Kennedy and Jim France they all realized that even during a sporting event you have to put on a show to attract fans to come watch and enjoy.
To be honest, I thought Rusty was going to break my record for the longest acceptance speech in the NASCAR Hall of Fame induction ceremonies. I didn't know until someone told me that last year I spoke for 23 minutes and 40 seconds. Rusty spoke Friday night for 23 minutes and 14 seconds. I bet if the ol' scoundrel had known how close he was to beating me, he probably would have thanked a few more folks. It's just how drivers are. We love to compete and beat the other guy, no matter what the competition is.
It was great to see everyone again. Richard Petty, Bobby Allison, David Pearson, Ned Jarrett, Bud Moore, Barney Hall, Ken Squier and the others were all there. They are walking talking pieces of history in our sport. The stories they can share are priceless just like the memories they helped to create for our sport. Stevie and I were both honored to be there and thrilled to watch five most deserving gentleman join the ranks of members of the NASCAR Hall of Fame.
Now the focus shifts to Daytona.
We all head down there with our first race, the new Sprint Unlimited race this Saturday evening on FOX at 8 p.m. Eastern. This new Gen-6 car will be on the track on Friday during practice, then the race Saturday night and then Sunday is qualifying for the Daytona 500 (Feb. 24, Noon ET on FOX), so the anticipation is ramping up.
I still truly believe this will be one of the best seasons we will see in NASCAR history. There is so much energy and excitement that this new car has created that I just can't wait to get it started. This is going to be a big year, I really believe that.
So as we say – Boogity, Boogity, Boogity – let's go racin' boys and Danica!