DW: 'Everybody Knows What Time It Is'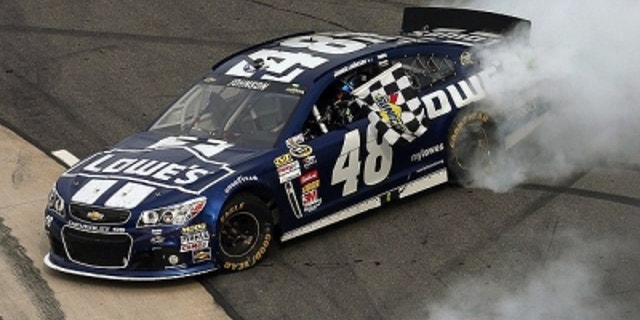 Remember the group Chicago and their song "Does Anybody Know What Time It Is?" One of the lyrics is, "Does anybody really care?" Well, I can tell you one person who cares, and his name is Jimmie Johnson. He made great time at Martinsville on Sunday. Jimmie made great time for the eighth time there.
It was an unbelievable performance by a one of the greatest race-car drivers our sport has ever seen. I won't call him the greatest, but he certainly is one of the greatest to get behind the wheel of a stock car.
The man is flawless. He simply gets the job done. There are those who will say it's the car. There are those who will say it's the resources he has or his crew chief Chad Knaus or his race team. You know what? While all of those are very important contributing factors, the last time I looked, there is only one person sitting behind the wheel of that No. 48, and his name is Jimmie Johnson.
He's the only champion in our sport's history to win five championships in a row. He now has 62 wins, and Sunday he made it look easy.
Trust me, it wasn't easy. Everyone in our sport will tell you that Martinsville is one of the hardest, most taxing race tracks on the circuit. That little paper clip may look like a piece of cake, but it is anything but that. It's small. It's narrow. It might look easy, but it will wear out equipment and a driver like nothing they've ever faced.
There are some who think I took a shot at Jimmie yesterday because he didn't give his teammate Dale Earnhardt Jr. time to get his car refired and get a lap back. I just called it like I saw it. I just thought Jimmie, when he saw Dale Jr. getting his car cranked up, may have considered letting him take off and not lose another lap.
The reality is I don't know what Jimmie was thinking at that time. You see a car spun in the center of the race track. You don't know if it's going to refire in time. The natural response is to go around him and go on. The other reality is it's not Jimmie's job to worry about what Dale Jr. does or doesn't do.
It was just an observation I made at the time. I think the world of Jimmie. It's an honor to call him my friend. What he has done in our sport in such an incredibly short period of time is nothing short of phenomenal. Sunday alone was amazing, with Jimmie leading 350 of 500 laps.
Sure, there obviously weren't a lot of lead changes Sunday, but that doesn't mean there wasn't action all over the place. There were people all day long trying to get up there and pass him.
One who comes to mind is Clint Bowyer. He got into a wreck early. He got his race car all torn up, but then he still was able to get up there at the end and put some pressure on Jimmie.
Jimmie's teammate Jeff Gordon is another. He had an up-and-down day that included a miscue in the pits. When it counted, though, he and the team got his car right and Jeff finished third.
One of the other Hendrick drivers didn't fare as well. Poor Dale Earnhardt Jr. just had a lousy day. It's just one of those days you want to put behind you, forget and move on. He entered Martinsville as our points leader, and a lot of us expected him to do really well. I mean, up until Sunday, the man has had five Top 10 finishes in our first five races.
That all came to a screeching halt Sunday at Martinsville for Dale Jr. His car was never that good. He got in trouble and got spun out. He got a lap down and then he got a second lap down. He just had a miserable day. He did lose the points lead, but only dropped to third, and really not that far behind.
Kyle Busch, Brad Keselowski, Jamie McMurray, Marcos Ambrose and Mark Martin, who pinch-hit for the injured Denny Hamlin, all got the great runs they were looking for. Denny was at Martinsville, and I know it had to be killing him not to be in the race. I know, because I've been there and done that.
I have to say, one of the more ironic things that happened Sunday was listening to Denny give pointers to Martin on how to get around Martinsville. Now I know Denny knows the car and the setup better, but just stop and think how many times Martin has raced at Martinsville.
I for one just had to smile listening to Denny giving Mark those pointers. The best part is that Mark kept the car where it is in the points, and that's exactly what Joe Gibbs Racing wanted him to do. This weekend at Texas, Brian Vickers will be behind the wheel of the No. 11, and we'll all see what he can do.
***
What Danica Patrick did Sunday at Martinsville was nothing short of amazing. Up until that weekend, the young lady had never raced there. For her to go to one of our toughest tracks on the circuit, be there all day long and come home 12th sure says a lot about her talent.
What all of us inside the sport see in Danica is that she has the talent. She has the passion, desire and ability. What she doesn't have is experience. She just has to put it all together, and that only comes with experience. We all know what she accomplished at Daytona. Then these last few weeks, she has really struggled. Now she has come to Martinsville and rebounded dramatically.
It was a great job, and I say congratulations, Danica. This just might be the spark and confidence-builder she needs to set her on a path for some really great finishes. With Texas being a fast, wide-open track where she's raced before, I wouldn't be surprised to see her do well this weekend. So Martinsville was just what she and that team needed.
***
I talked to Carl Edwards on Saturday night, and he really thought he had a winning car for Martinsville, but it obviously didn't turn out that way.
So I know Carl was really disappointed Sunday night. Tony Stewart had another weekend where he struggled. I am really thankful that Kurt Busch is OK. I am not sure if you saw the wreck or not, but he lost his brakes late in the race and the car caught on fire. It was a frightening scene there for a little bit, but luckily he was able to get out of there unharmed.
Martinsville was just what we expected — a lot of beatin' and bangin'. Like what always happens in short track racing, some left there with a smile on their face while others left Martinsville pretty angry. Some of that frustration and anger has to be directed inward, however, because there was more than one driver and team that made mistakes on Sunday and beat themselves.
So Martinsville is in the rear-view mirror, and Saturday night racing under the lights at Texas is on the horizon. This will be high-banked and bad-fast racing that this new Gen-6 car was built for. Track President Eddie Gossage and his gang at Texas Motor Speedway never fail to put on a big show. He's got a pre-race show spectacular all lined up that includes a concert by Sara Evans.
There's a very good reason they call the place the "No Limits-Wild Asphalt Circus." If you don't believe me, then tune in Saturday night for our NASCAR on FOX broadcast and just watch what happens.