DW: Darlington Tamed By New Car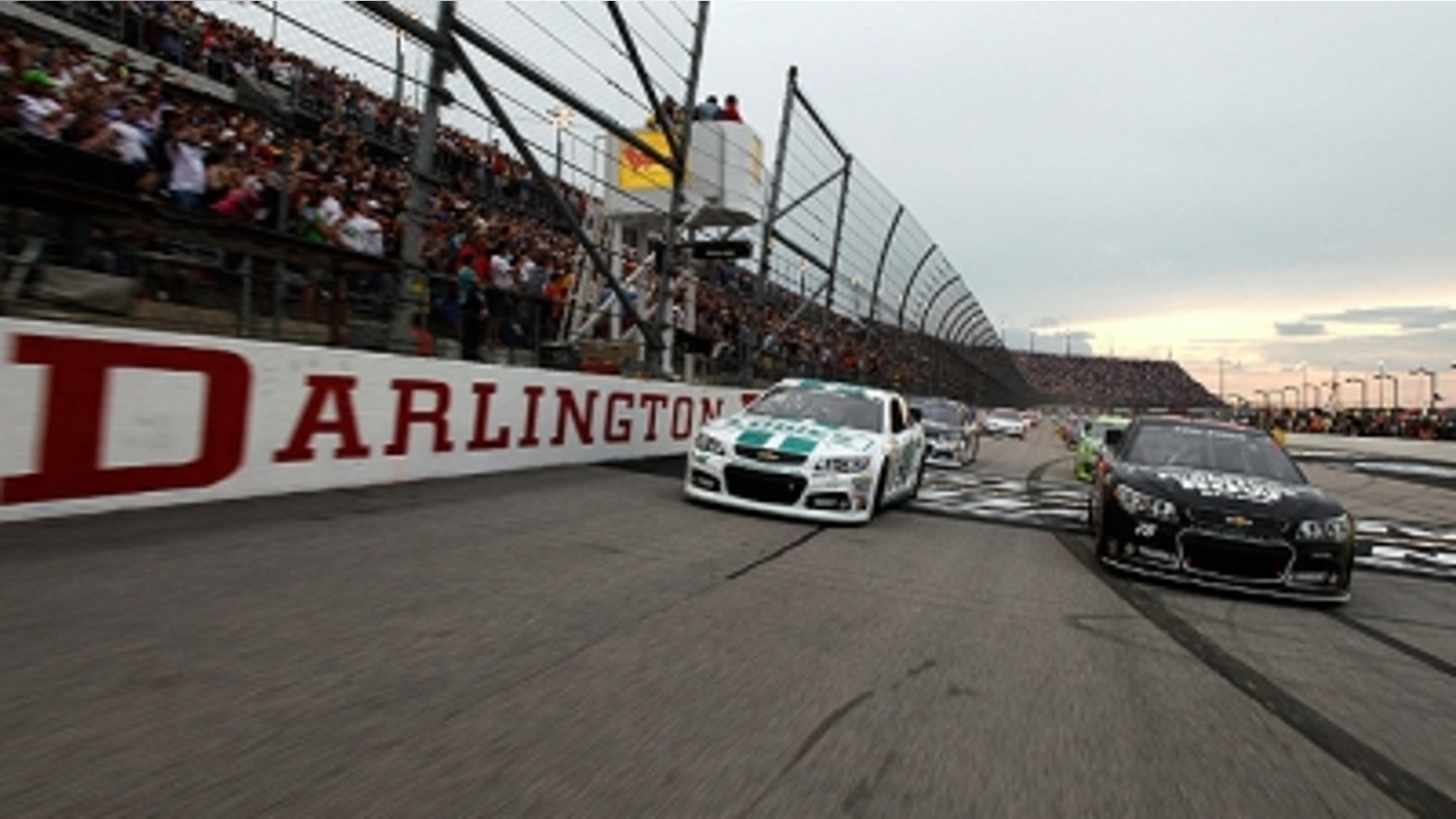 I think you can safely say the new NASCAR Sprint Cup Generation-6 car tamed the track Saturday night at Darlington Raceway. Obviously, you have to put Matt Kenseth in that same category, as well. For any driver, winning the Southern 500 is huge.
Kenseth was so excited and said it was on his racing bucket list to accomplish.
Once again, we saw him excited and energized. Every win — and now that makes three for him out of 11 races so far — is like his very first win to him. He said he had always dreamed of winning this race, and, boy, did he accomplish that.
He did it in typical Matt Kenseth style.
He started seventh, but we really didn't talk that much about him in the early stages, except every now and then. Being the sly ol' veteran that he is, he came on strong at the end, led 17 laps and brought home the win. In addition to checking something off his bucket list, Kenseth also moved up one spot in the points and now is in third, 59 points behind leader Jimmie Johnson.
Obviously, it goes without saying that Kyle Busch dominated the race. He led an amazing 265 of 367 laps Saturday night. However, he had a tire going down late in the race and Kenseth passed him with 13 laps to go and never looked back, leaving Busch to come home sixth. I really thought he was going to go for another one of those patented Kyle Busch sweeps of the race weekend, but that right rear going down cost him dearly.
We had a lot of passing and a lot of great racing back in the pack. The one thing that we didn't have like normal was the carnage of race cars all torn up. I looked at the walls after the race, and they really didn't look all that scraped up. Truth be told, looking at the cars after the race, maybe only five or six of them had a slight Darlington stripe on them.
With the combination of these new cars, the grip in the track and the tire combination Goodyear brought, these cars simply drive so well the drivers can keep them off the wall. Let's face it, only one driver, Danica Patrick, had to go to a backup car to start the race. When you can keep your car off the wall at Darlington, well, that's something to brag about because not only has the driver done an amazing job but so have the teams getting these cars set up properly.
This was another new track for the Gen-6 car, and again the track record fell in qualifying. Kurt Busch was on the pole at 182 mph around that little, narrow mile-and-a-quarter joint. That's just freaky fast and unbelievable.
I never thought I would ever see them that fast at Darlington. The cars were almost hitting 200 mph down the straightaway. Look, 200 mph and Darlington just never go together in the same sentence. We saw a lot of green-flag racing Saturday night. That's a product of this new Gen-6 car and how comfortable these drivers are getting with it now.
I know there are some folks that are upset with Kyle and what happened between him and Kasey Kahne. They got into a pretty heated battle with 30-plus laps to go. Kasey went into Turn 3 and put a huge slide job on Kyle, slid up in front of him, but Kyle battled back by doing a crossover move and they headed to Turn 1 side by side.
Kyle went low into Turn 1 but then slid up the track. I looked at the replays from all the cameras, and I didn't see any contact. Kasey said the same thing in his postrace interview, that he wasn't even sure that Kyle touched him. The bottom line is Kasey wrecked and finished 17th.
It doesn't always take being hit for the car to get away from you. When that right front fender is only an inch away from left rear corner panel, it can upset that car. I believe that's what happened between those two. The problem with that is this is the third time this year, and second time in two races, that Kyle has caused Kasey to wreck.
Trust me, that gets old quickly to the driver on the receiving end. I know that Kasey was very upset and that Kyle was very apologetic, so we'll just have to wait and see what comes from all that.
So Joe Gibbs Racing gets another win this season. A tip of the hat to a really gutsy performance by Denny Hamlin getting behind the wheel for his first full race since his back injury. It was an amazing job he did Saturday night to finish second after a number of weeks off.
It's runs like that that will keep alive Hamlin's hope of still making the 2013 Chase for the Sprint Cup. He jumped four spots in the points to 27th. Remember, he has to get to at least 20th to be considered for the Chase.
That's a small piece of the puzzle; the bigger piece for Hamlin is getting wins. He's going to need to rack up probably at least two wins before we head to Richmond in September to gain one of the two wild-card spots in the Chase.
After the gutsy performance I saw from him on Saturday night, I am going to give Hamlin a "definite maybe" for making the Chase.
This weekend, it's the Sprint All-Star Race in Charlotte, NC. There is literally a chance for a driver this Saturday night to leave the track with $2 million. That's just a staggering amount, especially when you remember that the race is only 100 laps.
There are a lot of new rules this year. We'll once again have the unknown and the drama of who makes the Sprint All-Star Race by transferring over from the Showdown beforehand, plus the fan vote. There's even a new wrinkle Friday night during qualifying. Yup, Friday night, we're going old school with no pit-road speed during qualifying.
Now, back in the day, that's how we used to do it during a race, but these guys simply are used to it. It should be amazing to watch both Friday and Saturday night, so be sure to tune in to SPEED and follow all the action.
If that weren't enough, we're going truckin' Friday night, as well. The Camping World series bunch is back on the track under the lights at Charlotte Motor Speedway.
Don't forget, too, there have been a number of "issues," shall we call it, among some drivers in addition to Kyle and Kasey, like I mentioned earlier. Who knows, like the song says, "Saturday night's all right for fighting."
You never know what's going to happen because we're under the lights, no points and mountain of money at stake. That's the ingredients for T-R-O-U-B-L-E, if you ask me.