DW: Danica Sure Likes Daytona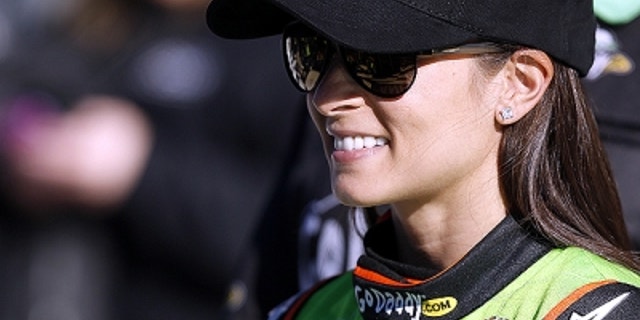 NEWYou can now listen to Fox News articles!
I am sure by now you and every race fan and probably every non-race fan has heard the news that Danica Patrick made NASCAR history on Sunday by winning the pole position for this Sunday's Daytona 500. While it's an incredible, record-setting accomplishment, to those of us inside the sport it wasn't totally unexpected.
Remember that a year ago she won the pole for the Nationwide race. Last week she was also the fastest in practice. So the question to a lot of us was could she back up her times in practice with a top qualifying lap. She sure did that.
Danica is just a natural on this track. Back when she first came here she ran the ARCA race and I was really impressed with the effort she put forth that day driving a stock car. She adapted herself to a stock car very quickly.
All drivers are the same. If you can go to a track the first couple times and have success there, then you begin to look forward to going back. Your confidence is high when you see that particular track coming up on the schedule. I really believe that is how Danica feels about Daytona. She's led laps here. She's been in position to have some great finishes a number of times, but getting caught up in wrecks have been her Achilles' heel. It seems those wrecks late in races have really kept her from posting some really high finishes.
Those are learning experiences. Every rookie is going to go through them and Danica is no exception. In my book her schooling is over. She ran the full Nationwide series last year, along with 10 NASCAR Sprint Cup races. So now she has much-needed experience and seat time. I told her last week that it's time for her to show everyone what she's learned. As I told her, now it is time to go out there and perform.
Danica knows that. Most everyone else knows that. So was there any better way Sunday to prove that and start the year off on a high note than winning the Daytona 500 pole position? Like I mentioned earlier it was a record-setting performance. It is the first time in the entire history of NASCAR that a female has earned the No. 1 spot in a NASCAR Sprint Cup series race qualifying.
A lot of folks talk about Danica as that "female race car driver." Danica doesn't care for that. To her, she wants to simply be known as a race car driver that happens to be a female. She wants to be judged by her performance behind the wheel of a car, not by Super Bowl ads or endorsement deals. She's a race car driver and a darn good one.
I think she is on the verge of really busting out and showing what she has driving in the NASCAR Sprint Cup series. She's with a great team in Stewart-Haas Racing. When it comes to her boss, Tony Stewart, they are on the same page. It's all about the racing. Look how successful Stewart-Haas Racing was on Sunday with three cars qualified in the top five.
You also have to give a big tip of the hat to her new crew chief Tony Gibson. They are working really well and communicating together. He and his crew deserve a ton of credit for giving her a car capable of winning the pole position. Then, naturally, you have to be impressed that Danica didn't let the pressure or hype get to her and just went out there and ran a blistering lap.
I know sometimes it seems like anyone can do this. Our drivers are the best in the world and they really do make it look easy at times. Don't be fooled. It takes a tremendous amount of talent and skill to do what they do. In Danica's case, Sunday was a showcase of what is possible. She went out there and drove those two laps to perfection. Now she and the team get to reap the benefits of that all week long.
So Thursday for the 150-mile qualifying races, Danica will start on the pole with Trevor Bayne on the outside pole. I don't know, but if I were her, there isn't a whole lot of reward and a heckuva lot of risk.
I might run a few laps if I were her and then park that car because if something was to happen and she gets caught up in a wreck, then she might be forced to run the Daytona 500 in a backup car. More importantly, she would have to start the Daytona 500 in the rear of the field. I wouldn't want that. She and the team don't want that. I would want that same car that was fastest in final practice and sat on the pole position. I mean she and Jeff Gordon are locked into the front row come Sunday for the Daytona 500, so I don't see a lot to be gained by risking my best race car on Thursday. You just can't jeopardize that car on Thursday. Keep it in one piece and for the big show on Sunday.
Now other than Danica and Jeff Gordon, others have a lot to gain on Thursday. Those 150-mile races give the other drivers a chance to improve their starting position and for some drivers, the chance to race their way into Sunday's event.
Last Saturday night was the Sprint Unlimited. Did anyone else pick up on the irony that the Budweiser car won the event for the first time the race wasn't sponsored by a beer? We learned a little bit more about this new car. It wasn't a lot but we did learn some. There simply weren't enough cars out on the track to really get a good gauge yet of what this car will do.
We started the race with only 19 drivers and then the big wreck took out something like seven of them. What we did see was this new car is going to be very, very racy. The teams can do a lot with this car. Everyone will learn more on Thursday with both those races and so by Sunday, I really believe we are going to see one of the best Daytona 500s in history.
A lot of drivers have a legitimate shot at winning the Daytona 500 but a lot of them also are going to have to quit running over each other. We've seen some driver errors in both practice and the Sprint Unlimited. The driver side window area is somewhat different on this new car and I am wondering if this isn't playing a role in restricting their vision. It's just a learning experience. Obviously that is to be expected when you put a brand new car on the race track.
The other thing we know about this car is that it is fast. It is incredibly fast. Look for it to break track records wherever it goes. It has great downforce and is very comfortable to drive. That might actually play into Danica's favor. She never really had that much time learning about the Car of Tomorrow. Now this new Gen-6 car is more like a clean sheet of paper for her and levels the playing field somewhat between the other drivers as they learn about this car.
So we've had a great start to Speed Weeks in Daytona. Kevin Harvick, in his last year driving for Richard Childress Racing, won the Sprint Unlimited last Saturday night. Then Sunday, as mentioned, Danica made NASCAR history. I am pulling for Danica to do well. It's good for the sport.
Things crank back up on Wednesday with some practice sessions. Thursday is the two qualifying races I mentioned earlier that will set the rest of the field for Sunday. Friday night is the Truck Series race, Saturday is the Nationwide race and then the big one, the Daytona 500 on FOX. I, for one, can't wait!