DW: Carl Takes The Subway To Victory Circle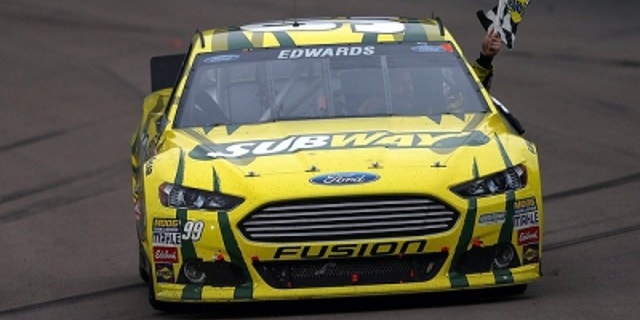 Yes, the headline of this week's story is a little play on words, because obviously Carl didn't literally take the subway to Victory Circle. Actually, he did much better than that. He took his Subway-sponsored Ford Fusion to Victory Circle on Sunday in Phoenix to break a long dry spell that Carl and that No. 99 team had been going through.
Two years ago, the young man tied in points for the 2011 championship but lost it in a tiebreaker with Tony Stewart. Last year, Carl just looked lost. He and his Roush Fenway Racing team had a really bad year and he didn't even make the 2012 Chase for the Sprint Cup. The hope was that with the pairing of veteran crew chief Jimmy Fennig and Matt Kenseth's former pit crew, the Killer B's, that Carl's luck would turn around.
You actually couldn't tell it by the team's 2013 Daytona Speedweeks. There's a reason why I called Carl "5-time" on Sunday when we talked to him over the radio during the parade laps. Literally that's how many cars they went through at Daytona. I had heard Carl say he earned that nickname, not for the number of championship's he has won, but for the number of Daytona crashes he was in.
There's no one in our sport that works any harder or wants to win any worse than Carl Edwards. He puts everything he has into it. When you go from as high up on the mountain as he was in 2011 to the depths of the valley he was in last year, you know the Frustration Meter was pegged.
All of that was erased Sunday and it was good to see Carl back in Victory Circle. It was great to see him do his signature post-win backflip again. Heck, I wondered if he remembered how to do it because it had been so long since he has taken a checkered flag in our NASCAR Sprint Cup Series.
It really doesn't get any better for Carl when he could drive his Subway Ford into the Subway Victory Circle with Subway as the race sponsor. My long-time crew chief Jeff Hammond and I loved moments like that back in the day when Mountain Dew/Pepsi or Budweiser sponsored a race and we won it.
Conversely, we also loved driving our car into Victory Circle when a competitor of our sponsor was the title sponsor of the race. Driving the Mountain Dew car into the Coca-Cola 600 Victory Circle or our No. 11 Budweiser Chevrolet into the Miller Genuine Draft Victory Circle always was fun for us.
Sunday's race at Phoenix was a pretty interesting one. The cars were fast just like we thought they would be. There was a lot going on in that race. You also have to remember that the race is short at Phoenix. It's not a 500-miler like we had two weeks ago at Daytona. Sunday's race at Phoenix was 312 laps.
So as a driver or as a pit crew, there isn't time to mess around. You have to get it done. We had no green-flag pit stops Sunday so when those cars came to pit road under the yellow, well the pressure was on. We saw a lot of mistakes Sunday on pit road. Some teams handled the urgency and the pressure of those pit stops better than others.
I know there are some fans who think Casey Mears might have cost Dale Earnhardt Jr. the chance to win Sunday on that last pit stop. Quite honestly, I still believe Carl and a couple other drivers were a little quicker than Dale Jr., but the bottom line is he had a great day. Now he has put a fifth-place finish up on the board to go along with his second-place Daytona 500 finish. So his 2013 season is off to a great start. There's a lot of momentum in that No. 88 camp and Dale Jr. is looking good.
Someone who is looking even better is actually his teammate, Jimmie Johnson. He won the Daytona 500, spent all of last week doing all the media requirements and appearances that come with being a Daytona 500 champion, yet still came to Phoenix and put a second-place finish on the board. That is impressive.
Everyone knows that if you win a race at any of these tracks, most likely you had to beat Jimmie Johnson. To win a championship, everyone knows you'll have to beat his No. 48 car. The numbers don't lie – in the past seven years that team has won five championships. That's how good he is.
As I said Sunday in our NASCAR on FOX Pre-Race show, I truly believe Jimmie Johnson, for everything he has accomplished in a short period of time, is probably one of the, if not the, most under-appreciated athletes in all of sports. To see him run good Sunday like we did at Phoenix is no surprise. Actually these days, to see Jimmie run good at any track isn't a surprise.
What was a surprise was how that race ended up. Jimmie was racing Brad Keselowski coming off Turn 2 and then here came Denny Hamlin taking the shortcut down the back straightaway. He and Jimmie were side by side coming off Turn 4 beatin' and bangin' on each other with Jimmie taking the second spot by, you guessed, the length of a Subway six-inch sandwich.
When you want to talk about consistency at Phoenix International Raceway, then look no further than the No. 11 Fed Ex driver. Last year, Denny finished first and second. Sunday he finished third. He and his team really have their 1-mile track program hitting on all cylinders.
Overall it was a great race. We had a lot of different people up front. We had folks on different pit strategies. It was great to see Jeff Burton finish 10th and AJ Allmendinger bring home an 11th-place finish in the first time he has ever raced this new car.
Speaking of this new car, I think it passed its first non-restrictor-plate race with flying colors. This car has so much potential. The teams are still learning about what it likes and doesn't like. These teams don't see another restrictor-plate track until early May so they'll continue to work on the car for that event.
Each week on these next series of stops – Las Vegas, Bristol, Fontana, Martinsville, Texas and on and on – I see it getting even better. Sunday was the first time this new downforce car was raced in competition. I promise you everyone learned a notebook-full of information this past weekend. They will immediately apply that to Las Vegas this weekend which will be another different style track for this car. Las Vegas is high-banked and fast. It also doesn't have the grip that Phoenix had.
This car will improve at a much faster pace than the old Car of Tomorrow did. Again, this new car has unlimited potential whereas you pretty much knew what you had with the old car. This new car is already a great race car. The key is giving these teams time to work on it and learn about it.
For as much success as she enjoyed in Daytona, Danica Patrick's weekend in Phoenix was the polar opposite. She qualified only 40th for the race and really didn't run that great in the race. She did stay on the lead lap until her right front tire blew out.
She slammed that outside wall hard and then took a vicious driver-side hit from David Ragan. I really was happy to see her get out of that car without any injuries.
After what she experienced at Daytona, going through what she went through at Phoenix had to be extremely disappointing. All I can say is welcome to the life of a rookie NASCAR Sprint Cup driver. There will be peaks and valleys. As drivers we all go through it. The goal is being consistent and running all the laps.
I expect her to bounce back well this weekend at Las Vegas. Last year she got one of her best Nationwide Series finishes there, so that will go a long way in helping to bolster her confidence. I know she had a bad day but just don't count her out. I believe she will continue to improve just like the new car will.
So now it's Viva Las Vegas this weekend as our NASCAR Sprint Cup Series continues out West. Tony Stewart dominated last year's event, leading 127 of 267 laps. Tony came home eighth Sunday in Phoenix. That's a nice recovery from his 41st-place finish after being wrecked out of the Daytona 500.
Ironically, Tony also jumped 14 spots in the 2013 points with his top-10 Phoenix finish. Maybe that's a sign that folks might want to put a little money on the No. 14 this weekend?