DW: Another Fab 5 For NASCAR Hall Of Fame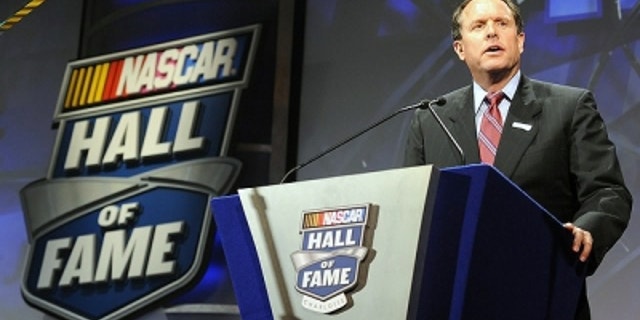 One year ago at this very moment I was probably as excited, happy and as emotional as I have ever been in my professional and personal life. I was one of the five members of only the third class of the NASCAR Hall of Fame. That was a moment in time that filled me with anticipation, excitement and pure joy.
It doesn't matter what professional sport you participate in, once your playing days (or in my case driving days) are over you find yourself reflecting on your career and wondering about your legacy. Did you make an impact? Did you help grow your sport? Were you a great ambassador for your sport? Did you leave the sport in better shape than when you entered it?
Whether it's the NASCAR Hall of Fame or the Pro Football Hall of Fame or the Hall of Fames of the other major sports, if you are selected and enshrined it is the culmination of your sports career. I absolutely loved being inducted and especially loved being inducted with my buddies Cale Yarborough, Richie Evans, Glen Wood and Dale Inman.
In Charlotte on Friday night, Buck Baker, Cotton Owens, Herb Thomas, Rusty Wallace and Leonard Wood will be inducted as the 2013 Class of the NASCAR Hall of Fame. That will bring the total of enshrines to 20. I had been very vocal for many years about the fact that our sport needed its own Hall of Fame. The other professional sports all have theirs and NASCAR needed its own.
Four years ago that became a reality. There are so many people who have given so much, done so much and sacrificed so much in the long history of our sport that deserve to be in those hallowed halls. Think about this, the Pro Football Hall of Fame in Canton, Ohio, welcomed 17 members into its first class in 1963. Of all the greats that have played in the NFL, even 50 years later, the latest class that was announced last week only brings its total to 280 members. That's how high the bar is set for being selected.
Our NASCAR Hall of Fame is still in its infancy. Right now it really can't go wrong with the selections. That's how rich our history is in NASCAR. That also creates a scenario where the 50-plus voting members have to balance the pioneers of our sport with the folks from NASCAR's modern era. Most people today weren't around when Thomas or say Owens were the toast of our sport, but that doesn't make them any less deserving.
This year's class, which also includes Baker, Wood and Wallace, is a great balance of the past and more recent history of our sport. That's the beauty of the NASCAR Hall of Fame. Our newer fans now have a centralized location where they can come learn, enjoy and appreciate where our sport came from and where it's headed.
Once you are selected and enshrined you become part of a very elite fraternity. There's an instant bond with the other members. Your peers have chosen you as one of the best of the best and that becomes rare air.
A lot of people ask me about the selection process. There is a 21-member nominating committee that will submit 25 names for consideration. From those 25 names there will be five selected by a voting panel that consists of 55 votes which, by the way, includes one vote representing the Fan Vote.
I am so excited about where this NASCAR Hall of Fame is and where it is headed. We will be inducting our sport's biggest names for years and years to come. I am thrilled for those that came before me and for those that will come after me.
It's just the ultimate honor. Just like when you are our sport's champion, there comes responsibility. As a champion you represent our sport and are our No. 1 ambassador. As a NASCAR Hall of Famer you also accept the responsibility to once again not only promote our sport but the NASCAR Hall of Fame. It's a responsibility I and all the other Hall of Fame members gladly accept.
My wife Stevie and I will be in the audience in downtown Charlotte on Friday night and will give a standing ovation when Baker, Owens, Thomas and my old buddies Wallace and Wood officially join us as the newest members of the NASCAR Hall of Fame because they truly deserve it. It's the crowning achievement of five very worthy people who have made a huge impact in the sport we love.