DW: A Season Of Discontent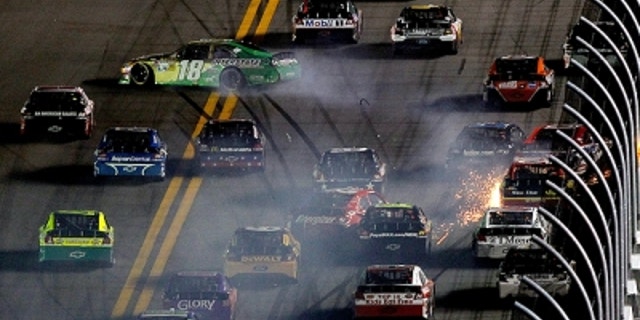 This Sunday will mark my final "RaceDay" show on SPEED for awhile. As has been the case the past few years, when NASCAR on FOX's broadcast schedule is complete and TNT takes over the race broadcasts, Kyle Petty and Larry McReynolds move from SPEED to TNT. To replace them on the "Raceday" show, SPEED then has Jeff Hammond and myself take the spots they vacated.
As in past years, I really enjoy that show. I have a blast working with host John Roberts, plus my buddy, Kenny Wallace, and Matt Clark. Sunday, however, marks the end of the six TNT races this year, and so with Kyle and Larry Mac coming back to SPEED, ol' DW is going to take some time off.
I was going over a bunch of notes that I had been keeping since clear back in January, when we had testing, just to refresh my memory of how things had gone this year. Obviously the Daytona 500 was a barn burner — uh, let me correct that — a jet dryer and track burner.
Think about it: For the first time, the Daytona 500 was moved to a Monday because of Mother Nature. NASCAR, along with FOX, agreed to try something different by running the race ran on a Monday night, and it received monster ratings.
In the race itself, you had five-time series champion Jimmie Johnson, whose team was already facing penalties from NASCAR for a rules violation, wrecking out on Lap 2. Then we experienced probably the most bizarre incident in our sport's history when Juan Pablo Montoya slammed into a jet dryer during caution laps, causing a huge fireball. So that sort of set the tone for the season, or so we thought.
As the season moved forward, things seemed to fall into a lull, but then the complaints got louder and louder. It started with folks saying there were not enough cautions. That led to "the races were boring." There were complaints about Bristol, where folks pointed to all the empty seats in the grandstands as proof of issues there. As this season has worn on, the debate has evolved to suggestions covering issues all over the board.
NASCAR is like the rest of us in the sport: When there are complaints, officials begin to look at ways to possibly make things better. With that said, I have a real issue with changing something just for change's sake.
Let's take the early season complaint about not enough caution flags as an example.
That debate has now evolved into discussions about potential mandatory caution flags. There's even talk about what you would classify as a halftime break. Those are gimmicks that you do for special events. Look, NASCAR tried a halftime break in the early days of the Truck series, and it was decided the value wasn't there.
What has made NASCAR unique, better, different and successful is the way it is run different than all the other professional sports. NASCAR is NASCAR, and I just think trying to make it like all the other sports is the wrong way to go. We do the things we do for a reason: It has proved to be a winning formula.
We throw the green flag, and whatever happens happens until we throw the checkered flag. I get really uncomfortable thinking about the possibility of factoring in mandatory cautions or a halftime break. The attraction of NASCAR is its unpredictability. If you start trying to manipulate what goes on in between the green flag and checkered flag, then the first casualty in my book in the unpredictability.
Sponsors, owners, drivers and teams have faced a number of changes over the years. Of course, two of the biggest changes were adding the Chase for the Sprint Cup component, which is a playoff system for the 12 teams that qualify for it. We also had the advent of the Car of Tomorrow.
Let's take a look at some of the changes. This list is in no particular order, but it is long and varied:
We went from the wing to the spoiler. We've changed the fuel. We changed to electronic fuel injection. We added the yellow-line rule for races at Daytona and Talladega that prohibits passing below the mark. We've shortened the races. We've added new tracks. We no longer race back to the caution flag. We have scoring loops on the track and pit road. We added the Lucky Dog rule to give guys who are a lap down the opportunity to get back on the lead lap. We went to double-file restarts. We added the wave-around rule as a way for drivers to regain a lost lap but not restart in front of the leaders after a caution period. We added the green-white-checker component but then took it a step farther by saying one try wasn't enough, so we'll give you three attempts at it. We've even changed and simplified the points system.
You combine that with the everyday, every-year changes that are normal within our sport, such as driver, crew chief and sponsor changes, and, well, I don't know about you, but I am about changed out. I look at the TV ratings and I look up in the grandstands and I ask the question, "I don't know, are we making it any better?"
I love our sport. I have dedicated my life to our sport, but sometimes I question if we are making more people happy or simply chasing our tail.
Don't get me wrong, you can't sit still. You have to evolve. I am all for trying to make NASCAR more exciting and attracting new fans, but at what cost? I wonder if too many changes create change overload, which leads to confusion by the fans plus just opens the door for cries for even more changes.
It just seems to me that no matter how many changes we make, we still get the same results. The good teams and great drivers, once given the rules, are going to find a way to win. I had a famous coach tell me once that if you let other people determine how you are going to run your team or your sport, then someday you are going to be sitting up there in the grandstands as a spectator, too.
Again, what we can't afford is to lose the unpredictability attraction of our sport. This is serious business at high speeds and with high stakes. When the green flag drops, those 43 guys and gals are in it to win it. They are going all out. Drivers are hired to basically do three things — win every race possible, win as many championships as possible and help their sponsors sell product.
When you attend a NASCAR race or watch it from home, you always hear us say, "Expect the unexpected." If you take that away, then why on earth would you want to spend your hard-earned money to bring your family to watch a race or give our sport your attention on TV?
I'm sorry, but any time you start trying to manipulate the outcome of a race by adding mandatory cautions or halftime breaks, you are heading to having a mess on your hands. Line them up, throw the green flag, let the race run its course, throw the checkered flag and then celebrate the winner in Victory Circle with a big trophy and an even-bigger check.
Last weekend, Daytona was full of drama both on and off the track. AJ Allmendinger was notified he had failed a random drug test and was removed from the No. 22 car Saturday before the race.
You have to tip your hat to Sam Hornish Jr. He wasn't even in Daytona when he got the call to replace Allmendinger. Hornish was rushed to the airport, he literally put on his firesuit while flying and got to the car mere minutes before the command to start engines. And then he ran the No. 22 Shell/Pennzoil car Saturday night for Roger Penske.
AJ has the right, which he exercised Tuesday in the appeals process, to ask that a backup sample also be tested. AJ is seeking exoneration because he believes he is innocent in all this. That said, NASCAR is very thorough when it comes to administering its "no tolerance" drug policy, so I think they are pretty confident when they announce someone failed a test. So we'll all wait and see how the process plays out.
Also following all the on-track action this weekend, there were some penalties that came out of Daytona. Austin Dillon and his No. 3 Nationwide Series team were penalized for the second consecutive week. This past week it was for an unapproved open vent hose found inside the car. This infraction was viewed as an attempt to reduce drag on the car, thus giving it an advantage in aerodynamics. It was discovered in the post-qualifying inspection and, thus, Austin's qualifying was disallowed. Now NASCAR has also taken away six driver and owner championship points and added monetary fines.
And, over on the Cup side, reigning champ Tony Stewart faced the exact same issue during his post-qualifying inspection at Daytona. Tony then was forced to start 42nd Saturday night, but as we saw, Tony came from all the way from the back to win the race. Then Tony and his team lost six driver and owner championship points and were fined.
I just always find it funny that when something happens to a car, it always makes it run better — it never seems to hurt it. Teams will be quick to say, "This happened or that happened to create this situation." Well, my point is, "this happened or that happened" and amazingly made the car run better, never worse.
So it's off to New Hampshire Motor Speedway. Track president Jerry Gappens and his crowd up there always put on a great show. The fans in that area are passionate and always turn out in droves for our NASCAR events. So I am excited to get up to New Hampshire this weekend/
And, hopefully, there will be a lobster with my name on it.