Dutch speedskater Sjinkie Knegt accused of flipping the bird at Olympics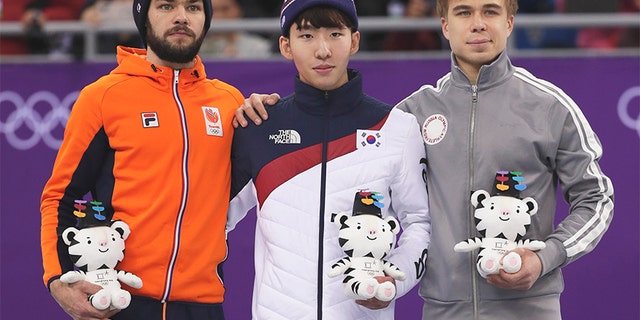 NEWYou can now listen to Fox News articles!
Give this guy the gold for unsportsmanlike conduct.
Dutch short-track speed skater Sjinkie Knegt sparked controversy after he appeared to flip the bird when he came in second place during an Olympic event Saturday.
It's the second time he's been accused of making the one-finger salute after a competitor bested him.
Photos show Knegt posing with South Korean gold medalist Lim Hyo-jun — who edged him out in the men's 1,500-meter final by just .07 seconds — and Russian bronze medalist Semion Andreyevich Elistratov following the race.
Knegt is gripping a plush toy of PyeongChang Olympics mascot Soohorang in his right hand, but his middle finger is extended straight out — even though all his other fingers are holding the toy tiger.
He claimed during a medal ceremony Sunday that the gesture was "not intended."
Click for more from the New York Post.