Dutch football legend Johan Cruyff battling lung cancer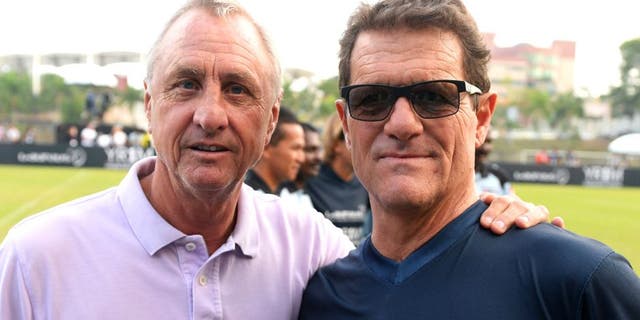 THE HAGUE, Netherlands --
Dutch football great Johan Cruyff is battling lung cancer, his spokeswoman said Thursday.
''He has been in hospital this week for tests and lung cancer has been confirmed,'' said Carole Thate, a spokeswoman for the 68-year-old former Ajax and Barcelona star.
Cruyff, who personified his country's attacking Total Football in the 1970s, was a smoker during his playing days and until undergoing an emergency heart bypass in 1991. Afterward, he became the face of an anti-smoking campaign.
His career began at Ajax and took him to Barcelona where, as player and later coach, his footballing philosophy laid the foundations for the dominant Barca teams of recent years.
Barcelona financial vice president Susana Monje sent the club's best wishes to its former player and coach.
''We would like from the club to give Johan Cruyff and all of his friends a very big hug after hearing today of the situation that he is living through,'' Monje said.
A three-time European footballer of the year, Cruyff was synonymous with the ''Clockwork Orange'' Netherlands teams of the early 1970s whose attacking style earned the team fans around the world.
With Cruyff on the field, Ajax won the European Championship for three consecutive years from 1971-1973 before he moved to Barcelona in 1973 and led the middle-of-the-table team to its first national title in a decade.
Cruyff was voted best player of the 1974 World Cup, where the Netherlands lost in the final to Germany.