Dustin Poirier: 'I want top-10 opponents'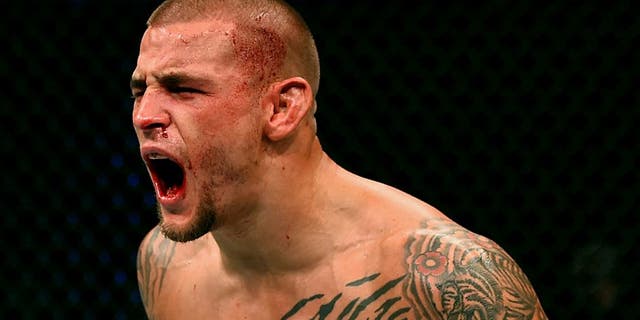 NEWYou can now listen to Fox News articles!
Dustin Poirier leaves UFC 195 with a shattered nose, but a crucial victory as he downed top Irish prospect Joseph Duffy while creeping closer and closer to the lightweight top 10.
Poirier was on a mission in 2015 to earn a ranking but Duffy's injury in October that delayed their fight pushed back any chance he had to make the top 10 by the end of the year.
Poirier certainly made an impact on Saturday night with a dominant, three-round decision over Duffy and now enters the new year with a ton of momentum and a wish to face nothing but ranked opponents from here on out.
"I think there's a lot of fights out there that make sense," Poirier said about what's next for him at the UFC 195 post-fight news conference. "My goal was to crack the top 10 last year, that didn't happen with the fight falling out. Hopefully, I'll be up there now and I want top-10 opponents."
It wasn't an easy win despite the scorecards giving Poirier every round because the Louisiana native had to fight through a broken nose that essentially stopped him from breathing after the first round came to an end.
Following the conclusion of the fight, Poirier was taken to the hospital and treated before returning to attend the news conference.
"When I got off the stool for the second round I couldn't breathe at all through my nose," Poirier said. "I just got back from the hospital, it's broken in two spots. So I just did what I had to do, took him down and took advantage of that.
"After the first round, I felt like there wasn't that good of takedown defense from him against the fence obviously. So I went right back to it in the second round. Same thing in the third. He wasn't really defending that well so it wasn't a struggle to get him down, I didn't use a lot of energy."
The fight between Poirier and Duffy took place on UFC Fight Pass Saturday night after their originally scheduled matchup for the online streaming service had to be scrapped.
As it turns out, putting Poirier vs. Duffy on UFC Fight Pass paid off because UFC president Dana White confirmed that the matchup quickly became the most watched bout to air on the network.
"It broke the record," White confirmed. "It's the most watched fight we've ever had on Fight Pass."
Poirier will obviously have to wait for his nose to heal before he can book his next fight but considering his three consecutive victories at lightweight, he's certainly commanding that the rest of the division pay attention as he storms towards the top 10 in 2016.