Dustin Poirier edges Jim Miller in three round battle to kick off UFC 208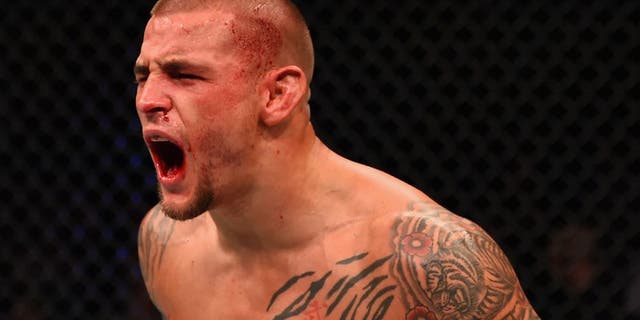 BROOKLYN -- Dustin Poirier had to survive a badly battered leg to out last Jim Miller in a back and forth battle that kicked off UFC 208 on Saturday night in Brooklyn.
Despite a severe limp when the fight was over, Poirier earned a majority decision win to beat Miller as he bounced back from a loss in his last fight in the UFC.
Poirier and Miller definitely had no problem throwing heavy leather at each other throughout the first five minutes with each fighter landing some hard shots throughout the five minute session.
Miller did manage to swoop in for a takedown late in the round where he nearly latched onto Poirier's back, but the American Top Team fighter was able to wiggle free and get back to his feet.
With seconds ticking away in the opening round, Poirier backed Miller towards the cage and they just started launching punches at each other until the horn sounded.
The second round wasn't nearly as even as the first with Poirier starting to connect on his combinations with real accuracy and power while Miller did his best to survive the flurries against the cage.
Again and again, Poirier would walk Miller down and just open up with a series of powerful hooks that continued to batter the veteran lightweight while also opening up some cuts on his face along the away.
Miller started to come back in the third with a series of leg kicks that seemed to bother Poirier, including one hard shot that knocked him off his feet.
With his corner screaming at him to continue the onslaught on the leg, Miller went to the well one too many times and he was countered by Poirier, who grabbed his foot and put him on the mat with just over two minutes to go in the fight.
Poirier, who was clearly limping on the damaged leg, decided to stay on top of Miller rather than stand back up again and outside of a late kimura attempt from his opponent, he was in control until the fight came to an end.
It was a razor close fight in the end with Poirier getting the nod by majority decision with scorecards reading 30-27, 29-28 and 28-28.
Poirier moves to 5-1 over his last six fights since moving to the lightweight division as he continues his climb up arguably the toughest weight class in the UFC.