Dustin Poirer: Eddie Alvarez 'made a mistake' signing to fight me at UFC 211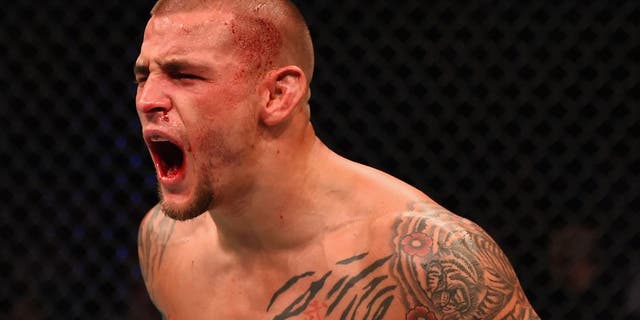 Dustin Poirier wants to make one thing very clear ahead of his fight at UFC 211.
He has the utmost respect for former lightweight champion Eddie Alvarez and all the accolades he's racked up over the years as one of the best fighters on the planet for more than a decade.
That being said, Poirier heard the rumors that Alvarez picked him as an opponent for the card taking place on Saturday night and he believes the Philadelphia native will regret that decision once they step into the Octagon together.
"He just made a mistake," Poirier told FOX Sports about the fight with Alvarez. "He signed the papers and now it's too late."
Outside of the fact that he has to fight Alvarez at UFC 211, Poirier has nothing but good things to say about his opponent, especially when considering the laundry list of legends he's faced during his career.
Alvarez has battled it out against the best lightweights in the world across several continents while consistently sitting near the top of the rankings if not holding onto a championship belt.
There's no denying that Alvarez has put together a hall of fame worthy resume and Poirier will be the first person to agree with that statement but none of that matters when it comes to their fight.
Poirier knows that a lifetime on top also means a mountain of battle scars suffered over the years and he plans on opening up some of those old wounds on Saturday night.
"I respect him and I appreciate what he's done in the sport and the miles he's had to travel to do it. That being said, I'm a warrior and I'm going to go out there and damage this guy," Poirier said.
"He wears damage bad and I'm going to damage him. That's what this fight is to me. Go in there, be slick, be crafty, I'm evolving in the sport, I'm getting better every week. I feel like I'm hitting a stride. I've stumbled in the past but I'm one of the best fighters in the world and I absolutely know it in my heart."
Stacy Revere/ Zuffa LLC/Zuffa LLC via Getty Images
Alvarez hasn't suffered defeat very often during his career and throughout his 33 professional fights, he's only been finished by strikes on two different occasions.
Poirier won't exactly be gunning for the knockout but he knows that if he lands his best punches, Alvarez won't be standing by the time the final bell sounds.
"It won't happen. It's simple and plain. His body can't take the damage," Poirier said. "I'm bigger and stronger and my technique's the best it's ever been. If he goes out there and makes the wrong moves and allows me to connect, I'll put him away. I'll finish Eddie Alvarez.
"I respect that about Eddie. He comes in there looking for blood. He doesn't break, he has a strong heart and a strong will and I'm excited about that kind of fighter. So let's go, let's fight."
Poirier faces Alvarez in the featured UFC 211 prelim on FX on Saturday night from Dallas.
Zuffa LLC via Getty Images | Zuffa LLC