Duncan Keith delivered a brutal, clean hit that sent an opponent's helmet flying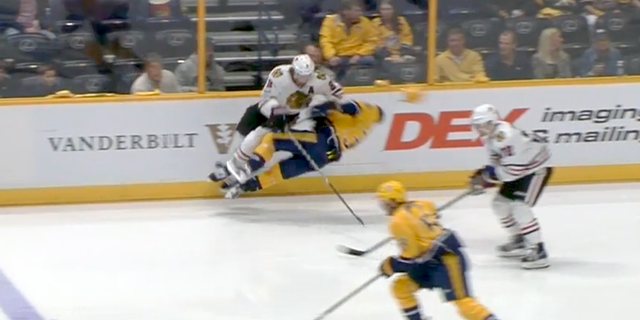 NEWYou can now listen to Fox News articles!
The Chicago Blackhawks' season came to an end on Thursday night, but not before defenseman Duncan Keith took out some frustration on a unsuspecting Predators player.
In the third period of Game 4 in Nashville, Keith caught Preds' forward Viktor Arvidsson with his head down and lit him up with a bone-crushing hit. The force of the impact was so violent that Arvidsson's helmet was slingshotted off of his head and sent rolling down the ice like a detached tire ina car wreck.
Though brutal, Keith's hit was clean and, fortunately, Arvidsson was okay in the aftermath. The Nashville forward went on to record a goal and an assist in the third period to put the Blackhawks away and complete the sweep for the Predators.