Duke Thomas: Texas QB Tyrone Swoopes is now a trash talker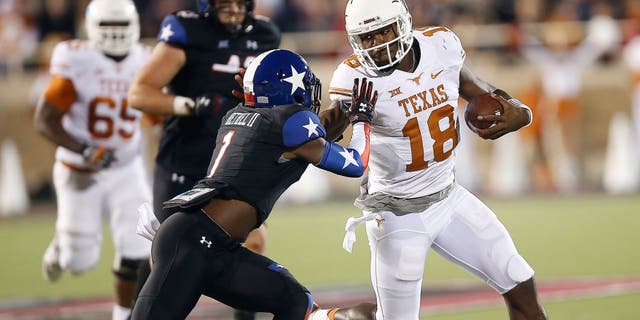 NEWYou can now listen to Fox News articles!
It's not just the coaches who believe that the junior quarterback is a different player and person this year.
If Texas Longhorns junior quarterback Tyrone Swoopes can hold off redshirt freshman Jerrod Heard and turn in a breakout season, it will be because of his Superman-like attributes. Now, that's not to suggest that Swoopes suddenly developed some incredible physical skills that border on the superman. Everyone knows he's no Vince Young. Rather, it's about Swoopes setting aside his Clark Kent-like persona off the field and turning into a different person on the field.
The Texas coaching staff has already suggested that just such a transformation is taking place, with assistant head coach for offense/quarterbacks coach Shawn Watson citing his increased determination and defensive coordinator Vance Bedford saying that Swoopes now has an "edge" to him, something that was notably lacking at times last season.
Then there's the input of senior cornerback Duke Thomas, who says that Swoopes has now added some trash talk on the practice field to his game.
"Before he calls a snap he's calling out cash money trash to me," said Thomas, according to Horns247.
(h/t Burnt Orange Nation)