Ducks send Hiller home as vertigo symptoms recur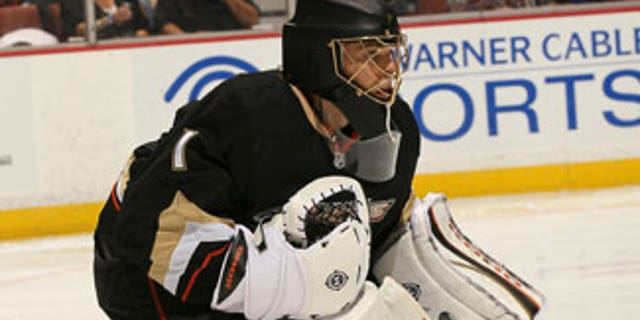 The Anaheim Ducks have sent goaltender Jonas Hiller home from Nashville due to recurring vertigo symptoms, the team announced via its official Twitter feed on Tuesday.
Hiller won 26 games this season with a 2.56 goals-against average and .924 save percentage, earning him a spot in the All-Star Game, but he's appeared in only three games since returning from Raleigh.
Dan Ellis and Ray Emery have split the goaltending duties in the Ducks' first-round playoff series against the Predators, with Emery relieving an ineffective Ellis in the opener and starting each of the last two games.
Igor Bobkov will serve as the team's third goaltending moving forward, according to the team's Twitter feed. The 20-year-old Bobkov played most of this season for the London Knights of the Ontario Hockey League and also had a two-game stint with the Ducks' AHL affiliate, the Syracuse Crunch.
Anaheim trails the best-of-7 series 2-1 with Game 4 in Nashville on Wednesday.