Ducks look to even series 2-2 in Game 4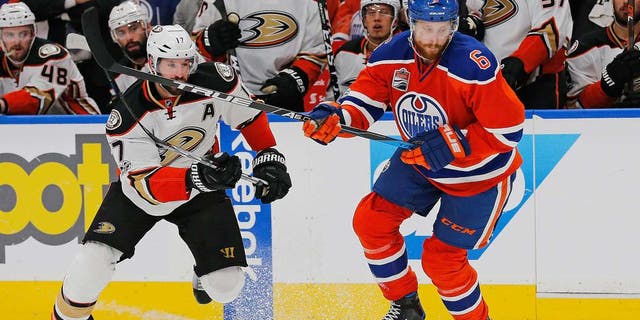 EDMONTON, Alberta -- An NHL team works hard all season long in order to secure as high a playoff seed as possible. A high seed, after all, means home-ice advantage.
But, this season, the question has to be: Why did so many teams even want home-ice advantage?
Throw away the color-coordinated shirts and pom-poms; turn the arena noise down to zero -- because winning on the road is what this year's playoffs are about.
Out of the first 53 playoffs games that have been completed this season, 30 have been won by the road teams.
And the Western Conference second-round series between the Oilers and Ducks is prime example of the home-ice curse. The Oilers won the first two games in Anaheim, and the Ducks roared back to win Game 3 at Rogers Place by a 6-3 count.
So, the Oilers will look to do in Game 4 what many teams have failed to accomplish in the 2017 playoffs -- overcome their home-ice disadvantage. The Ducks and Oilers meet again at Rogers Place on Wednesday night with Edmonton holding a 2-1 series advantage.
Oilers coach Todd McLellan said that his group of young players are only learning about the pressures that come with hosting playoff games. And he spoke Tuesday about what the team has to deal with when they are at home.
"It is a different animal, the playoffs are different," he said. "And we prepared a long time ago, before we even started, in managing life away from the rink, helping the players as much as we can. There are ticket demands, the media demands are much greater. Rest is important, so if you can't get rest at home because you might have twins up late at night, we have some rooms available for players. But we're not doing anything special, there's a lot of teams in the league are doing at as well."
The "twins" reference from the coach was a direct reference to goalie Cam Talbot; he and his wife welcomed new twins late last year. Talbot, who has logged more minutes in goal than any other NHL netminder in regular and postseason combined, was outstanding in the first two games of the series, but admitted he was at fault for many of the six goals allowed in Game 3.
Winger Jordan Eberle, who was placed on a line with Milan Lucic and Hart Trophy Nominee Connor McDavid midway through Game 3, said the Oilers gave the Ducks a lot of gifts, and need to clean that up Wednesday.
"A lot of it was us, it wasn't them," Eberle said. "We weren't crisp. We were making mistakes that caused us to chase the puck and basically do a bag skate, skating down and back. We worked on it today and we'll be better in Game 4."
While the Oilers were under the media microscope in Edmonton, the Ducks were in Kelowna B.C., on the second of a two-day retreat to get away from a place where the series is the only topic of discussion.
"This gives us the chance to get some bumps and bruises healed, both mentally and physically," Ducks coach Randy Carlyle said.
Ryan Kesler, who scored in the 6-3 win, told Ducks TV that it was important for the Ducks to get out of Edmonton.
"When you have the days off and you're able to go somewhere, obviously where we're staying is a beautiful resort, and be able to do different things and spend time together and get out the city you're playing in, it's good for the group," he said.
Getting away also allows the Ducks to get away from the prying eyes of the media. The Ducks have said defenseman Kevin Bieksa, who left with an injury in Game 2 and missed Game 3, will also miss Game 4. Right winger Patrick Eaves, who has a lower-body injury, didn't practice in Kelowna, and was seen in a walking boot. Had the team been in Edmonton, the Eaves watch would have been on red alert. But, getting away allows the team to be protective of its roster.