Ducks look to end Game 7 streak against Oilers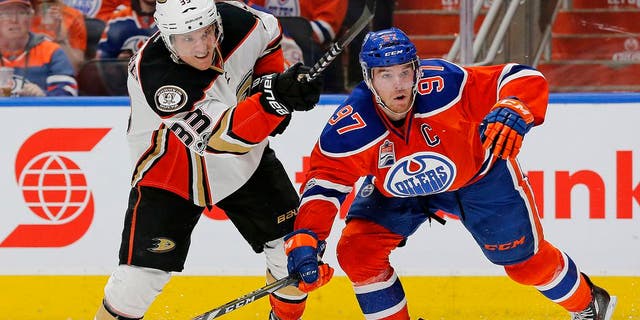 ANAHEIM, Calif. -- The Edmonton Oilers and Anaheim Ducks approach Game 7 of their second-round playoff series from different perspectives.
For most of the young Oilers roster, they have waded into uncharted waters of a mutual elimination game while the Ducks veterans must answer the same questions about their ability to win the big game for a fifth consecutive season.
Game 7 became a reality after Edmonton's 7-1 thrashing of Anaheim on Sunday, powered by Leon Draisaitl's first career postseason hat trick. The third-year forward has been unstoppable against Anaheim, registering 11 goals and 10 assists in 11 games against the Ducks this campaign. While the Ducks have lacked a defensive answer against the bruising German forward, Draisaitl is just as stumped as to why he has posted staggering offensive numbers against this opponent.
"People ask me that question all the time. I just go out and try to play my best game and try to be the best player I can be," Draisaitl said. "Sometimes it's just a team that you like playing against."
This will be the first Game 7 for the franchise in more than a decade, yet it approaches it with little tension.
The Ducks were favored to win the series, and after a miraculous third-period comeback in Game 5 in which Anaheim scored three goals in the last 3:16 with their goaltender pulled, most observers thought that Edmonton could not muster up a big effort to even the series. When most counted them out, Edmonton captain Connor McDavid knew his team had at least one more strong game to play and believes they can replicate it to move on.
"Stay even keel, it doesn't really matter what's going on in the game," McDavid said. "(Anaheim) proved that you can come back from just about anything and we've come back from situations as well. We can't get too high, can't get too low, you just have to stay even keel.
"Game 7 is going to be high emotion, a lot of different things going on, it's important everyone stays focused on the task at hand."
Edmonton's chances should be enhanced if defenseman Oscar Klefbom returns to the lineup, as expected. He missed Game 6 with an upper-body injury.
The Ducks hope to finally put away their Game 7 demons with a victory that would move them to the Western Conference Final against the Nashville Predators, the team that eliminated them last season. They have lost a home Game 7 in four consecutive postseasons, and given their poor performance in Game 6, the pressure sits on their collective shoulders.
Anaheim will be shorthanded entering the game with productive winger Patrick Eaves sidelined with a foot injury that has him in a walking boot. Defenseman Kevin Bieksa is unlikely to play as well.
Corey Perry, the high scoring winger who has been demoted to the third line most of the postseason, will be reunited with longtime center Ryan Getzlaf in the hopes of breaking their Game 7 slide. Getzlaf, a force throughout the series with five goals and five assists, is matter-of-fact when discussing his team history in a final game.
"Both winning and losing, I think you learn things along the way," Getzlaf said. "You take more out of losing than you do out of winning, most of the time. There's a certain accountability that you have to put upon yourself to go out and perform and just play the game."