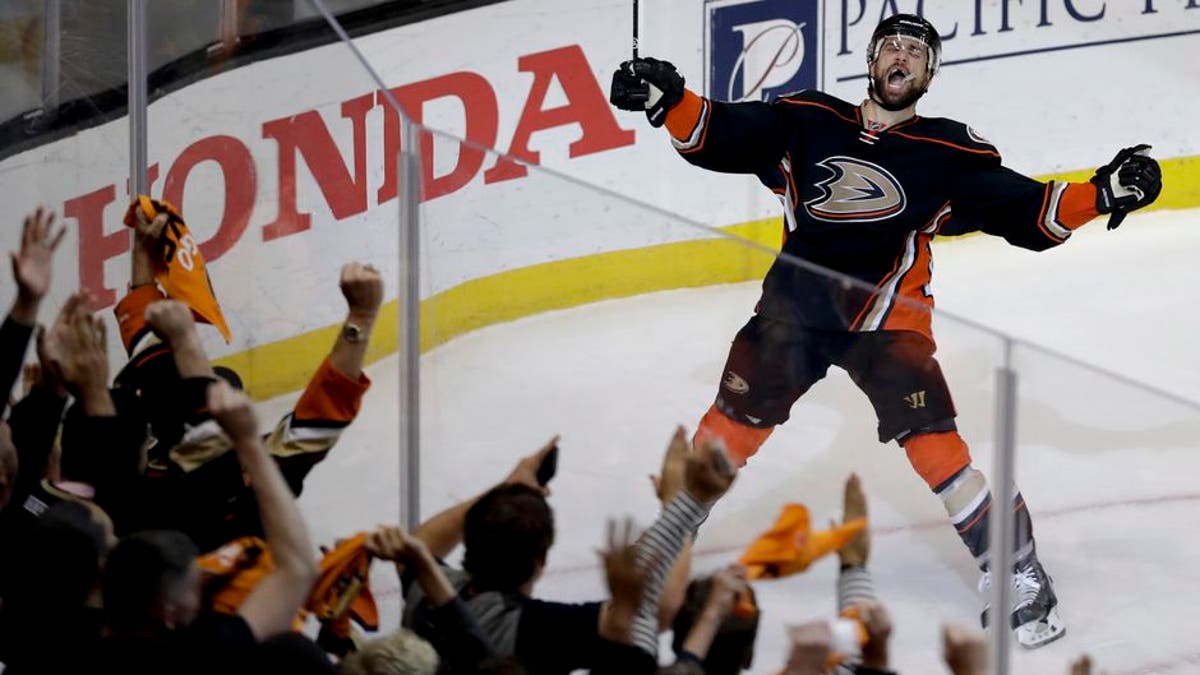 ANAHEIM, Calif. (AP) -- Among the numerous hurdles and obstacles that have blocked the Anaheim Ducks' path to a Stanley Cup title this decade, Nashville goalie Pekka Rinne might be the biggest -- and not just because he's 6-foot-5.
After beating Anaheim in two previous playoff series, the fantastic Finn and his Predators are looming again in front of the Ducks in the Western Conference finals. Game 1 is Friday night in Anaheim.
The Ducks and the Predators were the class of the first two rounds, taking just five combined losses and earning a rematch of last season's first-round series for considerably higher stakes.
Rinne and the wild-card Predators won that series in seven games, prompting coach Randy Carlyle's return to Anaheim and a renewed focus on playoff mental strength. The Ducks are in the conference finals for the second time in three years after winning five straight Pacific Division titles, but they still haven't made a Stanley Cup Final since 2007.
In the rematch, the Ducks hope to show the Predators what they learned last spring.
"Obviously it's a new year, new teams, (but) for some of us, it means a little bit more," Anaheim center Ryan Kesler said. "But we're all playing for the same thing, and right now it's about getting four wins before they do. It's going to be a tough road, but we're up to it."
Rinne and the Predators also beat the Ducks in 2011 for the first playoff series victory in franchise history. Heading into the franchise's first conference finals appearance , Nashville is putting little reliance on its previous successes against the Ducks.
"Whoever wins the series gets to play for the Cup," Predators captain Mike Fisher said. "So that's probably the only motivation you need."
Here are some more things to watch when the clubs meet for a trip to the Stanley Cup Final:
DUELING D
The Predators have advanced largely on the strength of their stellar corps of defensemen in front of Rinne. Ryan Ellis, P.K. Subban, Roman Josi and Mattias Ekholm form one of the NHL's best top-four groups, even contributing a combined 27 points in these playoffs -- just one point fewer than the Predators' four highest-scoring forwards.
The Ducks have excelled with youth on the blue line. With veterans Kevin Bieksa and Clayton Stoner sidelined for the final six games against Edmonton, Anaheim used a six-man group with nobody over 26 and averaging just 23.6 years old -- the youngest group among the NHL's 16 playoff teams.
QUICK TURNAROUND
Thanks to their seven-game series in the second round, the Ducks will be back on the Honda Center ice two days after finishing off Edmonton in Game 7 . At least the Ducks didn't have to travel, but the Predators have been off since their clincher over St. Louis last Sunday. Carlyle would have preferred an extra day off, but Honda Center is booked for the Stars on Ice touring show on Saturday night.
"Having the clinching game last night and then being -- I don't know if it's called forced -- to play the next game in less than 48 hours is kind of a surprise," Carlyle said. "From a scheduling standpoint, that we're playing on Friday night and we just finished on Wednesday, you don't get a lot of time."
SURVIVING RINNE
Rinne is huge, but his mobility and puck-handling skills make him even more daunting. Carlyle has warned his players to think of Rinne as a third defenseman on the ice capable of starting a rush with a breakout pass. The Predators also know what they've got in Rinne, who leads the postseason with a .951 save percentage and a 1.37 goals-against average while allowing only 14 goals in 10 games.
"He gives us that confidence," Josi said. "I think every game, he's been our best player. He's so confident back there. He's confident in making saves, he's confident in passing the puck, and he's been unbelievable for us."
GIBBY IN GOAL
While Rinne appears to be at the peak of his skills again, his counterpart in Anaheim's net has work to do. With one of the playoffs' worst save percentages and goals-against averages, John Gibson hadn't really distinguished himself this spring until Game 7 against Edmonton, when he was outstanding in a 2-1 win He'll likely have to maintain that level to keep the Ducks competitive against Nashville's aggressive offense.
CHECKING LINE
Kesler and linemates Jakob Silfverberg and Andrew Cogliano did a standout defensive job against Connor McDavid in the second round. The Selke Trophy finalist's next shutdown assignment is likely to be Ryan Johansen , Filip Forsberg and Viktor Arvidsson, the Predators' dynamic top line.
-- --
AP Sports Writer Teresa Walker in Nashville contributed to this report.