Ducks complete sweep of the Flames with 3-1 win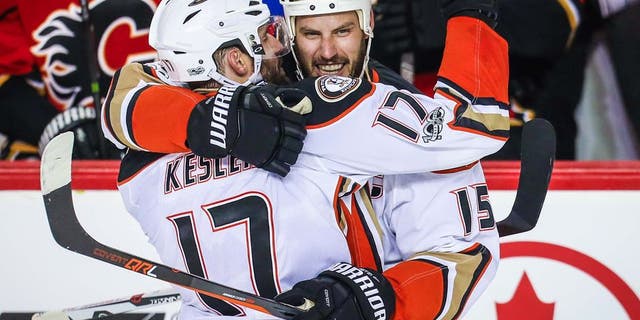 NEWYou can now listen to Fox News articles!
CALGARY, Alberta (AP) -- Patrick Eaves, Nate Thompson and Ryan Getzlaf scored, and the Anaheim Ducks beat the Calgary Flames 3-1 on Wednesday night for a sweep of their first-round playoff series.
Anaheim became the first team to advance to the conference semifinals. It was the Ducks' first four-game sweep since they eliminated Winnipeg in the first round in 2015 and just the fifth in franchise history.
John Gibson made 36 stops for Anaheim, which will face the Edmonton Oilers or San Jose Sharks in the second round.
Sean Monahan scored a power-play goal in the second for Calgary, which qualified for the postseason as the first wild card in the Western Conference.
It was a short night for Flames goaltender Brian Elliott, who was pulled for Chad Johnson after giving up a soft goal at 5:38 of the first period. Johnson allowed a goal on the second shot he faced, but finished with 20 saves.
Monahan's redirection of a Kris Versteeg feed made it 2-1 at 16:07. Johnson was pulled for an extra attacker with almost two and a half minutes remaining, and Getzlaf converted an empty-netter in the final seconds.
A sharp-angled shot by Eaves slid under Elliott's pads on Anaheim's third shot of the game. The Ducks quickly scored on Johnson at 6:46, with Thompson banging in a rebound.
The Ducks opened the series with a pair of 3-2 wins at home before storming back from a three-goal deficit to win 5-4 in overtime at the Scotiabank Saddledome in Game 3.
The Ducks haven't lost in regulation in 18 games dating to March 10.
Led by Getzlaf and Corey Perry, holdovers from Anaheim's 2007 Stanley Cup win, the Ducks were a poised team that prevailed in the big moments of the series.
The Flames outplayed them the majority of Game 2, but a lucky deflection and a couple of undisciplined minors by Calgary late in the game allowed the Ducks to pull out the win at home.
Trailing 4-1 late in the second period in Game 3, Carlyle juggled his forward lines to generate an offensive spark.
The Ducks put the puck on net through traffic to score four unanswered goals on the way to their biggest comeback in franchise history.
The two quick goals Wednesday drained the Flames of confidence that was already dented from their Game 3 collapse.
As good as Elliott was in getting Calgary to the playoffs with a strong second half in the regular season, he gave up soft goals in the second, third and fourth games of the series.