Ducks bounce back, beat Predators 5-3 to even series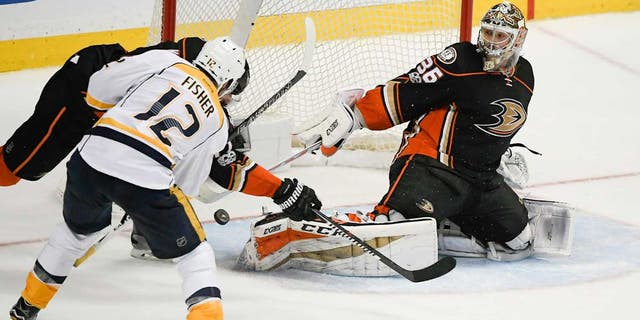 ANAHEIM, Calif. (AP) -- The Anaheim Ducks were down a game in the Western Conference finals and down 2-0 in Game 2 against Pekka Rinne, the most dominant goalie in these Stanley Cup playoffs.
That's when Sami Vatanen got the puck and thought he saw a sliver of room over Rinne's shoulder.
"So I just closed my eyes and shot it in there," Vatanen said with his usual Finnish deadpan delivery.
After every slow start and tight game over their past month, not much can ruffle these Ducks. Once they coolly opened a crack in Rinne and the Nashville Predators, they started a deluge that evened the series.
Nick Ritchie broke a tie late in the second period, and Anaheim roared back from that early two-goal deficit for a 5-3 victory Sunday night.
Just when the Ducks appeared to be in serious danger of losing two straight home games to start their second straight series, they made a thrilling surge of four goals in less than 19 minutes.
"Everybody says we go about it the hard way, but as long as we get the job done," shrugged John Gibson, who stopped 30 shots.
Vatanen, Jakob Silfverberg and Ondrej Kase also scored for the Ducks before Antoine Vermette added an empty-netter. The Predators hadn't allowed four goals in any game during their excellent Stanley Cup playoff run before Anaheim got five in front of its sellout crowd.
"I wish we didn't get down in the first place, but I think we have three or four lines that get going and just keep punching through," Ducks forward Rickard Rakell said. "It's almost like we feel, `Oh, we've got nothing to lose now.' It's almost like that's when we play our best game. Maybe sometimes we shouldn't wait for that to get going."
Game 3 is Tuesday night in Nashville.
Rinne made 22 saves and Ryan Johansen, James Neal and Filip Forsberg scored for the Predators. They faced relatively little adversity while steamrolling Chicago and St. Louis in the first two rounds on the way to the first conference finals in franchise history.
Nashville has a serious challenge now, and adversity has arrived in the form of Ryan Kesler, the Ducks' defense-minded center. Johansen had a goal and an assist, but Kesler's well-known style of physical play already has burrowed under his skin.
"I mean, it just blows my mind watching," Johansen said. "I don't know what's going through his head over there. Like his family and his friends watching him play, I don't know how you cheer for a guy like that. It just doesn't make sense how he plays the game. I'm just trying to go out there and play hockey, and it sucks when you've got to pull a stick out of your groin every shift."
Two days after Nashville's 3-2 overtime victory at Honda Center in the series opener, Johansen and Neal scored in the opening 8:32 of Game 2.
The Ducks eventually got around to replying with high-octane hockey -- and a few fortunate bounces -- that was too much even for Rinne, who hadn't given up four goals in a game since March 13.
"The second (period), they got to control the tempo of the game and had the puck a little bit more, and obviously that plays into their hands," Rinne said. "But we still battled back. Obviously, disappointed personally in that second period."
Ritchie, the power forward making his first career playoff run, scored the winning goal in Game 7 against Edmonton. Four days later, he got his next major goal on an exceptional high shot that appeared to glance off Rinne's mask on the way in.
Anaheim hung on through a frenetic third period, surviving a few mad scrambles before captain Ryan Getzlaf got his third assist of the night on Vermette's empty-netter.
Although Honda Center was much fuller and louder than it was for the traffic-affected series opener, Johansen scored on a breakaway just 4:18 in. Neal doubled the lead on a power play with one of the easiest goals in recent NHL history, escorting the puck unimpeded into the net when Gibson completely lost sight of the play.
After Vatanen ended Anaheim's 0-for-20 slump on the power play, Silfverberg evened it in the opening minute of the second period, cashing in Rakell's pass for his ninth goal.
The Predators took another lead when Forsberg converted a rebound of a breakaway by speedy Viktor Arvidsson, who had two assists.
But the Ducks pulled even again on the first career playoff goal for Kase, the aggressive Czech rookie, who slipped a puck through traffic.
NOTES: The Ducks kept veteran Jared Boll in their lineup over several young prospects to replace injured F Patrick Eaves, who missed his sixth straight game. Boll, who is scoreless in four postseason games, had no goals and three assists in 51 regular-season games. … Getzlaf has 18 points in the postseason, trailing only Pittsburgh's Evgeni Malkin (19). … Mike Trout crossed Katella Avenue to support the Ducks for the second time in three playoff games. The two-time AL MVP homered and stole two bases to help the Angels beat Detroit 4-1 earlier Sunday.
-- --
Follow AP Hockey Writer Greg Beacham on Twitter: www.twitter.com/gregbeacham