Duck hunting? Browns appear to have Oregon's Chip Kelly near top of coaching wish list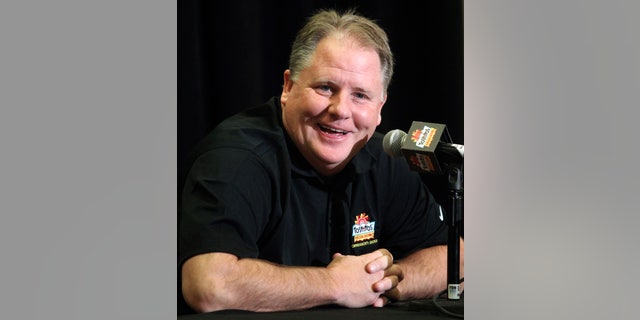 CLEVELAND – Browns safety T.J. Ward quickly rattled off some of Oregon coach Chip Kelly's best qualities — motivated, dedicated, focused, respectful, demanding.
As far as Ward's concerned, Kelly, his former coach with the Ducks, is ready to make the leap from college to the pros.
And maybe even land in Cleveland.
Kelly, whose up-tempo, quick-strike offense has captured the imagination of other NFL teams, appears to be near the top of Cleveland's list of candidates to replace Pat Shurmur, fired earlier this week after going 9-23 in two seasons.
According to several reports, Browns CEO Joe Banner is in Arizona and intends to interview Kelly, who is preparing the fifth-ranked Ducks in Thursday night's Fiesta Bowl against Kansas State.
Kelly has been deflecting questions about his future all week. He did so again on Wednesday when he was asked if he expected to be contacted by NFL teams in the days ahead.
"I don't expect anything," he said. "I said this a million times. I'm never surprised by anything. I do not know what the future holds. I do know we have a football game tomorrow night and I'm going to be there."
It is not known if new Browns owner Jimmy Haslam is with Banner in Arizona. Haslam said earlier this week that only he and Banner know which candidates may become Cleveland's sixth coach since 1999. The Browns are not confirming any interviews.
Kelly came close to taking Tampa Bay's job last year, and Ward believes the 49-year-old could make the transition to the next level. He said Kelly knows how to treat players.
"I think the players in the NFL would respect him and they will respect how he approaches you," Ward said. "He lets you do your job. In college, he treated us like pros. I think that's what players respect and appreciate about him."
Kelly's fast-paced offensive system is intriguing to the Browns and other teams who have already borrowed aspects of Oregon's no-huddle, hurry-up, spread-out-the-defense approach.
During the offseason, Kelly met with New England coach Bill Belichick to share insight. Belichick has said he used a few tips from Kelly, including the use of one-word play calls to speed up the Patriots' offense.
"He's a great coach," Ward said. "You can see what he's doing at Oregon. I think he has what it takes to be successful in this league. Whoever they pick, Chip is a great option."
Haslam may also make a strong pitch to Alabama's Nick Saban, who was an assistant with the Browns under Belichick in the 1990s. Saban has had one foray into the NFL, coaching two seasons in Miami, and may not want another shot. But that may not deter Haslam, who has made it clear that finding "the right coach" is his top priority.
Cleveland also must replace general manager Tom Heckert, who was fired after three seasons.
___(equals)
AP College Football Writer John Marshall in Scottsdale, Ariz. contributed to this report.
___(equals)
Online: http://pro32.ap.org/poll and http://twitter.com/AP_NFL