Duane Ludwig apologizes to Urijah Faber; looks to move past the drama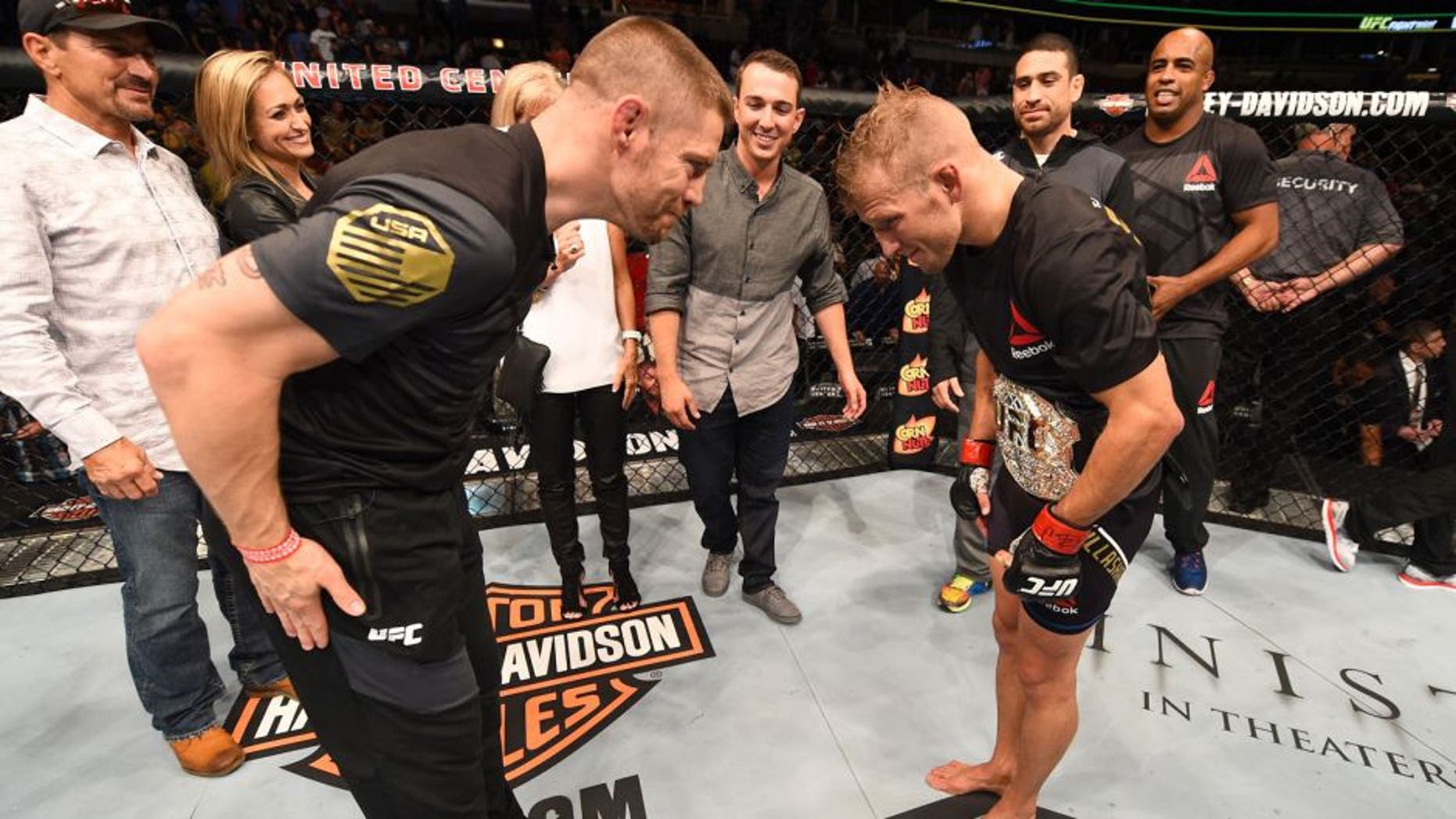 According to Duane Ludwig, there were problems almost from the start between him and Team Alpha Male leader Urijah Faber. Ludwig told FOX Sports and the Deep Waters podcast (above) that Faber initially sent him a text message to discuss his coaching the Sacramento super team.
After they discussed terms, Ludwig says he asked Faber to send him a written agreement with them. That's where things began to break down.
"What we talked about on the phone, and what was emailed to me on paper was something different," Ludwig claimed.
"And, that happened, three times. That raised a couple red flags for me, so I actually never signed the agreement, but I still went out there and acted upon the last agreement that he offered me."
In a recent excellent interview with our own Damon Martin, Faber said that Ludwig is dysfunctional, and that he was a "bully." Ludwig tells us that his problem with Faber began simply because he was not compensated in the way he was promised.
"The reality is that he was offering me a job, and he fell short of what he offered," insisted Ludwig.
"That's where we started having disagreements. So, I sat Faber down about three months into the job and was like, 'this isn't going the direction that it was supposed to.' I was being a little short-changed in some areas. I sat down with him and his two partners and after that, nothing changed."
A month after that, Ludwig says that things had not changed the way he wanted them to. So, he sat down Faber and "the whole team" down to express his concerns.
Though Ludwig says that his agreement with Team Alpha Male was reevaluated at that point, however, Faber and his business partners "continued to fall short."
Ludwig ultimately decided that he would have to leave Team Alpha Male at some point, just a few months into his tenure with them. "I decided to leave in March, after the third month I was there. I was like, 'ok, this is not going to last,'" he recalled.
"I had agreed to a 12-month term. Again, I never signed an agreement but I gave them my word. To me, that's gold ... I'm just a man of my word and I expect other people to be a man of their word. If not, I get really pissed off."
Ludwig then waited for a lull in scheduled fight activity for Team Alpha Male members so that he could try and avoid leaving any athlete hanging during their training camp. Ludwig maintains that he did what he could and believes he promised to do for Team Alpha Male, while its business leadership did not do in kind for him.
"I think I went above and beyond with what I needed to do and he fell short in multiple areas," he said.
In the end, he is still glad to have gotten to work with the exceptional athletes that he got to, including TJ Dillashaw, whom Ludwig coached to a world championship. Dillashaw and other Alpha Male members still travel to Colorado to train with Ludwig, at times.
"Ultimately, all that bullsh** aside, I was going to come back to Colorado anyway -- Colorado is home -- and have my own business," he reasoned.
"These little bumps in the road just helped speed up that process. But I thank him for the opportunity because I wouldn't be at this level, I wouldn't understand martial arts as much as I do now, without that opportunity. So, that's gold to me."
Ludwig certainly doesn't sound as if he would trade his Team Alpha Male experience for anything else, despite a sour ending with Faber. "That opportunity for me to work with the world's best athletes -- his team is, by far, just super athletes -- for me to have the opportunity to take my fighting system and really dial it in with those guys to figure out exactly what scenarios work and don't work, that's priceless," he admitted.
"So, for that opportunity right there, I would pay a million dollars for that."
Ludwig seems to believe that it was just business for Faber, and not that the former world champion was becoming irritated or jealous of the attention Duane received for the team's success. "I never saw that from him," the coach said.
Faber's recent charges and insults have caught Ludwig by surprise, however. "I'm like, what the fu** are you doing? I gave you my heart and my soul to make your team better and you're talking sh** on me. I don't get it," he wondered.
In order to get clarity, Ludwig tells us that he called Faber as recently as this past Monday, but has not received a response. In the end, "Bang" says that he's gotten over whatever wrongs he claims were done to him by Faber. The stress of all the negativity between he and the leader of a team he once coach, and whose members he still says he cares deeply for, is simply not worth it for Ludwig.
So, he wants to say "sorry" for anything he may have done wrong, with them. "I would like to take this opportunity to say, I apologize for whatever I've done wrong, whatever you think I've done wrong. Let's squash it all," he said.
"What ultimately matters is that the team operates on its full potential. And, that happens when we work together. So, anything that disrupts that is just bullsh**, and we should just fu**ing forget about it. I don't care about the money that is owed to me. Whatever bullsh** he's said in interviews, I don't care.
"Everything that you think I did wrong, sorry about that ... everything that I feel was done wrong, fu** it. I don't care anymore. Let's just squash all that bullsh** and make sure whoever chooses to train with me, has the opportunity because whoever trains with me, they do better, 100 percent, than if they didn't train with me. And, that's a fu***** fact."
To listen to the full conversation with Duane Ludwig, please listen above, or at the Deep Waters podcast.