Drysdale hoping his luck turns at London Olympics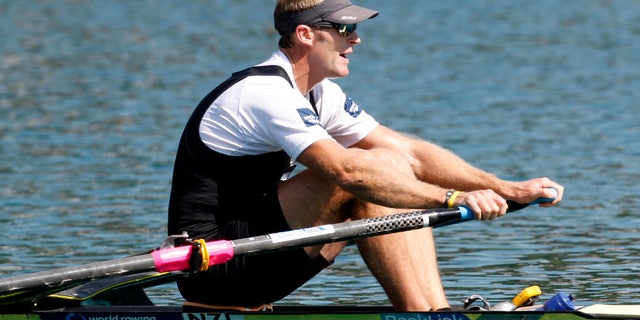 LONDON – Already irritated by the arthritis in his back, the last thing New Zealand rower Mahe Drysdale needed six weeks before the London Olympics was to be hit by a car while cycling.
"I got off the ground feeling shaken up and winded through my ribs," the33-year-old Drysdale said. "I could immediately feel (pain in) my right shoulder, ribs and hips."
That's just the kind of luck "Grandpa" gets around Olympics time.
In 2008, Drysdale was the big favorite to win gold in Beijing and confirm his already-established status as the world's best single sculler.
However, the three-time world champion experienced a severe stomach ailment in the days before the final and ended up finishing a disappointing third. Collapsing with dehydration and vomiting after crossing the line, he was carried off the dock on a stretcher and left to contemplate his first ever loss in the discipline while in the back of an ambulance.
Four years later, he has another chance to capture Olympic gold after sustaining nothing more than minor joint injuries, grazes and bruises in his accident in the outskirts of Munich ahead of a World Cup regatta on June 15-17.
"I am thankful that I got away without any serious injury and am confident in my body's healing powers making this just a small speed bump in the road rather than a detour or road block," he said.
Drysdale was only out cycling because he has been forced to implement major changes to his training regime after being diagnosed with arthritis at the start of 2011. He is spending less time out on the water and more in the saddle, although that has brought its dangers.
The day before the 2011 world championship in Bled, Slovenia, Drysdale was involved in a cycling accident that didn't prevent him from going on to win gold later that week.
"I can't go into extension too many times a day without causing issues for my back," Drysdale told The Associated Press. "Therefore, I have had to stop doing so many rowing sessions and go cycling instead.
"Cycling has been a good change, apart from the crashes. But I have found I need to spend about 15 hours a week on the bike to make up for the 8-9 hours I miss by not rowing in the afternoons. My regime now involves six rows and six cycling sessions a week rather than the 12 rowing sessions I did previously."
London may represent Drysdale's final chance to win Olympic gold, adding to his five world titles in single sculls since he switched to the event after the 2004 Athens Games.
"It has been a dream of mine since I started rowing. You have very few chances to do it so it's important you make the most of those you do have," said Drysdale, who was New Zealand's Olympic team captain in 2008 and carried the flag into the Birds Nest at the opening ceremony.
"The field will be tough and I think the final will be an epic battle."
In what will be the biggest field in the eight-day rowing regatta, 2008 silver-medalist Ondrej Synek of the Czech Republic is expected to be Drysdale's biggest threat. Two-time Olympic champion Olaf Tufte of Norway is also still around but is 36, while Alan Campbell of Britain is a potential danger.
"In the past two years, 0.6 seconds is about the largest margin separating Synek and myself, so I expect him to be the main challenger," Drysdale said.
Provided that Drysdale stays clear of harm on his bike, that is.
"The aim is to have a normal preparation and hopefully avoid any more crashes between now and then," he said. "I won a world championship gold eight days after my bike crash last year, so it may still prove to be an unfortunate lucky charm."