Drury punctuates comeback with goal in first shift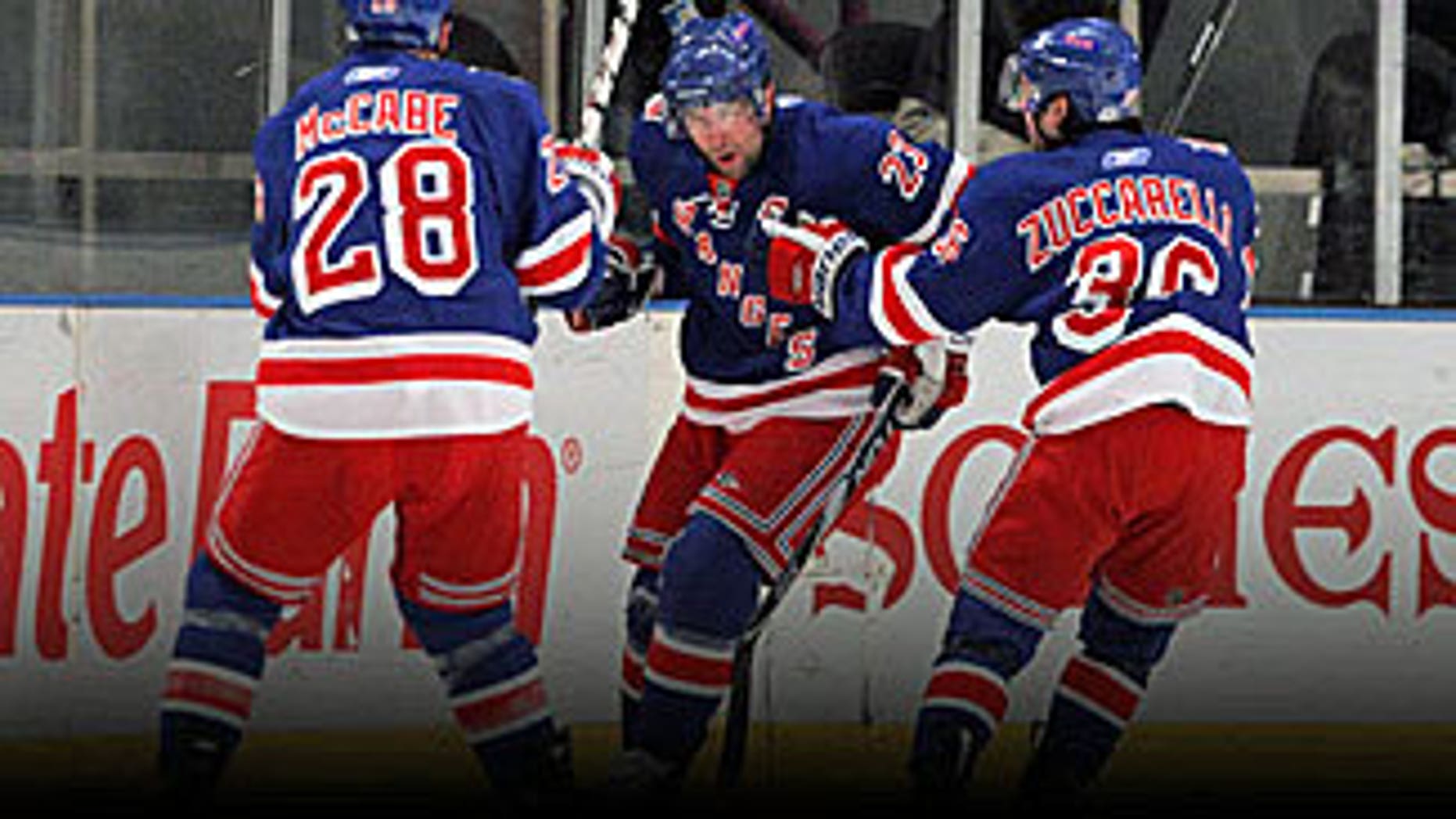 NEW YORK -- Chris Drury has served mostly as a proverbial punching bag for Rangers fans since arriving from the Buffalo Sabres as a free agent in the summer of 2007.
In three full seasons, Drury never exceeded 58 points with the Rangers. This came after finishing his time in Buffalo with two straight 30-goal seasons, including 37 the season before he came to New York. This season has been a nightmare for the 34-year-old; injuries kept him in the press box and infirmary for all but 23 of the first 81 games.
In those 23 games, Drury had zero goals and 4 assists.
But on Saturday afternoon against the New Jersey Devils, playing in his first game in more than two months, Drury showed why he's been called Captain Clutch for most of his career and had fans standing and applauding.
Trailing 1-0 just 2:03 into what was virtually a must-win game, Drury rose to the occasion. He scored the tying goal 1:11 later with an effort-fueled, diving backhander through the legs of goaltender Martin Brodeur that stemmed the tide and helped the Rangers emerge with a 5-2 victory at Madison Square Garden.
The goal came during the first shift of his first game since Feb. 3.
"That's good stuff. I'm so happy for him," coach John Tortorella said before defending his captain's reputation. "He catches more (flak) out here, all different ways. I couldn't be happier or prouder of him as far as he handles himself. That's really good stuff."
Drury played just 7:48, but he made the most of his limited ice time. He scored a goal and won 4 of 7 faceoffs, but players said just his presence in the lineup made a world of difference.
"He plays his best when the playoffs are on the line or in the playoffs," teammate Vinny Prospal said. "He played great today. It's a huge lift. Our captain comes back for one of the biggest games of our season and at a crucial time."
And what about the timing of Drury's goal?
"You could see the building sink again," Prospal said, referring to the Rangers' home loss Thursday to the Atlanta Thrashers. "It was huge lift."
There were times when it seemed like Drury might not return to the lineup this season. He missed 29 games at the start of the season with a broken finger before suffering a knee injury Feb. 3.
Drury admitted he wasn't sure if he'd ever play again this season.
"It has been a while," Drury said. "I just learned (Friday) that I was going to get a chance to play. It was exciting. I watched a lot of hockey this year and was just glad to be a part of it again.
"If I played two shifts or 10 shifts, to me, it didn't matter. I just wanted to be here for the win. I certainly would hope just me being around and not just today, but the last week being with the guys, would help a small part."
Drury's presence is one thing, but the clutch goal was what players couldn't stop talking about after the game.
"After his goal, I can't really describe the bench," Brian Boyle said. "We were so happy for him, so excited. He's had some bad luck this year. He's been banged up and he's worked his tail off trying to get back and he came back in a big way."
Now Drury will turn into a fan, waiting to see if the Tampa Bay Lightning will beat the Carolina Hurricanes in game that will get under way at 7 p.m. in Raleigh. The Rangers need the Lightning to win to avoid missing the playoffs for the second straight season.
"When you can't control it, it's always hard," Drury said. "As far as today is concerned, we did our job. We just have to sit and watch."
Follow Dave Lozo on Twitter: @DaveLozo