Drunk ski jump over a crowd of spectators leads to criminal investigation after 2 injured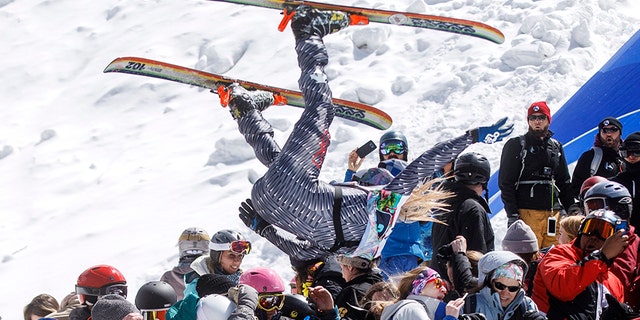 NEWYou can now listen to Fox News articles!
An ill-advised, inebriated jump over a crowd of spectators at a ski competition in Colorado has led to a criminal investigation after two people were injured, authorities said.
The Summit County Sheriff's Office announced Tuesday that a criminal probe has been launched into Saturday's crash at the Copper Mountain Ski Resort, where skiers were taking part in the 2018 Red Bull Slope Soakers event.
After getting a report of a contestant who intentionally skied into onlookers, responding deputies identified Hayden Wright, 26, of Englewood, Colo., as the man who witnesses said badly missed his mark and broke a woman's collarbone in the process.
"It was not even close," witness Chris Logan told The Summit Daily. "You'd have to be Red Gerard and not drinking to clear that."
Logan said Wright approached him prior to the jump while holding a Bloody Mary and said he was planning to jump over the crowd. Logan and another woman standing nearby when Wright made the statement were puzzled by the declaration, he said.
"We looked at each other and said, 'There's no way he's actually going to try that sort of thing, right?'" Logan recalled to the newspaper.
Logan then joined the crowd, which was about six-people deep, he said. He then prepared for the worst as Wright barreled down the hill.
"I just hit the deck," Logan said. "When I got up everyone was all shaken. There were three to four people on the ground hurt. It was like a car wreck. Everyone was shocked."
Nine seconds of footage obtained by the newspaper shows a skier going down a small hill before hitting a ramp and launching into a crowd of spectators. Rap music blared from speakers as startled spectators reacted in shock, according to the brief video.
Summit County Sheriff Jaime FitzSimons told the newspaper that deputies were delayed in responding to the incident, which was reported over dispatch as a reckless driving crash, because a suicide threat received nearby took precedence.
Wright was later cited for third-degree assault and a violation of the skier safety act — both misdemeanors — and was released, according to the sheriff's office.