Draymond Green: Warriors are 'bored' with regular season, want it to end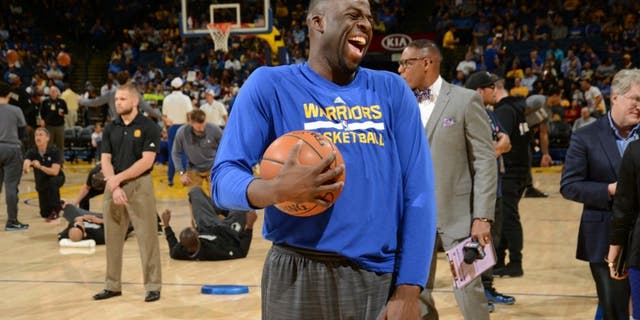 With the all-time regular season record within grasp and on the line, the Warriors inexplicably fell to the Timberwolves, 124-117, in overtime at Oracle Arena on Tuesday night.
On paper, the Dubs were heavy favorites. Frankly, this was probably the easiest remaining game on their schedule (they finish the season playing the Spurs and Grizzlies twice each).
For the second time in their past three homes games, though, the Warriors lost to a clearly inferior opponent, and did so in excruciating fashion.
The loss to Minnesota marked the first time in nearly two years the Warriors lost a regular season game after leading by 15 or more points (dating back to a loss against the Nuggets on April 10, 2014).
How could the Warriors explain such an embarrassing loss to the 26-win Wolves? Just an off-night? Simply underestimating the Timberwolves? Boredom?
Well, yeah. The Warriors are relatively bored with the regular season at this point, according to Draymond Green (via ESPN):
What's more, Green was also asked if the Warriors are letting their historic season and a shot at breaking the 1995-96 Chicago Bulls' 72-10 record get to their head. Green admitted as much, before backtracking:
Green's candidness is rare and refreshing, especially given the team's current chase of history -- and all the criticism they've dealt with along the way. This could potentially add fuel to the fire and reaffirm critic's doubts.
It certainly makes sense, though. The Warriors essentially have the No. 1 seed locked up, and are looking ahead to competing for a second consecutive championship -- not beating the Timberwolves in early April.
They are actively pursuing the 73-win record, and the Wolves were simply the next opponent in their way. But it's clear that the Warriors are in a funk and have lost focus lately, and Green just explained why.
Winning 73-plus games -- heck, even winning 69 games -- takes an immense amount of focus. Basically no team in NBA history -- besides the Bulls -- has had the talent, health and focus to achieve such a milestone. There is no room for the slip-ups the Dubs have had recently.
Now, they have to win out, which is tall task, though certainly possible. If they break the record, this conversation will be for naught.
With four games remaining their season, we'll know sooner than later if they'll break, tie or just fall short of the 72-10 record. And we can't wait to see what Draymond Green says about it.
Jovan Buha covers the NBA for FOX Sports. Follow him on Twitter: @jovanbuha.