Draper hoping to have impact in Wings' rally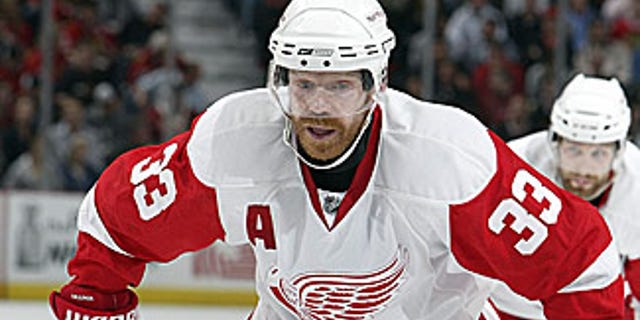 DETROIT -- Earlier this season, Kris Draper couldn't help but overhear a conversation at the locker stall next to his between a reporter and young Detroit Red Wings center Darren Helm.
The reporter made the mistake of asking Helm whether the fourth line that he centered all season, which featured a variety of different forwards on the outside, was Detroit's new "Grind Line," -- the fourth line that Draper helped make famous along with former Wings Darren McCarty, Kirk Maltby and Joe Kocur.
"Whoa, there, buddy," Draper said, half smiling at the reporter. "I don't have a comment on that. My comment is up in the rafters."
That's where the four Stanley Cup banners that Draper and the "Grind Line" helped the Red Wings reside at Joe Louis Arena. Still, in the first two games of Detroit's Western Conference Semifinal series against the San Jose Sharks, Draper was in street clothes as a healthy scratch.
On Tuesday, Draper practiced for Game 3 on Helm's right wing. Afterward, he indicated he might be back in the lineup on Wednesday night with Detroit down 2-0 in the series -- though Red Wings coach Mike Babcock said no changes have official been made yet.
Here's a snippet of Draper's session with reporters:
Q: How much of a difference do you think you can make in Game 3?
Draper: I'm just a spoke in the wheel. I just want to use my energy and enthusiasm, go out and try to get on a grind and hit somebody, use my speed. Played a lot of hockey with (Helm) and (Patrick Eaves) before and we've always felt that we could do some good things if we get on a cycle.
We've got to be more determined on the puck and make those guys play in their own end. They're so good, they're so big and strong, and when they get in the offensive zone they create a lot of opportunities and get pucks to the net, get bodies to the net. The best way to play against those guys is to make them play 200 feet away from their goal.
Q: Do you worry about trying to do too much tomorrow night, after sitting for two games?
Draper: Uh, no. I mean, the emotion's going to be running a little higher than usual, absolutely. I've just got to make sure that I keep them in check and channel them and do the right things. But I'm looking forward to that first shift, going out there. Game 1 and Game 2 it was tough personally, but it's not about me. It's not about one individual. It's about the team, the Detroit Red Wings.
Obviously, I wasn't in the mix but I stayed in the dressing room, took warm-up, I did everything I could to hang around with the guys, encourage the guys, talk to the guys between periods … those kinds of things. That's what I did for Game 1 and Game 2 and certainly I'm going to have a lot more fun in Game 3, when I get to go out there and play. That's what everyone wants to do at this time of year.
Q: In the 2002 Stanley Cup season, the Red Wings came back from down 0-2 to win a series against Vancouver in the first round. There are still four guys here from that team. That has to help now, in this situation?
Draper: Yeah, you know, we can certainly draw from an experience like that and that has been talked about. The one thing, you look around at the playoffs right now, it's happening. Teams are down 2-0 and they come back and win. Now, it's just a gut check, a character check and it's up to us to respond. We truly believe. All we want to do right now is just win one game. Win one game, put ourselves back in the series and go from there.
Q: You guys won four straight against Vancouver in 2002 after dropping the first two in that series. Did that give you a lot of momentum going through the rest of the playoffs?
Draper: Absolutely. That was something. One thing I'll never forget, you know, we landed in Vancouver and there was brooms and I think we had 40 or 50 cars following our bus to the hotel. Everyone walked off the bus and it was, 'Draper sucks! Hasek sucks! Shanahan sucks!' you know? Then, next thing you know we won Game 3 and the crowd wasn't nearly as big at the hotel when we came back.
When we won Game 4, there really wasn't too many people there at all. We came back for Game 6 and it was pretty quiet. It certainly did give us a big boost. Those are things that certainly we can draw upon. That's the good thing about this locker room, is the experience we've had. We've been in a lot of different situations. We've responded. We've played well. We've done some good things. Now it's up to us to do that again. We believe in one another. We believe in ourselves and I know guys are looking forward to getting this going tomorrow night.
Q: The last two years, you guys have lost the first two against San Jose on the road. Does it make it any easier knowing the next two are at home?
Draper: You look at Pittsburgh (in 2009). They were down 2-0, came back and won the Stanley Cup. Things like that. It happens. You really believe it. Three to nothing, obviously that's a whole different ballgame. There's a reason it's only happened (three) times in (hockey), because it is a big hole. That's why there's huge importance, huge emphasis on winning Game 3.
If we do that, then we put ourselves in a series and we go from there. We know that. It's no secret. We've been around long enough, we've watched enough hockey this playoffs to realize it. That's what we have to do and that's what our mindset will be.