Doug Baldwin defends Seahawks' decision to sign Austin Davis over Colin Kaepernick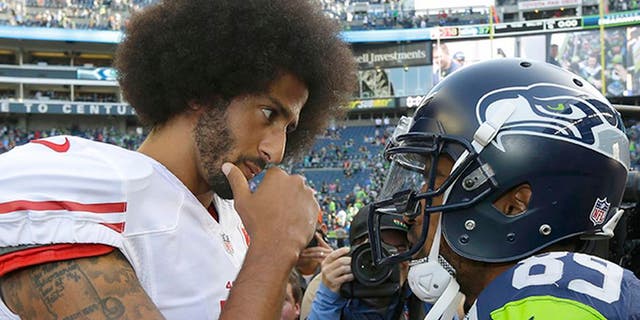 NEWYou can now listen to Fox News articles!
Doug Baldwin defended the Seattle Seahawks' decision to sign Austin Davis over Colin Kaepernick, calling it "the business of the NFL".
"I think it's simple. It's the business of the NFL. Right now you have a lot of young guys that are looking for opportunities," Baldwin told reporters Tuesday during thesecond week of OTAs. "The organizations, they're going to be giving the younger guys the first and second look. They know what Colin can do. They know he's a starter in this league. They're going to give every opportunity for the young guys to compete, show their talents, and then whatever falls, he'll get his opportunities once all this dust settles."
Davis is only a year younger than the 29-year-old Kaepernick, with just 10 starts and zero playoff appearances compared to Kaepernick's 58 regular-season starts and 4-2 playoff record. But Seahawks starter Russell Wilson hasn't missed a game in his five-year career, and Davis reportedly signed for much less than Kaepernick could be expected to take.
Baldwin reiterated Pete Carroll's claim that Kaepernick "is a starter in this league" and said hedoesn't think last year'snational anthem protest will deter a team from signing him.
Baldwin, who was in regular communication with Kaepernick last season as the quarterback knelt during the anthem to protest police brutality and the treatment of minorities, said he believes Kaepernick's stance is likely playing a small role in his continued unemployment but it's not the primary reason.
"To some degree, but I think that's really minor," Baldwin told reporters. "There are 32 teams out there. Not all of them really care about that. I have no doubt in my mind he'll have a job here rather quickly."
The Associated Press contributed to this report.
Steve Mitchell-USA TODAY Sports | Steve Mitchell