Doubling down at Dover: Johnson wins second Cup race in a row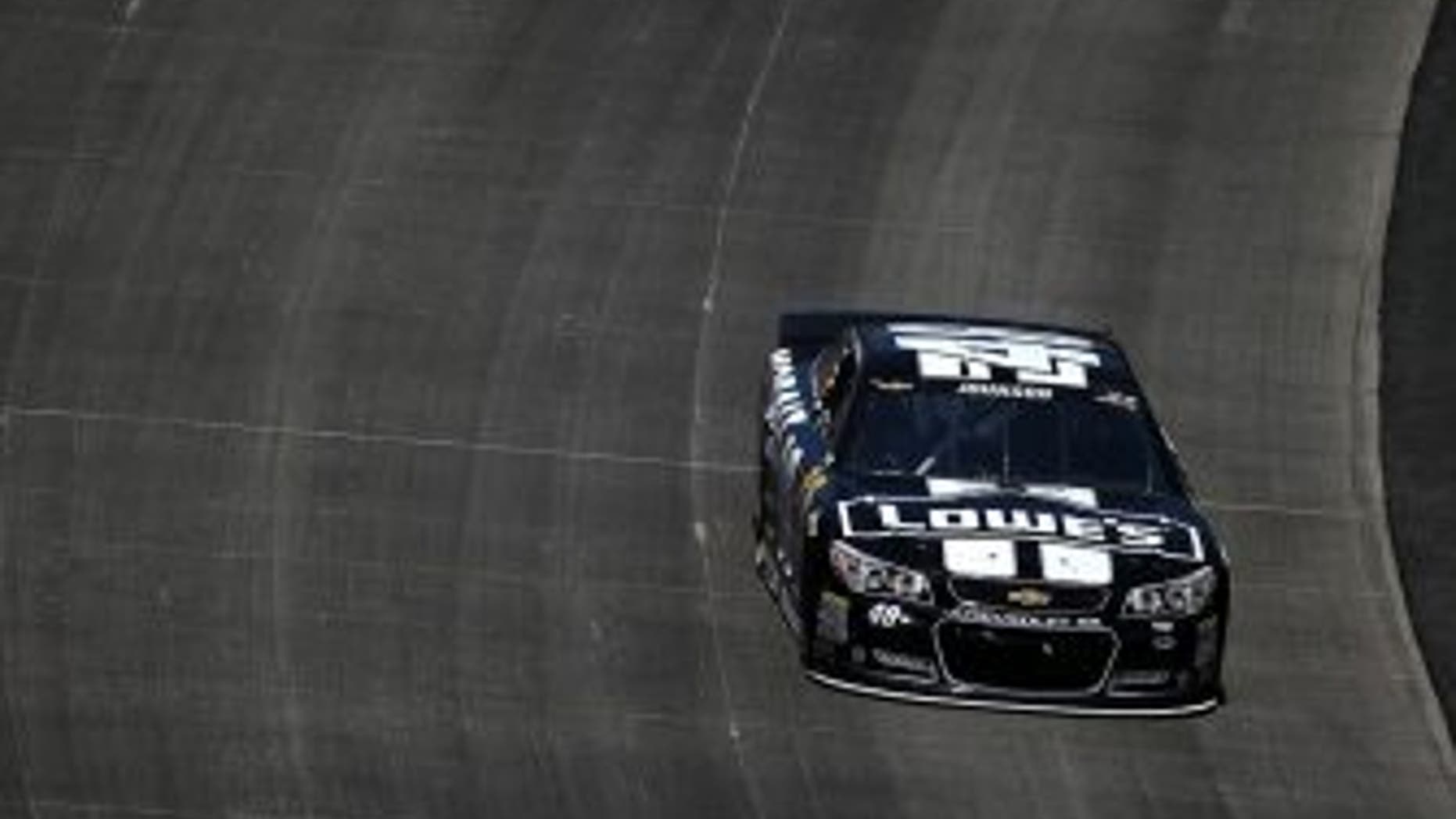 Remember the slow start to the season that Jimmie Johnson was off to? Forget about it.
After ending his 13-race winless streak last week in Charlotte, Johnson won his second consecutive race on Sunday, drubbing the field in the FedEx 400 benefitting Autism Speaks to win his record ninth NASCAR Sprint Cup Series race at Dover International Speedway.
The six-time Sprint Cup champion won easily on this beautiful late spring afternoon, leading 272 of 400 laps in his Hendrick Motorsports Chevrolet and having no serious challenges over the second half of the race. The victory was the 68th of Johnson's career.
Johnson said his pursuit of a sixth championship last year, coupled with off-season hernia surgery and inclement weather that cancelled several off-season tests, put the No. 48 Hendrick team a little behind the field at the start of the year.
Not any longer.
A new car for the Dover race showed just how far the team has come in speed.
"We're getting closer," Johnson said. "We brought out a new-generation car that Chad (Knaus, crew chief) just had a lot of faith in, put a lot of time and effort into. He told me I'd love the car, and sure enough, we unloaded and got on the track and it was right."
Second behind Johnson was 2012 series champ Brad Keselowski in a Team Penske Ford, followed by the Joe Gibbs Racing Toyota of Matt Kenseth and Clint Bowyer in a Michael Waltrip Racing Toyota. Denny Hamlin completed the top five in a second JGR entry.
"We were pretty equal to Jimmie there but never got a crack at him," Keselowski said. "I would have liked a shot. It was a decent day for us finishing second and that is something to be proud of but we want one spot more."
Keselowski started from the pole, his eighth front-row start of 2014.  Kyle Busch, the winner here on Friday and Saturday, went from the outside of Row 1 into the lead on the opening lap ahead of the Team Penske Fords of Keselowski and Joey Logano.
Busch dominated the early going, leading the first 81 laps. But his chance for a triple ended abruptly on Lap 124, when Bowyer drifted up into him and put the No. 18 Joe Gibbs Racing Toyota into the wall and out of the race.
Then, on Lap 134, AJ Allmendinger triggered a multi-car crash that brought out a red flag and took out Roush Fenway Racing teammates Greg  Biffle and Ricky Stenhouse Jr.
On the restart on Lap 142, Kevin Harvick took his first lead of the day, going under Johnson and into the lead.
The mayhem continued on Lap 158, when a piece of concrete came up in Turn 2 and hit Jamie McMurray's splitter, which sent him into the backstretch wall. On Lap 161, the red flag flew a second time as track workers had to patch the hole, which took 22 minutes and 22 seconds.
Harvick's shot at another victory ended on the Lap 165 restart, when a valve stem came off one of his tires. That turned the lead over to the JGR Toyotas of Kenseth and Hamlin.
By Lap 178, Johnson was back out front, easily wheeling to the outside of Kenseth for the lead.
At the halfway point, Johnson led his Hendrick Motorsports teammate Jeff Gordon by 1.855 seconds, followed by Kenseth, Hamlin and Dale Earnhardt Jr.
And really, from there on out, Johnson was in command, surrendering the lead only briefly during his final pit stop on Lap 323.
On Lap 361, there was a caution for debris on the backstretch. Under the ensuing caution, Bowyer took the lead by virtue of a two-tire pit stop while the rest of the leaders all took four fresh Goodyears.
Johnson went smartly to the lead on the restart, passing Bowyer immediately.
Then, with nine laps to go, a tire came unraveled on Casey Mears' car to bring out another caution. The top five cars stayed out, with the cars in positions six to 15 pitting for tires.
But Johnson again pulled away on the final restart and won easily.
"It was an awesome race car," Johnson said. "The first run I wasn't sure we were really going to have the normal Dover magic here. Once the track rubbered in our car came to life and it was so good. It's amazing that we can stay on top of things here with the different generation car, different rules, different tires. This place just fits my style and Chad Knaus' style."