Double overtime goal is redemption for Chimera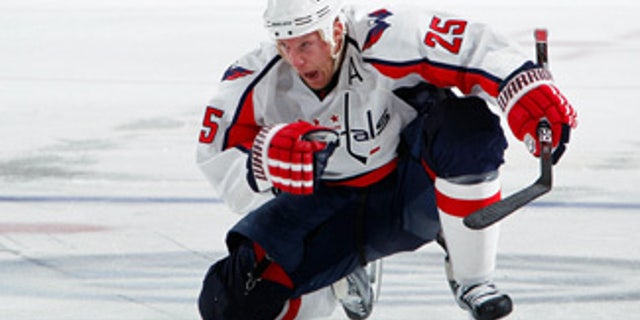 NEW YORK -- Jason Chimera was looking for a little redemption. He found it with what someday might be remembered as one of the most important postseason goals in Washington Capitals history.
Chimera, on the ice for goals by the New York Rangers just seven seconds apart in the second period, scored the winner in the second overtime Wednesday night in Game 4 of this Eastern Conference Quarterfinals at Madison Square Garden. The goal was the difference between the Capitals being stuck in a best-of-three series with two straight losses and being control with a 3-1 lead and a chance to finish off the Rangers at home in Game 5 on Saturday.
"Obviously we don't want to get scored on twice and back-to-back too. I was telling myself I wanted to make amends for it and I wanted to get back and get that goal," Chimera said. "It was nice to get it back. It was kind of nice to make up for it."
Marcus Johansson left the puck for Chimera along the right wall and he snapped a shot toward the net. As Chimera drove to the net to find a potential rebound, Marian Gaborik jabbed at the loose puck with his stick -- and it hit off Chimera's chest and landed in the blue paint behind goaltender Henrik Lundqvist before the Washington forward guided it across the goal line.
"It felt like forever after it hit my chest and down to my stick," Chimera said. "It is up there in your life. I don't know -- it is next to maybe getting married and having kids as the best thing that has happened to me. I should say besides getting married. It is nice. Kids are No. 1 but this is pretty up there. It is awesome. There is no better feeling in the world. When you're a hockey player you want the game on your stick. It is nice to get that goal."
Chimera's night started on the first line in place of the injured Mike Knuble. He played on the right side next to Alex Ovechkin and Nicklas Backstrom. That lasted until Capitals coach Bruce Boudreau moved Brooks Laich up to the top line and dropped Chimera back to his typical place with the third unit.
The Ovechkin-Backstrom-Chimera trio was on the ice for two quick goals against in the second period as New York expanded a one-goal lead to three in just seven seconds. Gaborik scored shortly after an offensive-zone faceoff, then Brandon Dubinsky found space in among three Washington defenders to one-time a pass from behind the net.
"You can see after the second goal that I made a mistake and I should've changed the lines right away because they came to center ice and they looked really down," Boudreau said. "I said, 'No, I'm hoping they're mad.' I kept them on, and then they scored. I wanted to call a timeout and luckily the referee didn't see it and then the shift there was a commercial so we were allowed to gain our composure a bit after that."
Added Chimera: "We can't let down. You have to be aware and get back in it. It was a mental letdown after a goal. It was one of those shifts you have to have right away and we didn't have it. They got the next one, and it could have been a game killer. We can't do that. That's uncalled for on the part of us. It's just a lack of effort, lack of concentration."
Back in his typical spot next to Johansson, Chimera set out to "make a difference" in overtime. That is a speedy duo, and their skating ability being an even bigger advantage as the extra time mounted.
Just as New York's energy line of Brandon Prust, Brian Boyle and Sean Avery has sparked the Rangers at times in this series, Washington's third line came through for a second time in three games. Chimera also had the game-winner in Game 2.
"I felt we could get in on pucks and create a lot of speed," Chimera said. "We had a lot of chances in overtime. Marcus is a fast guy and [Eric Fehr] had a lot of adrenaline going tonight. I thought our line played really well and it was just nice to get that goal for sure."
Added Boudreau: "I thought they were our freshest line with Fehr there, too. I thought they still had energy, and then Eric came out after the first overtime at the beginning of the second overtime and I just heard him saying, 'I feel great.' You're only hoping, but I thought that line was generating most of the chances off the rush and everything rather than the other three lines."
That's two huge goals for Chimera in four games this postseason. Maybe the least-heralded addition general manager George McPhee has made while tinkering with his roster since the beginning of the 2009-10 season, Chimera's speed was an instant boost when he was acquired from Columbus for former Capitals captain Chris Clark and defenseman Milan Jurcina.
His partnership with the rookie Johansson and added scoring touch in the postseason has proven to be of great value as well.
"I think [Johansson's] line played unbelievable, and I think when we make changes to our lines all three lines played unbelievable," Ovechkin said. "In OT [Boyd Gordon's] line play well too - give us a little breather. We just give them pressure all the time. Just go to talk to [Chimera] -- not me. He's the hero."