Don't look down: Climbing in London atop O2 roof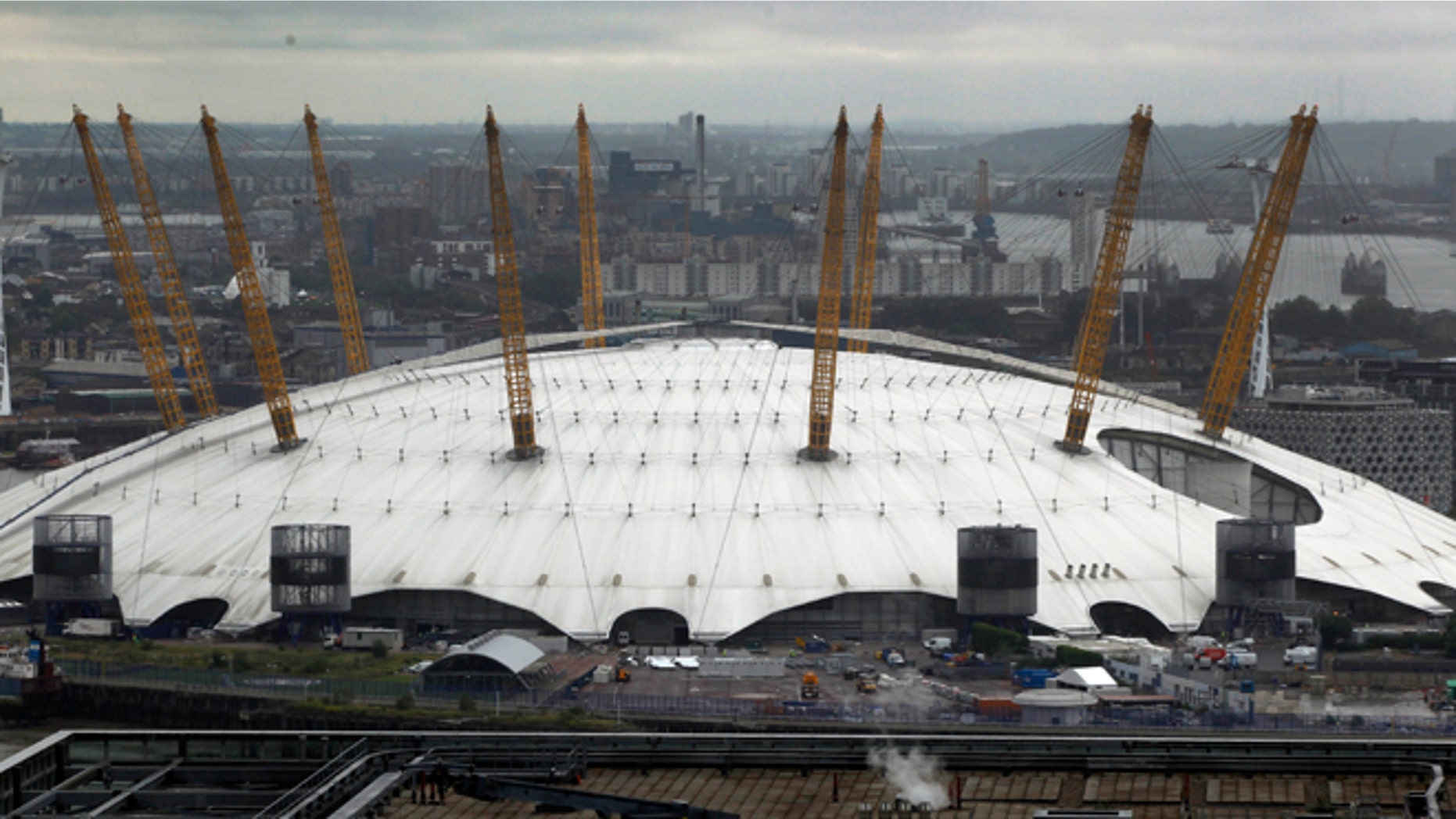 It could be London's equivalent of climbing the Sydney Harbour Bridge — scaling the top of the giant dome that houses the O2 entertainment center and hosts some Olympic competitions as well.
But it takes work to get up to the aerial walkway — the springy bridge that crosses the O2 is like climbing a vertical mattress.
The canopy is made of non-stick glass fiber fabric, durable and weather-resistant. It's 52 meters (170 feet) high in the middle and is suspended between the structure's distinctive yellow steel masts, which are each 100 meters (328 feet) tall and attached to high tensile supporting wires.
"It's a really, really exciting piece of British engineering," said Michael Buckley, climbing guide.
Visitors are put into climbing suits with a special harness that latches to a safety cable. Each group is restricted to 15 people, costs 22 pounds ($34) each and must be booked in advance. Children under 10 are not allowed and there are some weight restrictions. The whole journey with safety video and changing time takes well over an hour.
But once on top, visitors get a splendid panorama of the British capital. Climbers get fifteen minutes to take it all in and snap a few pictures and then it's time to face the descent. Some say negotiating the walkway is trickier if it's raining because it gets slippery.
Jane Couchman brought employees up on a team-building exercise.
"They loved it, yes, it was great. It was a bit hard work," she said. "It was probably scarier coming down than it is going up, but when you're at the top, sensational views."
Neave McNamara, one of her colleagues, was skeptical at first.
"I didn't want to do it, to be honest with you, I was really, really nervous, terrible fear of heights, but with some encouraging colleagues and managers, once I got to the top I wasn't as bad," she said.
The manager of the operation, Sally Davies, says it's a unique visitor attraction because people have to work to earn the experience.
"This is not just a walk in the park," she said. "This is you going on an expedition, climbing up to the top of the roof, feeling the full elements and when you reach here, a sense of accomplishment and satisfaction to take in the sights of London."