Done pouting, Briles and No. 5 Baylor regaining their swagger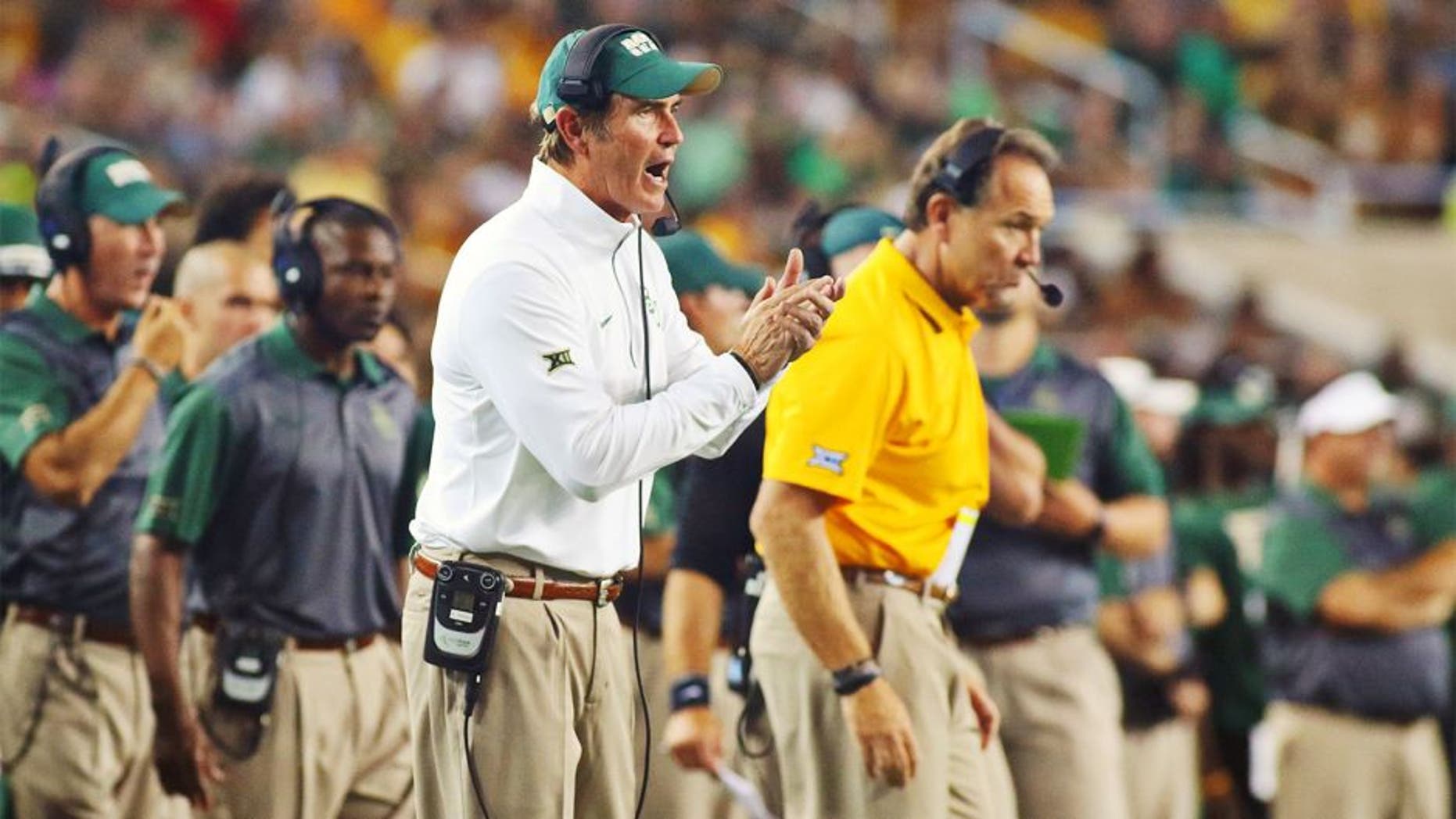 At the end of the 2014 regular season, a down-and-out Texas Tech team put a heck of a scare into the highly ranked Baylor Bears. Ten months later, the Red Raiders bring a revved-up offense into Saturday's Big 12 mathcup while the Bears are just trying to rev up.
It's been a weird start to the season for Baylor with multiple suspensions handed down to players -- including the most recent this week of freshman safety J.W. Ketchum -- (plus an outright dismissal of starting tight end Tre'Von Armsteadas) as well as three assistant coaches needing to be disciplined.
On the field, the Bears haven't necessarily been challenged, but they haven't been terribly impressive either in going 3-0 against lower-tier competition.
There still has to be some concern with first-year starting quarterback Seth Russell, who has already thrown four interceptions, one more than last year's starter Bryce Petty threw all season.
Yet entering Saturday's game, one that can potentially knock the No. 5 Bears out of playoff contention early -- Tech nearly upset No. 4 TCU last weekend -- Baylor coach Art Briles says he believes his team is just finding its groove.
Briles has blamed himself for the somewhat sluggish start, saying he had lost his edge. He started to see the team regain it in last week's 70-17 destruction of the Rice Owls.
"That's what we're trying to do, and that's who we're trying to be," Briles told reporters during his weekly press conference. "That's my job and it's our players' job to perform at that level, play-in and play-out. We know we've got a long way to go as a football team. But we do have the potential to be pretty good."
Briles took last year's exclusion from the College Football Playoff hard. He believed his team deserved to be the Big 12's outright champion rather than sharing the title with TCU by virtue of the Bears' comeback victory against the Horned Frogs.
In the end, both TCU and Baylor were excluded from the inaugural playoff, and Briles more than once expressed his displeasure with the playoff committee's decision.
"I had to quit pouting. Quit acting like a baby and be a man," Briles said. "So I'm back to being a football coach … doing what they hired me to do."